Dining Room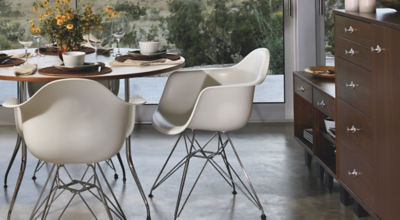 ---
---
Dining rooms serve as a gathering place for you and your family. And what better to gather around than a beautiful table? Dining tables are rarely just four legs and a top, so figuring out a direction for your style preference, intended usage, and space constraints will help narrow down the perfect table for you.
Extendable dining tables are our biggest sellers, and it's easy to see why: they get bigger when you need them to, and they remain a manageable size the rest of the time. This type of table is great for family gatherings, such as Thanksgiving, during which you need extra capacity for an influx of visitors. Skovby, our most popular brand of extendable dining tables, offers a clean aesthetic with Danish design values. If you're more of a "made in the USA" kind of person, Copeland offers some wonderful choices made out of solid wood. Made by hand in Vermont, they're a great conversation piece, and they extend in a snap. You don't even have to find a place to store the leaf when the table is constricted; it hides under the table when not in use!
If you live in a confined space, drop leaf tables like the Driness Drop Leaf Table are a great solution. They offer a larger usable area when the leaves are raised, but they also fold down easily to conserve valuable real estate. The raising and lowering process is seamless and takes just seconds to convert the table from console to full dining size.
If you're a design junkie, you'll find a bunch of options for Mid-Century styles such as the Saarinen Table, Eames Table and Nelson Swag Leg Table. These tables bring a classic look to almost any kind of residence. From lofts to mansions, they'll look great anywhere.
Dining tables can also be versatile and used as a multi-purpose work surface as well as a place to eat. Simple tables like the Halifax Dining Table are room-neutral enough to work in a home office or dining room and offer plenty of space to pay your bills, browse the internet, or chomp down on delicious food.
It's important to remember when browsing that a table is only as good as what you put on top of and around it. It might look a little silly to use grandma's old china on a new LAX Series Dining Set, so hop over to our tabletop accesssories section where you can upgrade your dinnerware, placemats, or other decorative objects to get your new furniture to pop. After all, what's a good dining table without a nice bowl?
You'll also want to consider the chairs that will accompany your table. Whether you want a matching set or a more eclectic look, the arrangement of seating around the table helps add comfort and coherence to your look. Benches can function as a simple and interesting way to add seating diversity for you and your guests.
The bottom line is that your dining room should be a welcoming place, and it's important to get a dining arrangement that fits your needs and style. As always, our wonderful sales staff is here to help point you in the right direction, so give us a call at 888-979-5178 or drop us an e-mail at sales@smartfurniture.com, and we'll get you paired with the dining room of your dreams.