Herman Miller Embody Chair
designed by Bill Stumpf and Jeff Weber
At A Glance:
The Embody Chair is the world's first health positive chair. Sitting in this baby will actually improve the health of your back and spine, make you more comfortable, and support every part of your body. Not bad for an office chair. Designed by Bill Stumpf and Jeff Weber, this chair is the current gold standard in the ergonomic furniture world.

What's To Like:
The first thing you notice about this chair is how good it looks. It's not just great engineering and ergonomics, its great style. It has a narrowing back and up-curving "floating" armrests, all of which are beautiful, adjustable, and do your body good (in a manner of speaking). Speaking of adjustment, there is hardly an inch of this chair that can't be. This is a performance chair, and everything was designed with the individual in mind; it can be adjusted to fit you like a glove. It looks cool, if feels great, and it makes you healthier.

What's Not to Like:
We've done a lot of testing on this chair, and while every demographic loves it, it is designed for one who likes to work with a slight (or major) recline. While you can sit in an upright posture and still feel right at home, you get the most utility out of the Embody Chair when you're working in a reclined position. Just play with the Backfit Adjustment and Tilt Limiter and find the optimal setting for you.

The Bottom Line:
You can search for a more accomplished office chair, but you won't find one. And you'll probably get really bored, so don't do that. Just take our word that this is the absolute top of the line when it comes to ergonomic, high performance office chairs.

The Herman Miller Embody Chair is also known by the following manufacturer Item Numbers: CN1, CN122NNAA, CN222NNAA, CN122AWAA, CN222AWAA.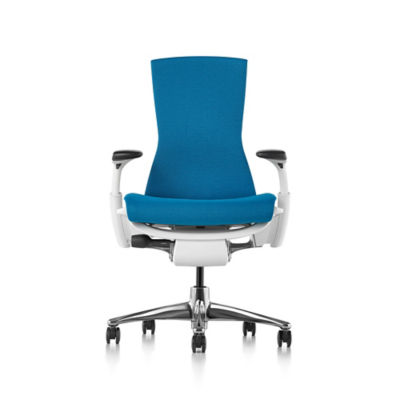 97.92%
Customer Satisfaction Rating
Rank: #3 in Office Chairs
Customer Rating:
Recommend to a Friend? 90%
Return Rate: 4.8%
The ideal office chair makes work more efficient and comfortable. Let our Office Chair Buying Guide help you find the perfect one.
---

INSIGHTS
Embody Chair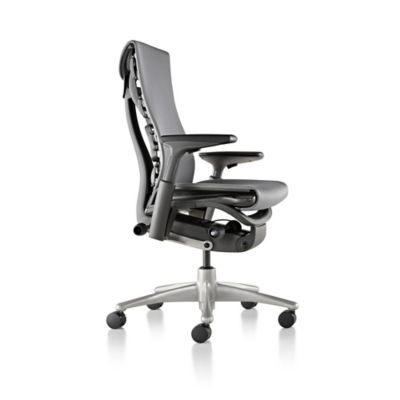 97.92%
Customer Satisfaction Rating
Rank: #3 in Office Chairs
Customer Rating:
Recommend to a Friend? 90%
Return Rate: 4.8%
Materials & Measurements
Materials:
Frame and casters are made from steel, plastic, and aluminum. 4-mesh seat is made from foam, textile, and other materials. Embody is 95 percent recyclable at the end of its useful life.

Dimensions:
Height: 39"-43.5"
Width: 29.5"
Seat width: 21.25"
Seat height: 16"-20.5"
Seat depth: 15"-18" (6 locking positions)
The Embody Chair is a truly revolutionary product. In nearly every category an office chair can be judged, it either matches or betters it's competition. In many of those categories, it has made contributions that have changed the face of the office furniture industry in a permanent way. The Herman Miller Embody Chair has won awards and praise from every corner of the design world, as well as from manufacturers, environmental groups, physicians, ergonomic scientists, and, of course, customers and office workers. In the end, it's the deep comfort, unwavering support and fresh, modern design that set this chair apart from it's peers. It looks great, it fits great, and it's actually good for you. The Herman Miller Embody Chair is at the forefront of an ongoing shift in the way we look at, experience, and work in office chairs. These are just some of the reasons why you should buy Embody.
With the Embody Chair your spine will always be supported in the appropriate places (including excellent lumbar region support), your legs, elbows and buttocks will never lose circulation or be in enough discomfort that you have to get up and stretch, or walk around. When you want to recline, or move in your chair to reach an awkwardly placed object, this chair moves with you, maintaining support and total ergonomic principles.
Back support is vitally important to your health, but it's often ignored by traditional office chairs, that usually give you a rigid backing (often padded) which can possibly recline. Essentially, it's a back with all the flexibility and support of a wooden board. With the Embody Chair, every area of your back is supported and moved with, as the Tri-Flex system administers comfort and support in three distinct zones. Increased back support means increased back health; which means better circulation, less discomfort and distress, higher rates of productivity and activity, and better moods and states of mind while you're working. If you have back support needs, the Embody Chair was made for you.
When you buy an Embody Chair from Smart Furniture, the chair you receive will have been fully customized by you in our Smart Designer customization tool. You choose the color, the finish, the adjustments and attachments. In the end, the chair you buy will be as unique and personal as you are.
Get comfort, support and design in one very cool package; get the Embody Chair today.
Environmental Information
Herman Miller is committed to manufacturing top-quality products using environmentally friendly production processes and materials. The Embody Chair exemplifies this dedication to environmentally friendly practices and is MBDC Silver Cradle to Cradle certified. Some of its most outstanding green features are listed here.
The Embody Task Chair is up to 95 percent recyclable and is composed of 42 percent recycled materials. In addition, its steel and aluminum materials are 100 percent recyclable. Packaging materials are part of a closed-loop recycling system, allowing them to be recycled perpetually.
Embody is manufactured using 100 percent renewable energy without any air or water emisisons released during production.
Manufactured at an ISO 14001-certified site (which is also a LEED Pioneer building) that on average generates a mere 77 pounds of landfill per month- just enough to fill one trashcan.
Embody contains no PVCs.
Read the complete Embody Chair Environmental Summary.

Assembly Instructions
The Embody Chair comes fully assembled, or partially assembled if you choose. The fully assembled version costs nothing extra, so we recommend that you go with that! The partially assembled version is for special shipping arrangements that would benefit from smaller packaging
View Embody Chair assembly instructions
.
About The Manufacturer
Herman Miller is an industry leader in the integration of cutting edge technology to furniture and other household items to make everyday life more comfortable, convenient, and stylish. Herman Miller stands out at the forefront of such fields as ergonomic technologies, environmentally friendly manufacturing processes, and customizable furniture items.
In addition to producing some of the most outstanding office furniture in the world, Herman Miller has also taken on the responsibility of manufacturing some of the most celebrated furniture designs by some of the world's most famous designs. These "modern classics" include works by Charles and Ray Eames, George Nelson, and Isamu Noguchi. Herman Miller celebrates these famous mid-century designers' works through its extraordinarily precise manufacturing techniques and industry-leading green production processes.
Herman Miller is a global company with operations, sales offices, dealers, and licensees in more than 40 countries in North America, Asia/Pacific, Europe, Middle East, Africa, and Latin America, serving customers virtually anywhere in the world. Herman Miller is headquartered in Zeeland, Michigan, while manufacturing facilities are located in the U.S., China, Italy, and the United Kingdom.
Designer
| | |
| --- | --- |
| | |
| Bill Stumpf | Jeff Weber |
Embody was created by Jeff Weber and the late Bill Stumpf. Stumpf began working with Herman Miller in 1970 and was instrumental in designing the Ergon, Equa, and Aeron Chairs. Arguably the most knowledgeable designer in the world in the field of ergonomic seating, Stumpf came to Herman Miller with partner Jeff Weber with the goal of creating a chair that could "Go beyond just minimizing the negative effects of sitting... that positively impacts your life so you can work and live better." Sadly, Stumpf passed away in 2006. Collaborating with over 30 professionals at Herman Miller, including physicians and PhDs in the fields of biomechanics, physical therapy, and ergonomics, Jeff Weber carried on with Stumpf's vision. His team ultimately succeeded in creating the world's first health-positive office chair.
During Embody's development, Herman Miller's engineering staff operated under
three hypotheses:
An office chair can provide therapeutic benefits to it owner, rather than just being a heath-neutral seating device.
Wide variations in spinal curvature can be overcome through ergonomics to achieve natural "postural equilibrium"- the optimal upright point where the eyes are vertically aligned with the hips.
Comfort, liveliness, and health-positive benefits can be realized through the use of dynamic surface pressure, rather than non-dynamic surface pressure.
Using professional input on these three assumptions drove early design of the Embody Chair and resulted in the first protoptypes. In laboratory experiments involving kinematics, preferred postures, common seated tasks, and metabolics, Weber refined Embody's design and confirmed the health-positive benefits it could deliver.
Scientific Studies and Design Links
Design
More Than Just Comfort
Designed by Bill Stumpf (who pioneered the Aeron Chair) and Jeff Weber, Embody goes a step beyond being merely "health-neutral". Over time, it can actually improve the health of the person sitting in it. Scientific studies have shown that Embody users can experience better circulation, reduced resting heart rates, and less tissue damage around the sitting muscles. Embody promotes natural alignment in the spine, relieving stress across the entire back no matter how you twist and turn.
Pixelated Support
Through years of research and development, Bill Stumpf and Jeff Weber incorporated health-beneficial features such as the Pixelated Support System- a dynamic mesh of adjoining seat materials that has been proven to increase circulation and reduce strain on cell tissue.

This breakthrough chair surface, combined with new tilt technologies and unwavering back support, means the Embody Chair can provide lavish comfort for hours. And of greater importance, it lets you be better to your body every time you take a seat. Since Embody is warranted for 12 years, sitting in a chair that enhances blood circulation and distributes pressure at a granular level across your back, thighs, and sitting muscles can truly affect how your body feels from day to day.
Move Freely
Embody's Backfit adjustment and seat conform to your unique shape and distribute weight evenly. Embody's shape mimics the spine, providing subtle support along the entire back that shifts with your movements. The Backfit creates a dynamic surface that reacts to your movements every time you shift.

The narrow, frameless form along the back allows for freedom of movement along the neck and shoulders, which allows for a greater range of motion through the arms. Embody's dynamic frame can shift and twist right along with your spine, making is easy to lean back and stretch or even or turn without sitting forward.
Rounded Edges
It's difficult to tell where the chair's edges are even when you sit in it, because there are no hard edges anywhere along the frame. Rigid edges running under the thighs can lead to poor circulation and the need for frequent stretching. But with the Herman Miller Embody Chair, all edges flex under the sitter's movements, ensuring an optimal distribution of weight. You don't so much sit in an Embody Chair as you do float over it.

The seat edge at the thighs is fully adjustable, allowing you to find the seat depth optimal for your proportions. Adjustable tilt limiter allows the user to lean back with experiencing unwanted lift in the thighs; instead, the legs remain roughly parallel to the floor, preventing stress on the knees, ankles, and things.
Ventilating Surface
To promote the flow of heat away from the body that can build up under the legs and back over time, Herman Miller developed the Pixelated Support system. This 4-layer mesh is filled with negative space which permits a much greater amount of air flow than traditional fabric and frame chairs. Every square inch reacts under your movements. When you shift, you seat shifts. The extremely responsive nature of the Pixelated Support material means Embody users can sit for hours without experiencing uncomfortable heat-buildup.

Unparalleled flexibility, soft, breathable materials, ergonomics and comfort that comes with a 12 year warranty.
---
Groundbreaking Ergonomics
Exquisite comfort is one of the hallmarks of the Embody Chair. Designed by Jeff Weber and Bill Stumpf for Herman Miller, the goal for this chair was always total ergonomic comfort. Stumpf was also the lead designer for the groundbreaking Aeron Chair, and he was interested in pushing ergonomic principle as far as it would go; for the Herman Miller team, that meant the design that eventually became the Embody. Everything about the chair is fashioned carefully and correctly to form a cohesive whole. The seat is not only designed to support your weight and keep you in good balance, the material itself is designed to increase air flow and keep you cool while you're working.
The edge of the seat is flexible, taking pressure off of your thighs. The backing of the chair, a real attention grabber with it's beautiful and intricate design, is able to bend and lean with you, no matter what angle you're sitting at. Most chairs either go backward or forward; the Embody Chair can go backward and forward at the same time, not to mention sideways and torqued positions. It's meant to keep your back comfy, and users who sit in the Embody Chair for long periods of time report increased mood and productivity, as well as never having to get up to stretch their legs or move around to get their circulation going. This is one reason why Embody makes a great office chair. What office wouldn't be better off getting comfort and productivity out from the chairs that fill it?
Another aspect of the Embody Chair's comfort metrics is adjustment. This chair can be adjusted in many different ways, all in an effort to fit your body and your needs perfectly. The seat can be extended, the arm rests can go up, down, sideways and in; the height of the chair and the tension in the back can all be modified to your exacting specification, making the Embody one of the more personal and adaptable chairs on the market.
If you're looking for a way to make your workday easier on your back, shoulders and legs, and if you're interested in increasing mood, health, and productivity, then the Embody Chair has all the amenities you need in a comfortable office chair. An intuitive piece of design, this is a chair that will read the lines of your body, react with appropriate flexibility and give, and make your working day better than before.
Support
The best new office chairs value support at a very high level. Ergonomic science and research, which Bill Stumpf and Jeff Weber both followed closely and contributed to, has shown the way to a new generation of furniture designers, revealing in detail the best ways to orient workers, support their backs, necks and shoulders, and increase their working efficiency and productivity. That's not to mention increasing their physical health and their mood, two things which office chairs aren't supposed to have anything to do with. But the Embody Chair is a different animal.
The Embody Chair was built to be the world's first health positive chair, the first office product that actually makes you better, rather than just makes you feel better. Because of this, Embody makes an excellent all around computer chair outside of the workplace.
---
Strikingly Original Design
Bill Stumpf and Jeff Weber were committed to making this chair the crowning achievement of the ergonomic furniture movement. But both men were also excellent designers of furniture, industrial and otherwise. It's the look of the Embody Chair that often sets it apart from it's peers when the average consumer is shopping.
The innovative and original back of the chair, the tapered headrest at the top; the moving, curvilinear armrests and the elegant seat all combine to form a unique and attractive whole. The vibrant colors available in the chair don't hurt it's image either, nor Smart Furniture's emphasis on customization.
The Herman Miller Embody Chair is also known by the following manufacturer Item Numbers: CN1, CN122NNAA, CN222NNAA, CN122AWAA, CN222AWAA.
Resources

Read a staff review of the Embody Chair



Watch a video review of the Embody Chair.



See our comprehensive Embody Chair Adjustment Guide
Reviews
Smart Furniture Employee Review
The folks at Smart Furniture were curious about Herman Miller's Embody Chair and how well it would affect their everyday work environment - so what better way to figure it out than to just sit in one! Mark Rico, our resident rendering specialist, has graciously accepted the opportunity to sit on Embody for one week and write about his thoughts.
Mark, in addition to his superb SketchUp and facial-hair-growing skills, leads a happy existence with his wife and two daughters. He hopes to one day hike the Appalachian Trail with his family and is currently engrossed in "The Brothers Karamazov" by Dostoevsky.
Read more

...
Herman Miller
Embody Chair
Ergonomic (89)
Attractive (85)
Comfortable (85)
Durable (69)
Easy to assemble (46)
Uncomfortable (16)
Creaks (9)
Too hard (5)
Difficult to clean (4)
Lacks adjustability (3)
Home office (45)
Computer chair (44)
Primary work chair (38)
Office (16)
Informal (5)
Reviewer Profile:
Midrange shopper (46), High-end shopper (44), Budget shopper (6)

Primary use:
Personal (38), Business (37)
Most Liked Positive Review
An Independently Commissioned Review
First Impressions
I was really struck by the look of the Embody when I first picked it up. The backing of the chair was narrower and smaller than I'd imagined, the arms a...Read complete review
First Impressions
I was really struck by the look of the Embody when I first picked it up. The backing of the chair was narrower and smaller than I'd imagined, the arms a little wider. Overall, it gave the impression of a kind of alien chair, something you might see on the deck of the Enterprise. I loved the style. The material the chair was upholstered in, Pellicle, was interesting too. It was porous, like a jersey, but also soft and really comfortable. I'd done some reading on the chair beforehand, and knew that it was supposed to help keep your back aligned and supported. Sitting in it, I could immediately feel the difference. The Embody Chair sort of cradles the body - and the effect of the engineering is that sitting up straight, usually my least favorite position, is really really comfortable in the Embody Chair. Comfortable enough that I may or may not return this chair to the store.

The X Factor
Well, the Embody Chair is just kind of undeniably cool. The futuristic silhouette, the adjustability, that soon-to-be-iconic backing? It definitely brightens your work day.

The Bottom Line
The Embody Chair is the top of the line for office chairs. For comfort, ergonomic design and performance, it cannot be beat. It's expensive, yes, but over it's guaranteed 12 year life span, the cost is probably worth it.
Most Liked Negative Review
Overrated
First let me say that for my job I sit in front of a computer 15 hours a day. I have been doing this for 20 years. I have had many task and executive...Read complete review
First let me say that for my job I sit in front of a computer 15 hours a day. I have been doing this for 20 years. I have had many task and executive chairs. As a developer I have always worked in a reclined posture which this chair is supposed to be good for. Since so many have noted the positives let me balance these reviews with some negatives which I think all should be aware of:
- The chair's build is much cheaper than it looks in the pictures. I was expecting a metal frame at least but everything is made of plastic and rather cheap materials which makes it creek and feel like it should cost a lot less than it does
- The back does recline nicely but when you stretch your spine back, it does not stretch enough even on the loosest setting. It flexes only a little and then suddenly caps out digging into ones upper outer shoulders. Maybe it's not for 6'2" people like me because the back seems to short. The other problem is that it doesn't really flex with your back smoothly like advertised. It moves a little side to side but does not contour the back enough.
- The bottom of the chair does not recline together with the back. I have had a lot of executive chairs and I like the bottom to recline together with the back for that great cradle feel which is perfect if you have high foot support. This one does not do that so over time you tend to start slouching as you slide lower and lower in the seat.
- The arm rests are terrible for several reasons. One, they are very small and in the reclined position there is no support for the elbows as the arm rests are too far forward with a big gap where the elbows are. Second there is no way to lock the inner/outer arm rest adjustment. They always go out of position when I pull the chair around or as I get in/out. Then when you want to readjust them back, it is not easy to do so. Third, the arms are not very sturdy and they wobble, probably because of their plastic build. The arm rest padding is of low quality non breathable foam which won't last long. Padded fabric to match the seat would have been nice.
- The padding of both the back and the bottom are very stiff and painful for long seating session. Don't be fooled by 5 min. in the showroom. After a while you can feel the pin pricks of each of the mounting point on the H mounts of the back rest. The bottom also lacks any significant padding and the Italian fabric upgrade will not help. I had to buy a foam cushion to compensate for this design.
- The lumbar support is not adjustable. I wish I could configure it to be higher and more arching but there is no way to do this. Again, looks like the seat was designed for smaller people.

Overall this is a mediocre chair and was expecting a lot more for such a high priced and in my opinion overrated chair.
Reviewed by 119 customers
Comments about Herman Miller Embody Chair:
Working at a startup, I sit in front of my computer for 10+ hours day and also have the battle scars to prove it in the form of back pains. My $100 chair that I've been using for the past 10 years is disintegrating in front of my eyes, so I've been looking for a chair. As I've inched closer to 40, I'm starting to feel all the abuse I've put my body through when I was younger. So for my 38th birthday, I've decided to splurge and treat myself to a top of the line ergonomic chair.

I've done extensive research before purchasing this chair. Not because of the price, but because I absolutely hate the hassle of returning items. So I wanted to be sure that I get it right the first time. One thing that I must stress (and if you're been researching premium chairs I'm sure you've head this before) is the importance of actually sitting in one if you want to minimize your chance of a buyer's remorse. I had 4 chairs in my mind when I went to a local brick and mortar store to test out these chairs.

The 4 chairs I was considering were: Herman Miller Aeron, Herman Miller Mirra, Herman Miller Embody and the Steelcase Leap. Before going into the store, the chair I had my eyes set on was the Herman Miller Aeron. After actually sitting in an Aeron, it was immediately clear that it would not work for me. I was surprised to find that I really liked the Mirra (the original - it actually felt sturdier and more comfortable than the new Mirra 2), especially the tilt-forward feature which the Embody lacks. However, the Embody was the more comfortable chair. The price wasn't a concern for me, but if you are, I feel that Embody definitely isn't $400-$500 more comfortable than the Mirra -- but at this upper price range, you're really dealing with diminishing returns. I was willing to spend $400-$500 extra to get that extra 5-10% comfort.

I read this somewhere, "Don't ruin your health in order to earn money. You will end up spending your money to recover your health and that is not reciprocal." Good advice, but if you must ruin your health in order to earn money, then do it in a comfortable chair!
Comments about Herman Miller Embody Chair:
After countless hours researching desk chairs, I finally settled on the Embody chair by Herman Miller. It has met and even exceeded my expectations in terms of comfort, aesthetics, and ease of use. Every time I sit in it I have that aaah! moment. It embraces your back, conforms to your movements, and fits your body like a finely tailored custom made suit. It is worth every penny paid for it.
Comments about Herman Miller Embody Chair:
Purchased the Embody chair after much research and once I received it, it did not disappoint. The level of detail around all the adjustments was well designed. It even comes with an adjustment to account for the distance between the back of your knees and the back rest. The lumbar and back support is phenomenal as it shapes to your back. The only issues, and it may be mine only, the adjustment knobs at the bottom are not real intuitive.
Comments about Herman Miller Embody Chair:
This is my office chair and it seems to fit like a glove. At fist it seems hard, but quickly I found this to be just what I need. It has the correct amount of adjustments and the operation of the chair is not overly complex. Clearly, a great deal of thought was put into this design.
Service and delivery comments:
The delivery service was great - the only hitch was that the delivery company claimed to have difficulty in reaching our office (yet we did not recive a call). A short call fixed that - the shipping company is very reponsive.
Comments about Herman Miller Embody Chair:
Big $ for an office chair - I was skeptical and regretted pushing the ORDER button almost immediately. I could have returned it (nice policy, Smart Furniture) but didn't.

I guess that says it all, but I'll elaborate.

I went from a 50-50 split between physically active and passive work for much of my career to a promotion that found me desk-bound for about 10 hours a day. I was fatigued at night and still sore much of the weekend - I felt I was getting old before my time.

That's why I hit the ORDER button. And when I first sat in the chair I thought it was nice...ish, but my first thought was DO NOT throw the box away.

By the weekend I knew I'd keep it and by the next weekend I was thinking about budgeting for one in my home office.

Basically, I feel good at the end of the day again. That's worth it to me.
Comments about Herman Miller Embody Chair:
Tired of those cheap chairs and just wanted the best. Looked on features/quality and decided on this. After that I found the price but oh well you do get what you pay for. An excellent choice and honestly my body thanks me for it!

As you can see on the pictures, perfectly contours my straight back.
1+ year using it already and best purchase ever!
Service and delivery comments:
Awesome delivery!
Comments about Herman Miller Embody Chair:
Quality: First of all, this chair is made of real quality material. There is a warranty on the chair that is for 10 years; I feel that that must be with extremely heavy use (or if used by a very heavy person).

Comfort: I have examined many people sitting in this chair. Every single guy I saw had this smug look on his face, as if something were *really* comfortable and they couldn't say what. Unfortunately, the women who sat in the chair were very uncomfortable: some even grimaced in pain, one person (female) got a headache after sitting in it for just 10 minutes. When I sat on the chair, the pain was excruciating. I asked my housemate to sit in it, and he loved it. I like understanding things, and I'm an engineer: I decided to measure the stiffness of the chair pan in different areas.

In the picture attached, the back portion of the chair (where the U-shaped portion of green tape is) encompasses an area of the seat that compresses like a firm marshmallow: it offers almost no support. The V-shaped section in the center of the chair offers slightly firmer support, still quite padded. The very tip of the V closest to the front of the chair is slightly firmer than even that. Everywhere else, the seat has a very hard firmness -- almost like a piece of foam on a granite seat. While the seat was unsupportive in exactly the wrong places for me, it apparently gives way comfortably for men and reduces a "squished manly bits" problem.

Additionally, the back of the chair is intensely curved to support a broad, muscular back. For a slender back, I found there is no support in the correct places: the seat back forced me to hunch over uncomfortably even at the lowest setting. However, it is *very* comfortable for people with broad backs.

Recommendation: I would recommend this for any guy! For girls, I recommend trying with caution and being aware of any pain. Chairs are unique, each made to suit a different type of person: find a chair that is comfortable and made for you!
Comments about Herman Miller Embody Chair:
It kept it words. It is pricey, but what you get what you paid for. Highly recommend for those people who are still looking for a comfortable chair to suit their everyday use.
P.S. I really need a foot rest if I want to get into a more relaxed position.
Comments about Herman Miller Embody Chair:
I use this chair for work 9+ hours daily. The chair has the most options for seat customization out of any office chair i have used. You can manipulate the amount of lumbar which is very welcome for me, as well as seat length for leg comfort. It also reclines and has a stopper so you can adjust how far back you would like it to recline. As mentioned before in comments i read before i made the purchase, this chairs back is made of materials that flex and bend with you making the back rest extremely comfortable almost as if it moves with your body. It seems to help me not slouch, which i have a habit of doing. I would highly recommend this chair to anyone who appreciates high quality and innovative craftsmanship. Though the price is slightly on the high side, i feel that is indeed worth it, especially when you consider the 12 year warranty that it comes with.
Comments about Herman Miller Embody Chair:
I'd like to address the issues/complaints from other users I was concerned about before buying/trying the chair. 1) "H" pixels digging into your back: nonsense; I have been actively trying to feel these pixels, and I know they're there, but I cannot feel them. 2) Lumbar support digs into your lower back and isn't adjustable: it hardly "digs" and the non-adjustableness is not a problem for me. I am not a chair expert but from what I can tell the lumbar was designed so that it would match any back - height, weight, etc. I am 5'11 and 190 pounds FYI. 3) Upright vs reclining: It seemed that many reviewers suggested this chair for people that recline; they didn't actually say it was bad for upright positioning, but no one actually said it was good; when the chair is in upright position, to use the back as support, you still have to lean back slightly; if you wanted to sit straight up/lean forward a bit, you wouldn't get much support from the back aside from the lumbar, but I don't think there is a chair out there that would be able to do such a thing (and also compensate for your other positions). I must say though, I do have a steelcase leap chair as well and it probably slightly feels more supportive when I'm in an upright position. 4) Armrests - people complain about the armrests moving when you grab the chair...if you plan on dragging this chair around a large office every 10 minutes and do not have the brainpower to grab it by the spine instead, then yes, the armrests not locking into place is a problem; otherwise, I recommend ignoring all armrest comments.

Distinction from the leap: I'd say the biggest difference between this and the leap is the softness. The seat on this is much softer. The back is as well. Aside from that the two accomplish a similar goal of an ergonomic chair, while the embody does it a bit more comfortably. If you have the money, I'd recommend the embody, but if you are not too keen on spending that much, I would say buy a used leap chair for around 400-500.
Comments about Herman Miller Embody Chair:
Super comfortable, great adjustments. Best office chair I have ever owned. My last chair was a HM Aeron and while I loved it, this one kicks its butt!
Service and delivery comments:
Great service, delivered earlier than promised.
Comments about Herman Miller Embody Chair:
For years as a small business owner I couldn't justify the price of a premium office chairs.

I went through several cheap chairs from office supply stores. Eventually they'd break or I'd convince myself the chair had worn out and went and purchased a new one. This year I finally got fed up (plus business was going well) so I decided to splurge. Put simply, this chair changed my life.

I can sit all day at my desk without any discomfort. Weird leg pains that I ignored for some time have disappeared. I honestly look forward to sitting at my desk now instead of anticipating discomfort and hourly laps around the office.

I sat in an Embody at a local store before deciding to purchase, comparing it to other options. The armrests were one of the biggest selling points: they don't slide out of position or move when you don't explicitly make them do so.

The options for reclining are also amazing; I really love that the seat tilts with the back.

Hands down best purchase I've ever made.
Service and delivery comments:
Delivery was super prompt; I had a 4-hour delivery window and the van showed up 15 minutes after the start time.

The packaging surprised me; I honestly thought there'd be more to protect the chair. There was a decent dent in the corner of the box, but it was between two legs of the chair base. The chair was in perfect condition upon unboxing.
Comments about Herman Miller Embody Chair:
Definitely the most comfortable chair I've ever sat in. Back pressure is gone after finding the correct settings (especially the backfit adjustment). The first chair I've been able to use for many hour periods of playing computer games that didn't have me moving around and trying to cross my legs onto the chair. Still, sometimes I like to cross both my legs onto the chair and that is completely possible with the adjustment to extend seat length.

My only complaints are that the instructions do not explain how to use the seat height adjustment, which requires facing the clear-plastic knob-within-a-knob's groove downward and then pushing downward very hard (which I thought would result in it breaking off, but it's actually quite strong).

And then my only issue is that the arm rests are not very soft. They are like a somewhat-stiff memory foam plastic material with no more than 1CM of "soft" depth. I'm used to using arm rests with several centimeters of cushion under leather for years so my right arm above the elbow is hurting a bit after about 4 hours of use. Lowering the arm height and tilting back 1 setting helps a lot, but then the effort to move a mouse is being placed more on my upper-arm then it is my wrist (which I guess is a good thing from an ergonomics standpoint).
Comments about Herman Miller Embody Chair:
I use this chair every day about 8 hours during the day, then another 4-5 hours every evening...

It's like butter.

Everything about it feels good, supportive, well made. While there are a ton of controls, it's not overwhelming.

It is a little expensive, until you compare it to other professional task chairs. Quick math puts this at 10-20% more expensive than some of the other highly rated chairs... which is ridiculous since it is easily 2x better than the other ones I tried. Pay the premium and get the best.

After I got this and used it for all of an hour I went back to my old chair for something brief... my wife said that the look on my face was like I had been sprayed by a skunk.

I would definitely recommend this chair if you plan to use it and can afford it. If you can't afford it, go improve yourself and figure out how to get a raise so you can afford it.
Service and delivery comments:
Delivery was good, though I question why they sent a full semi to deliver a single chair... regardless, very professional, timely and prompt! Chair was perfect inside the box.
Comments about Herman Miller Embody Chair:
Yes, this chair is expensive, no doubt about that. Many people will think a $1-300 chair will do the same job. That might be the case if someone only occasionally sits in the chair. After a couple of hours of continuous use, your back and legs will start giving you some discomfort. For someone sitting for 4-8+ hours, a chair like this would be beneficial regardless of the price. But someone already looking at chairs at this price probably already knows this.

I sit about 6-9 hours daily in the office processing paperwork and doing kitchen designs. After a couple years of thinking about buying a Herman Miller chair, I finally bit the bullet and purchased one. I shouldn't have waited this long to buy this chair. Previously, I was using a cheaper chair, and almost every day I could feel the cramps and pains in my lower back and shoulder/neck area. After adjusting everything on this chair, I can say that this is definitely a comfortable chair which gets me through my entire workday.

Just to note, I originally purchased a Polished Aluminum frame which was visually nice (especially when looking at the Herman Miller catalog pictures). I haven't seen a Polished Aluminum or Titanium frame in the showrooms that I visited. I did not get a chance to visit an actual Herman Miller showroom, since my work schedule didn't fall between their opening hours. So, i'm not sure if this is the case with all the polished aluminum frames, but the finish on my original chair (in my opinion) was not up to par especially for the added cost. The base itself was finished nicely, but the two smaller pieces by the tilt limiter and lumbar had sharp edges and was not fully polished (looking between the cutout). You would have to be within a few feet of the chair to notice it, but with the added cost, I was hoping it would be finished. I decided to go with the graphite frame instead.
Service and delivery comments:
Customer service helped me with a few issues I had regarding my original chair. I would like to say thank you to them and Adam as well for helping me get a new chair.
Comments about Herman Miller Embody Chair:
The Embody chair offers unparalled comfort. I had an accident last year that required me to undergo extensive back surgery. This chair allows me to work (I am currently writing my dissertation) for an extended period with only minimal discomfort at the end of the day. I am also very petite (a mere 5 ft tall) and Embody adjusts to accommodate my small frame. My husband has also tried the Embody chair and now regrets buying Herman Miller's Aeron instead of this. He thinks a $200 plus difference in price is definitely worth it. Best investment we've ever made! Finally, if you can, wait for Smart Furniture's 15% Off Herman Miller promotion.
Service and delivery comments:
Excellent delivery and customer service from Smart Furniture. I was told that it would take about 5 weeks to have the chair ready (it was custom order) but I got mine in just two weeks. Unfortunately, I didn't get much notice that the chair was coming so soon. I got a courtesy call the day before delivery and luckily, I had already returned from a trip. The delivery people were also super helpful. I didn't realize that the free delivery option was only "door delivery" and the delivery personnel didn't hesitate to bring the chair to our flat on the second floor when I told them I have a disability.
Comments about Herman Miller Embody Chair:
I work out of my home office and spend at least 8-10 hours a day sitting on my computer. I've had the chair for 3 weeks so far and my back is already feeling much better. The chair is extremely comfortable and the quality is evident. It's extremely impressive how complex it is and the engineering in the back and bottom parts of the chair. The adjustments are logical, but I do wish there was some way to tweak the angle of the seat bottom. I feel like it's learning a little bit more forward than I would like.

Overall, fantastic chair if you can justify the expense. There's no doubt that you are getting what you pay for with this chair.
Service and delivery comments:
Very fast shipping and delivery. The chair was shipped a few hours after I placed my order, and I received it about 2-3 business days later. Smart Furniture also had the best price! Very satisfied.
Comments about Herman Miller Embody Chair:
I bought this chair to replace my old leather, cushy, executive style office chair of 14 years. I have only had it one week. I purchased the Embody because I have an Aeron at home in my office and I like it. The reviews I read were helpful and I am writing this review because of others helping me make my decision. I feel that the Aeron and Embody are very different in looks and feel. Both are very well built. Both are easy to learn and adjust. It takes a while for my lower body to find the right adjustment on the Embody, still getting some fatigue and numbness in lower legs. If you get the Embody adjusted properly it helps to correct your sitting posture naturally. I'm not in love with it yet but it's to early to tell. But I know I will keep getting the annoying emails asking for reviews so I responded now.
Attractive Design
Comfortable
Easy To Assemble
Ergonomic
Good Lumbar Support
Rolls Smoothly
Sturdy
Computer Chair
Home Office
Primary Work Chair
Comments about Herman Miller Embody Chair:
I am using Embody chair in my home office everyday, at least 8 hours a day, actually I am comfortably sitting on it right now as I type this review. I sat on many chairs in my 23 year carreer and I whould rank this chair above 95% of the most comfortable chairs. And it looks cool! The only downside worth mentioning is too much plastic being used in production.
Good Lumbar Support
Rolls Smoothly
Computer Chair
Home Office
Comments about Herman Miller Embody Chair:
This is a great chair for someone who likes to recline while working. If you like to lean forward while working, you will probaby think that the seat padding is insufficient.
Comments about Herman Miller Embody Chair:
This was a very comfortable chair for the most part, but there was one section low on the seat back that irritated my tailbone, which is sensitive. The whole SmartFurniture shopping experience, however, has been wonderful.
Service and delivery comments:
The service and delivery process were absolutely seamless and hassle-free.
Comfortable
Ergonomic
Good Lumbar Support
Rolls Smoothly
Sturdy
Comments about Herman Miller Embody Chair:
My husband works on the computer 8+ hours a day and this chair has been great. You don't notice it, which is good, because we were always having to fiddle with the old chair. If it was just me (5'6"), I would have gotten the Sayl, but it didn't fit him well (he's 6'2"). The Embody works for both of us and is easy to change the settings very quickly. I have neck, back and hip issues and I love the Embody as well. Sitting on most chairs for several hours will usually cause me a lot of pain and I'll need some treatment but this chair is just different. If you have back pain and have to sit a lot, especially if you work on the computer, this investment is worth it. If you break the cost down into the cost of chiropractic treatments, it is really not that bad. Plus, with that super long warranty, spreading the cost over that many years makes it feel more affordable.
Service and delivery comments:
Delivery guys were great. It camed assembled, so there wasn't much to do but it was in great condition and they were nice.
Attractive Design
Comfortable
Easy To Assemble
Ergonomic
Good Lumbar Support
Rolls Smoothly
Sturdy
Computer Chair
Home Office
Primary Work Chair
Comments about Herman Miller Embody Chair:
I spend 11+ hours per day sitting in an uncomfortable chair at work and bought this as a much needed replacement. The chair feels amazing and has greatly improved my posture. It provides excellent lumbar support, which has also reduced a lot of pain in my mid-lower back.

The spine-like back supports help distribute my weight and reduce overall fatigue. I'm 5'11" and the chair is also tall enough to provide ample upper back support.

My favorite part about the chair would have to be the cloth mesh fabric, which is firm yet comfortable. This is my first Herman Miller chair, but definitely won't be the last.
Attractive Design
Comfortable
Easy To Assemble
Ergonomic
Good Lumbar Support
Rolls Smoothly
Sturdy
Computer Chair
Home Office
Primary Work Chair
Comments about Herman Miller Embody Chair:
I've been through several chairs and had issues with back support. I feel much better with this one than with the prior ones I've used.
Attractive Design
Comfortable
Ergonomic
Good Lumbar Support
Rolls Smoothly
Computer Chair
Home Office
Primary Work Chair
Comments about Herman Miller Embody Chair:
I've recently decided to finally buy my "forever office chair" as I sit in a chair for a living and work from home often. After some pretty extensive research, I ordered both a fully loaded Herman Miller Embody and a loaded Steelcase Leap with the intention of doing an extended in-home test and then keeping one of them. I imagine if you are reading this, you might be in the same situation and trying to decide between the two. So hopefully my review will help you make your decision. They are configured as follows:

Leap:
- Buzz2 fabric in Rouge
- Aluminum frame
- Fully adjustable arms
- Headrest
- Carpet Casters
- Standard 5" seat heigh adjustment

Embody:
- Balance Carbon fabric
- White frame
- Fully adjustable arms
- Polished aluminum base
- Translucent casters

Here are my observations after spending over a month with both chairs:

- Leap offers a headrest that Embody does not. However, the headrest only adjusts up and down. I find myself rarely using it.

- Leap has the more adjustable arm rests. It adjusts height, forward/backward, width, and rotation. The Embody's arm rests only adjusts height and width. However, the Embody's arm rest is larger and locks into place, where as the Leap's arm rests can be moved if you accidentally push on them.

- Embody's seat is wider than the Leap. So if you are bigger around the hips, the Embody might work better. However, Steelcase sells the Leap Plus, which is a bigger version of Leap.

- The Leap looks like a plain office chair, despite my attempt to spruce it up with red fabric and polished aluminum frame. The Embody looks like something that came out of the bridge of a star ship. Which look you prefer is obviously personal.

- The Leap feels immediately comfortable due to its cushion. However, the Embody's support feels a bit more nuanced. Where as the Leap's cushion responds to broad movements, Embody's pixellated support system moves with every little movement of your body.

- Both are comfortable for long sitting sessions.

- The Leap's seat stays parallel to the ground as you lean back. The Embody's seat stays at the same angle as the back, so it tilts up when you lean back.

- The tilting action is a bit smoother on the Embody.

- The Leap is cheaper than the Embody. However it can quickly get expensive once you start adding options, like leather or aluminum base.

- The Embody's LiveBack gives a bit better back support than the Leap's back. The Leap's back support is still very good though.

- The Embody's back is narrower, which allows you to join your hands together behind you to stretch, and to roll your shoulders freely.

- Both have 12 year warranties. SmartFurniture says 10 years for the Leap, but Steelcase's website says 12 years.

- I had requested both the Rhythm and the Balance fabric samples from HM. The Rhythm is very thin, where as the Balance has bit of cushion to it (and more breathable). I recommend going with the Balance upgrade as the pixellated support system provides no other cushions. Similarly, on the Leap, the Cogent Connect fabric is softer and more breathable than the Buzz2. I had checked out both fabrics in a local store. and found that I did not prefer one over the other. I stuck with Buzz2, even though Cogent Connect is only $10 more. The Balance fabric is the nicest fabric out of all 4 aforementioned fabrics. It's an expensive upgrade ($200), possibly because it's made in Italy, where as the Rhythm fabric is made in the US.

- The Leap has adjustment instructions printed under the moveable arm rest pad, so you can reference it at a glance. You have to look at the instruction booklet for the Embody.

- The Embody is not available in any bright colors other than blue, where as the Leap is available in a much larger selection of colors.

- The Embody is not available in leather, where as the Leap is.

- Both manufacturers are based in Michigan. Steelcase is based in Grand Rapids; Herman Miller is based in Zeeland.

- The Leap is delivered via FedEx, where the Embody arrived by freight. Both come already assembled.

In the end, I decided to keep the Embody. My decision is not because it is significantly more supportive than Leap, but primarily because it looks more stylish to my eyes. If money is the primary consideration, I would have no hesitation in recommending the Leap. Both are great chairs that will give you excellent support for years to come.
Service and delivery comments:
Excellent service from SmartFurniture. The chair was delivered quickly and arrived well protected.
Attractive Design
Comfortable
Easy To Assemble
Ergonomic
Good Lumbar Support
Rolls Smoothly
Sturdy
Comments about Herman Miller Embody Chair:
This product was purchased as a gift for my father, who is a software developer working from home. It's an incredibly comfortable office chair... Users can change almost all characteristics of the chair, including lower back support, resistence to incline, and even the length of seat.

My mother commented that there wasn't enough padding on the bottom seat cushion for her, but I've not experienced any issues myself.
Service and delivery comments:
Cevalogistics provided extremely prompt delivery, followed up with a phone call, and returned to our home twice when no one answered the door.
Comfortable
Ergonomic
Good Lumbar Support
Sturdy
Comments about Herman Miller Embody Chair:
Great for home office.
Attractive Design
Comfortable
Comments about Herman Miller Embody Chair:
Great service, fast shipping, and the best chair
Attractive Design
Good Lumbar Support
Rolls Smoothly
Sturdy
Lacks Adjustability
No neck support
Uncomfortable
Comments about Herman Miller Embody Chair:
I was expecting more from this chair, especially for its huge price tag. My neck hurts because there is no reprieve for the neck after minutes or hours on the chair. Frankly the arm support is fixed in its lateral movement making it unusable in any other angle of choice which my cheaper (the high end version) Aeron chair provides. If there was even a slight support for the neck, I would give this chair 5 stars but its lacking there. OK overall. I like the lumbar support but clearly this chair is more form over function. Its good looks is unsurpassed. However save yourself some valuable dollars and get the Aeron instead
Attractive Design
Comfortable
Easy To Assemble
Ergonomic
Good Lumbar Support
Rolls Smoothly
Sturdy
Computer Chair
Home Office
Primary Work Chair
Comments about Herman Miller Embody Chair:
When people say it is comfortable, don't think lazy-boy. Think long hours at a desk not being painful. The chair flexes to your movements rather than forcing you into a specific sitting position. I had an aeron chair for 12 years before this one. The aeron is comfortable without padding like this one. However, the aeron does not have the full back support this one has -- this one hugs my back. Also, the aeron has shaped sides by your thighs which stop you from sitting cross legged or pulling one leg up under the other -- you can do that with this one. The chair flexes with you without being whimpy about it. The adjustability make it work.
Shipping & Delivery
Standard Shipping Service:
Free Front Door Delivery: $0.00
With front door delivery, your items will be placed outside next to your front door. When your order arrives to the station in your home town, you will be contacted to schedule a delivery day and time. An appointment will be made prior to delivery and a signature will be required. Please note that this service does not include delivery inside your home or office, so be prepared. If you want to save a little money on shipping and have friends to help you move and unpack, this is your best option
Shipping Upgrades:
In Home Delivery: $59.00
In Home delivery is a cost effective way to have large, heavy items delivered inside your home or office when you just do not want to be bothered by moving and lifting. When your order reaches the local station in your area, you will be contacted to schedule a delivery appointment (with a 4-5 hour window).
*Note: Shipping fees are per item and apply to orders shipped within the Contiguous United States
Availability:
To get the most current stock status for Embody Chairs, call our professional salespeople at 888-467-6278. Smart Furniture has a number of Embody Chairs in stock that are ready to ship immediately. Customized Embody Chairs are made-to-order and usually arrive within 4 weeks from the date of purchase.
Embody Chairs configured with a graphite base/frame, Rhythm Black fabric, with or without arms, and standard carpet casters ship to your door in as little as 10 business days. To see current stock levels, click on the "See What's in Stock" section on the design tool above or give us a call at (888) 467-6278 to speak with a Smart Furniture representative in Chattanooga, TN.
Packaging:
Type: 1 box
Box dimensions (Fully Assembled Chair): 28" x 28" x 41"
Box Dimensions (Ready to Assemble Chair): 28" x 26" x 24"
Packaged weight: 62 lbs.
Assembly required: Fully assembled chairs require no assembly. Please allow 20-25 minutes to assemble a ready to assemble chair
Warranty
The Embody Chair with Herman Miller's 12-Year, 3-Shift Warranty, covering casters, pneumatic cylinders, tilts and all moving mechanisms -- labor included. *Please note that the Balance White fabric is not covered under this warranty.

To learn more about the value delivered by Herman Miller's extended 12-year warranty, read Embody Chair: A Quarter a Day.

If you purchase something from us we back up the warranty. Whether the product comes with a 1, 3, or 12 year warranty if you have a warranty issue contact us! If we can send you a part, we do. If your item needs to be completely replaced, we send you a new one. If you need servicing, we work with local dealers to have a certified repair technician come out to your location. With your proof of purchase you can also make warranty claims with any authorized seller or Herman Miller directly. We try to do whats easiest for you and are there for you down the road like you hoped we would be. Shop SmartFurniture.com and be pleasantly surprised with our customer service every time you turn around.

Do you have specific questions about what's covered under Herman Miller's warranty for this product? Give our sales team a call at 8‌88-467-6278 to get your questions answered.

Did you purchase a piece of Herman Miller furniture that's not working as expected? Send an email to customerservice@smartfurniture.com or contact our customer service department at 8‌88-762-7841, and we'll take care of you. We usually ask for a photo or video of the warranty issue that you're experiencing, so if you want to expedite the warranty claim process, you can e-mail us with those attachments, and we'll jump on filing the claim for you right away
Do you have questions about this product?
Get answers from real customers and in-house experts with AnswerBox.
14 Questions | 19 Answers
Displaying questions 1-14
Q:

What is the maximum recline angle?

Asked on 6/25/2013 by Brian

1 answer

A:

The Embody chair has a back tilt range of 94-120 degrees and the seat has a tilt range of 3-15 degress.

Answered on 6/25/2013 by Karen G. from Smart Furniture

Q:

I need to sit almost vertically with good lumbar support. Is this chair capable of supporting me in this position, or is the default upright position going to recline my back?

Asked on 7/18/2012 by bebop from san francisco

1 answer

A:

The Embody Chair was designed to best work with a reclined posture. You can lock the back upright to prevent it from reclining as well as adjust the curvature of the spine to match your back. It could work well for you but please note: the seat on the Embody is not the most cushy, sitting upright 100% of the time you may be more comfortable in a foam, mesh or gel seat.

Answered on 7/19/2012 by Melanie from Smart Furniture

Q:

Is Translucent Casters work on Hard Floor

Asked on 3/10/2012 by GCTC from NY

2 answers

A:

Yes, the translucent casters are like the Casters for Hard Floors and/or Carpet but with clear polycarbonate wheels.

Answered on 3/12/2012 by Anonymous

A:

Yes, Translucent is for beauty and is exactly like the hard wood casters.

Answered on 6/2/2012 by Bobby V. from Stroudsburg, PA

Q:

Does the white balance fabric get dirty?

Asked on 12/13/2011 by Anonymous

1 answer

A:

Most certainly. You may want to go with a darker color if you are worried about it.

Answered on 12/14/2011 by Melanie from Smart Furniture

Q:

how do you purchase a new fabric cover if original is soiled/worn?

Asked on 5/18/2011 by Danny from Portland, OR

1 answer

A:

Unfortunately this is not a do it yourself project that we can just sell you parts for. You would need to have this done by a professional. Contact us for your local Herman Miller Commercial dealer for information or you can contact Herman Miller directly at 800 646 4400.

Answered on 5/18/2011 by Melanie from Smart Furniture

Q:

I received my Embody chair today, but seat of the chair wouldn't lift. How can I fix it?

Asked on 12/20/2010 by I love my Embody Chair

4 answers

A:

Embody Chairs are shipped in the lowest position and can experience the following:

Vibration in transit can cause the cylinder to "settle" into the base deeper than intended. The chair will appear to be "stuck" in the lowest position. This can be corrected by (1) standing over the chair, (2) firmly pulling up on the "joy stick" until it almost touches the rubber tension knob, (3) grabing the opposite side of the seat with your free hand, and (4) pulling up on the chair while swiveling the chair back and forth.

AND/OR

The activation end of the cable may have come loose from the top end of the pneumatic cylinder. This can be corrected by (1) from the left side of the chair, as seated, locate the activation cable. this can be found between the under side of the seat and the top of the tilt. (2) Grasp the cable and attempt to pull it toward you. (3) If the cable comes out you will can re-attach it by slipping the ball end into the fork on the top of the cylinder. You may need a flashlight to see the mechanism. (4) Snap the cable collar into the holder on the top of the cylinder. (5) Activate the "joy stick"

Answered on 12/20/2010 by Anonymous

A:

THe seat height adjustment is on the right side front. It is the clear lever and operates by pulling it and lifting or lowering.

Answered on 3/6/2011 by Paul from Boston Suburb

A:

You flick the clear plastic "switch" on the right side of the chair, and don't put pressure on it. It is basically the same as every other desk chair. They show it in the review video. If that doesn't work I am assuming it is broken. Now looking at the date I am assuming you have solved this problem.

Answered on 3/9/2011 by Andrew from New Orleans, La

A:

If pushing the little joystick in the middle of the adjustment knob just below and to the right of the seat doesn't do it (you might need to lift your wight off of it), then it might be broken.

Answered on 5/2/2011 by Patrick the Artist from Albuquerque, NM

Q:

Can this chair be used at a office counter environment. Seat of chair needs to be 26" above floor. Please advixe

Asked on 11/28/2010 by Bruce Woolpert from Cupertino, CA

2 answers

A:

Even with the extended height cylinder on an Embody the maximum seat height is 22". You will need a work stool like the Aeron Stool (

http://www.smartfurniture.com/products/Aeron-Stool.html)

that has a higher seat height. Embody does not have a stool version.

Answered on 11/29/2010 by Melanie from Smart Furniture

A:

Agreed. I think the Aeron Stool would be your best bet. An Embody Stool would be interesting though!

http://www.smartfurniture.com/products/Aeron-Stool.html

Answered on 11/30/2010 by Embody Chair Fan from New York

Q:

How do I clean my Embody Chair?

Asked on 10/6/2010 by Anonymous from SF

1 answer

A:

BASE, FRAME & ARMPAD MAINTENANCE: For normal cleaning, wash surface with a soft cloth soaked in mild detergent and warm water. Rinse thoroughly and dry with a soft cloth. Do not use solvents or abrasive kitchen cleaners.

BALANCE FABRIC MAINTENANCE: For normal cleaning, vacuum fabric as needed. Vacuuming picks up dust and reduces the need for professional cleaning. Do not brush fabric or use a vacuum attachment with a rotary brush.

To spot-clean fabric, immediately soak up the stain with a soft absorbent cloth. Do not dry the stain completely or it may set. The longer a stain is allowed to remain on a fabric, the more difficult it is to remove.

For water-based stains such as coffee, soft drinks, fruit juices, or milk use a water-based cleaner (specifically made for cleaning fabric) or a solution of mild (alkaline) warm soapy water (not overly soapy) applied with a damp clean cloth or sponge. Work the cleaner into a lather or foam. Never use hot water, it will set the stain. Avoid scrubbing.

OTHER CARE & MAINTENANCE CONSIDERATIONS: Do not over apply water or any liquid solution to fabric. Excessive wetting of the fabric with any liquid solution may result in permanent damage to the material. Do not rub too vigorously or you may damage the nap of the fabric or break fibers. Soak up all remaining solution and then use another clean cloth or sponge dipped in cool water to remove any residue. Let fabric dry thoroughly and then vacuum well before using.

If large areas are soiled or stains resists cleaning, contact a professional cleaning firm.

Answered on 10/6/2010 by Gil from Chattanooga, TN

Q:

How do I know what color the back of the Embody will be? I have seen photos where it is graphite and also where it is translucent (referring to the flexible plastic lining the back of the chair, not the I-shaped supports).

Asked on 10/6/2010 by Anonymous from SF

1 answer

A:

For chairs with Rhythm Black, Balance Carbon, or Balance Black upholstery and graphite frame finish, the back mat will be graphite. For all other options, the back mat is translucent.

Answered on 10/8/2010 by Smart Furniture

Q:

What can I do if the fabric is worn within the 12-year warranty period?

Asked on 10/6/2010 by Anonymous from SF

1 answer

A:

Herman Miller's 12-year warranty covers the chair for normal wear and tear. Fabric covers are replaceable. Warranty does not cover fabric that is soiled, stained, or damaged due to improper cleaning.

*Please note that Balance White fabric is not warrantied against discoloration.

Answered on 10/8/2010 by Smart Furniture

Q:

If I order braking casters, do all five wheels lock in place?

Asked on 10/6/2010 by Anonymous from SF

1 answer

A:

All five casters have brakes, BUT not locks. With weight in the chair the casters roll freely, but with weight removed an internal brake causes friction on the wheels which does allow the chair to roll with some additional effort.

Answered on 10/8/2010 by Smart Furniture

Q:

Which base option is more durable? Which option is lighter? Do the terms polished aluminum, titanium and graphite mean different material, or just different colors on the same material?

Asked on 10/6/2010 by Anonymous from SF

1 answer

A:

All Embody Chair bases are cast aluminum and are the same weight. The material on all bases are equally durable, however they vary in cosmetic durability. By far, the graphite base shows the least amount of wear and tear, scuffs, etc.

Answered on 10/8/2010 by Smart Furniture

Q:

How much weight can it hold?

Asked on 10/6/2010 by Anonymous from SF

1 answer

A:

The Embody Chair is tested to support up to 300 pounds.

Answered on 10/8/2010 by Smart Furniture

Q:

What's the difference between the Rhythm and Balance fabrics?

Asked on 10/6/2010 by Gil from Chattanooga, TN

1 answer

A:

Rhythm is 100% polyester with no upcharge for application on the Embody chair as the fabric is an existing one for Herman Miller being used on other seating. Balance is 100% polyester knit, created specially for the Embody Chair. Loft, or thickness, gives it a cushy feel. Air and light pass through it more easily, providing maximum cushion and breathability.

Answered on 10/6/2010 by Matt from Chattanooga, TN
Displaying questions 1-14