Herman Miller Sayl Chair
designed by Yves Behar
At A Glance:
The Sayl Chair is the latest creation from the offices of Yves Behar, a San Fransisco designer who's making a big splash on the international scene. This is a chair that wears its reputation as sculptural art on its sleeve, looking very much like the suspension bridges that inspired its design. It's beautiful, utterly unique, and priced very affordably.

What's To Like:
That gorgeous back, that lovely profile. The Sayl earns its reputation as one of the most beautiful office chairs in the Herman Miller stable, and with flying colors to boot. You've also gotta love that price (you've got to!): at $459, it's the most affordable art installation you can buy. And hey, you can sit in it at work!

What's Not to Like:
The chair is a bit on the small side, so if you need an expansive seat and seat back, you might want to look elsewhere. And if you like spending a ton of money on your office chair, this is also not for you.

The Bottom Line:
This is a gorgeous chair, a comfortable chair, and it's priced to sell. It doesn't get much better than that.

Read A Review of Sayl:
Smart Furniture's very own Whitney just spent a work week in Sayl - read her Sayl review here.
The Herman Miller Sayl Chair is also known by the following manufacturer Item Numbers: AS2, AS4, AS5, AS2SA22PF, AS2SA22HF, AS2SA22AA, AS2SA23AA.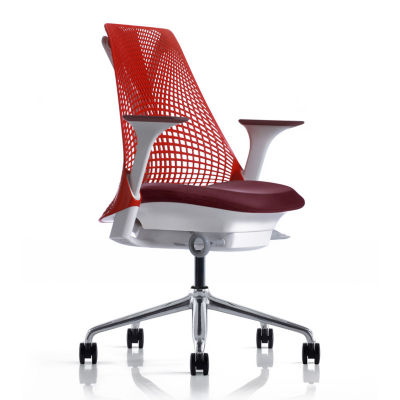 97.22%
Customer Satisfaction Rating
Rank: #5 in Office Chairs
Customer Rating:
Recommend to a Friend? 100%
Return Rate: 2.2%
The ideal office chair makes work more efficient and comfortable. Let our Office Chair Buying Guide help you find the perfect one.
---

INSIGHTS
Sayl Chair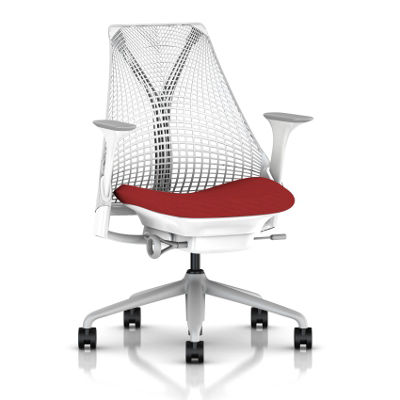 97.22%
Customer Satisfaction Rating
Rank: #5 in Office Chairs
Customer Rating:
Recommend to a Friend? 100%
Return Rate: 2.7%
Materials & Measurements
Materials:
The Sayl Chair has an upholstered seat with foam padding and passive Posturefit back support. The Sayl Chair's overall components are constructed from plastic, steel, foam, and textile.

Polished aluminum base is cast aluminum; Fog and Black bases are made of Glass Filled Nylon (an environmental answer to fiberglass).

Measurements:
Overall: 34.25"-38.75" h x 24.5" w x 24.5" d
Seat Height: 15.5" to 20"
Seat Width: 19.75"
Arm Height: 24" to 29" (height-adjustable/fully adjustable arms)
Your FurnitureGenius Recommendations
Environmental Information
Greenguard Certified as low-emitting product that meets indoor air quality standards
MBDC Silver Cradle to Cradle Certified as part of a closed-loop materials system
Up to 93 percent recyclable at the end of its useful life; plastic components are identified with an ASTM recycling code
Manufactured using 100 percent green power free of water and air emissions
The plant where Sayl is manufactured is an ISO 14001-certified site
Read more about the Sayl Chair's environmentally friendly features.
Assembly Instructions
---
Customer Photos
Sayl Chairs in a Google Conference Room
About The Manufacturer
Herman Miller is an industry leader in the integration of cutting edge technology to furniture and other household items to make everyday life more comfortable, convenient, and stylish. Herman Miller stands out at the forefront of such fields as ergonomic technologies, environmentally friendly manufacturing processes, and customizable furniture items.
In addition to producing some of the most outstanding office furniture in the world, Herman Miller has also taken on the responsibility of manufacturing some of the most celebrated furniture designs by some of the world's most famous designs. These "modern classics" include works by Charles and Ray Eames, George Nelson, and Isamu Noguchi. Herman Miller celebrates these famous mid-century designers' works through its extraordinarily precise manufacturing techniques and industry-leading green production processes.
Herman Miller is a global company with operations, sales offices, dealers, and licensees in more than 40 countries in North America, Asia/Pacific, Europe, Middle East, Africa, and Latin America, serving customers virtually anywhere in the world. Herman Miller is headquartered in Zeeland, Michigan, while manufacturing facilities are located in the U.S., China, Italy, and the United Kingdom.
Your Recently Viewed Products
Designer
Yves Behar
A vibrant, stimulating designer based in San Francisco, California, Yves Behar's design shop has had a hand in everything from work chairs to recycling projects, department store packaging to home appliances. His goal is to responsibly produce beautiful things; if it's not responsible (environmental and socially) then it cannot be beautiful, and if it isn't beautiful it is not worth making. The Sayl Chair is just one more object in his long line of attractive and useful design pieces, all of which have a constructive place in the social landscape. With an eye toward economy, a heart toward the useful and the socially responsible, and a sensibility attuned to the lovely and the aesthetically pleasing, Behar is a strong and valuable voice in the design community.
Smart Furniture is very proud to partner with Yves Behar and Herman Miller to bring our customers the Sayl Chair, the latest in Herman Miller's long line of transformative, beautiful work chairs. The Sayl Chair is perfect for the cubicle, the home, and the museum. It's a welcome addition to Smart Furniture's catalogue, a winning and innovative work chair that will keep you comfortable, supported, and ahead of the curve when it comes to style and design.
Read more about Yves Behar and the Sayl Chair.
Design Story
Smart Furniture employee and furniture aficianado Karen Culp caught up with Yves Behar, the designer of the Sayl Chair, at the Consumer Electronics Show in March 2011, soon after the chair's release. Below is a quick video of their conversation.
Design
In 1923, the Michigan Star Furniture Company was reinvented and became the Herman Miller Furniture Company. D.J. De Pree was the first president of the Herman Miller Furniture Company. De Pree would continue to preside over the Herman Miller Company for decades, paving the way for future presidents and employees. De Pree set the standard for Herman Miller products sky high and refused to compromise on any points, including their environmental impact. De Pree revamped the company for the first of many times in 1930, vowing to move away from traditional furniture and focus more on products that would better suit the changing needs and styles of the American population. The first of Herman Miller's showrooms was opened in 1939 in Chicago's famous Merchandise Mart.
By watching how people used their standard office chairs, Behar could create an office chair that was ten steps above the rest. With the understanding of the reasons people needed an office chair and how they used it, Behar created the ultimate version of their own reality. Behar did over 1,000 sketches of the Chair before getting it right. When attempting to design the perfect office or home chair, practice makes perfect. It took time, patience, and dedication on the part of Yves Behar, but the end result was phenomenal. The chair Behar designed for Herman Miller really does surpass all others. Once you've sat in an Yves Behar Sayl Chair, it's unlikely that you'll go back to anything else.
Read more about the Sayl Chair's design.
Imagine your office chair unframed. No borders, no limits, and full of surprises. Yves Behar and the Herman Miller design team tried this thought experiment themselves, and the result was the Sayl Chair.
When Yves Behar began working with Herman Miller the idea of the Sayl Chair was truly revolutionary. The chair is unique in every sense of the word and has a design that is all its own. Behar also designed the Leaf and Ardea personal lights. When Herman Miller commissioned Yves Behar to design a new chair, the goal was to make a chair that was designed with his mindset; unframed beauty. Yves Behar designs are never constrained by convention. Yves Behar's pieces are always designed with the notion that the human experience can be bettered by his ideas. When Herman Miller needed a highly affordable, beautifully designed chair with first class ergonomics, respect for the environment and elegant engineering there was really only one man for the job. Behar began his design process with an Earnes quote, 'The best for the most for the least', and the Sayl Chair was born. The Sayl Chair by Yves Behar is designed after San Francisco's most famous landmark: the Golden Gate Bridge. Behar wondered if the engineering principles used in a suspension bridge could be applied to an everyday office chair. The chair by Yves Behar proved that not only was it possible, but this design would reduce materials, weight, and environmental impact. In fact, by taking the time to investigate the dematerialization of the office chair, Behar ended up creating a masterpiece.
---
The flexible elastomer suspension material used in the Herman Miller Sayl Chair by Yves Behar could be stretched in a way that ensured the greatest tension at points where the back needs the most support and the least tension in areas that would allow for an extensive range of motion while sitting in the Sayl Chair. This idea perfectly coincided with Yves Behar's ideas on living your life unframed. The chair he designed for Herman Miller allows the consumer to sit in their chair unframed. With this concept intact, the actual creation of the Sayl Chair proved to be a larger hurdle than expected. The chair was not designed on a computer, it was hand sketched again and again and again. Numerous prototypes of the Sayl Chair were produced and rejected before the design was deemed perfect. Yves Behar describes the process as 'draw, build, break, and repeat until you arrive at something unique.' 'Unique' doesn't even come close to describing the final product. There isn't an adequate word to describe the unique qualities of the Sayl Chair.
After completing the perfect chair, Yves Behar had to come up with a name. Many ideas passed through Yves Behar's mind. Bridge, Sail, Gate, etc. So why name this innovative piece of furniture Sayl? When looking at the chair from the side, the Sayl Chair by Yves Behar closely resembles a full mainsail. The Golden Gate Bridge is constantly framed by the sails of the large ships passing beneath it. The name is a reflection of these sailing vessels that pass beneath San Francisco's Golden Gate Bridge. By replacing the 'I' in sail with a 'Y', Behar gave a nod to the innovative Y Tower structure of his new chair. In Behar's mind, a more perfect name did not exist. The Herman Miller Sayl Chair was officially born.
You've heard it a million times already, but the Sayl Chair by Yves Behar can be bought at an astonishingly low price. You cannot find this standard of quality in any other office chair at this same low cost; in fact you might not even be able to find this standard of quality in a chair that's twice as expensive. With a starting price under $459, the Sayl Chair is less than half the price of most Aeron Chair models. It comes in at half the price, with all the great attributes. The chair is stylish enough to go toe to toe with its more expensive competitors. Not only can the chair go toe-to-toe, but it can win. Jill Singer of Industrial Design magazine says, "It's a pretty amazing feat that they got it down to that point without sacrificing the look." Amazing doesn't really seem to do Behar justice. Amazing would've been the Chair priced at $700. $459 is just unspeakably low for the quality of the Herman Miller Sayl Chair by Yves Behar. $459 is unbelievably low for any chair with these aesthetic, ergonomic, and distinctive qualities. "We watched people sit and work," says Behar.
It's too soon to tell how many awards, accolades, and praises Herman Miller and Yves Behar will receive for their work, but the assumption is that many are to come. Yves Behar has always been known for his innovative way of thinking and problem solving, but nothing compares to the way he has paved the road for office, home, and work chairs of the future. Creating a completely unique and one of a kind chair for Herman Miller may or may not be what Yves Behar is known for in the end, but for now he has certainly made his mark. The Sayl Chair has changed the office chair design business permanently. Remarkably made and designed, these new Herman Miller chairs are in a league of their own and it's all because of Yves Behar's unique and innovative design strategies and ideas. Behar continues to make and create pieces that are one of a kind and geared specifically towards their users.
Shipping & Delivery
Default Shipping Rate: Free!
Free Ground Shipping (within the Contiguous United States)!
Ground Shipping: Free!
The basic shipping option for Sayl is free and includes delivery to your front door. All ready to assemble Sayl chairs ship as two pieces (base and back) inside one box. For those of of you living in small spaces, the package measures 25" x 25" x 29" and weighs around 38lb. Assembly is quick, easy and straight forward. Sayl chairs can ship with our UPS Ground service or with our freight partners for fully assembled chairs.
Inside Delivery: $74
Inside delivery is a cost efficient way to have large or fragile items delivered to your room of choice. When your order reaches the local station in your area, the delivery agent will call to schedule a four hour delivery appointment, and they'll bring your chair inside of your residence.
Packaging:
Type: 1 box
Ready to Assemble Box dimensions: 25" x 25" x 29"
Fully Assembled Box dimensions: 31" x 29" x 41"
Packaged weight: 38 lbs
Warranty
The Sayl Chair comes with Herman Miller's 12-Year, 3-Shift Warranty

If you purchase something from us we back up the warranty. Whether the product comes with a 1, 3, or 12 year warranty, if you have a warranty issue contact us! If we can send you a part, we do. If your item needs to be completely replaced, we send you a new one. If your item needs servicing, we work with local dealers to have a certified repair technician come out to your location. With your proof of purchase you can also make warranty claims with any authorized seller or Herman Miller directly. We try to do what's easiest for you, and we're there for you down the road just like you hoped we would be. Shop SmartFurniture.com and be pleasantly surprised with our customer service every time you turn around.

Do you have specific questions about what's covered under Herman Miller's warranty for this product? Give our sales team a call at 8‌88-467-6278 to get your questions answered.

Did you purchase a piece of Herman Miller furniture that's not working as expected? Send an email to customerservice@smartfurniture.com or contact our customer service department at 8‌88-762-7841, and we'll take care of you. We usually ask for a photo or video of the warranty issue that you're experiencing, so if you want to expedite the warranty claim process, you can e-mail us with those attachments, and we'll jump on filing the claim for you right away
Customizations Made Easy
Use these arrows to move through customizable aspects of this product.