Groupwork Table
by Turnstone
designed by Kirt Martin

At A Glance: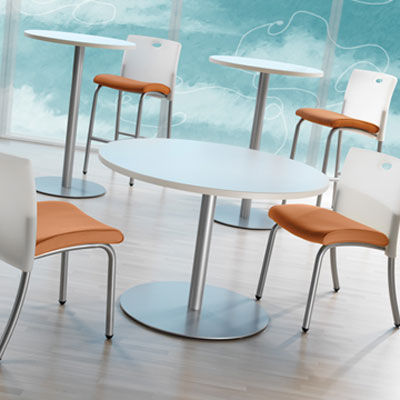 Perfect for your own personal workspace or collaborative meeting place, the 48" wide Groupwork Table provides smart design, good value and the solid performance you'll come to expect from Turnstone office furniture. Choose the shape, size, leg or base style, and finish that work best for your space.

What's To Like:
If you really love clean lines and simplicity: this is your table. No clutter, no distracting "design features," just a sturdy table. The caster option makes it a great choice for a training room or constantly-changing workplace. Round table or square table, it's durable and reliable.

What's Not to Like:
Let's see ... the Groupwork Table's legs or base will be difficult to attach if you don't have a drill. You can just use a screwdriver, if you have some serious oomph, but it'll be a task. (Note: we can't believe spellcheck recognized "oomph" as a word.)

The Bottom Line:
With a wide range of laminate choices, optional casters, and sturdy construction, the Groupwork Table is a great work table choice for offices, both home and workplace.
Details:
1-1/8" thick desktop with durable, low-pressure laminate finish
Choose from 36" and 42" round or square table sizes
3mm radius profiled edge banding for a smooth, sophisticated look
Choose from standard post legs or optional post legs with casters or column base
Post leg height (without casters) is 27" h
MATERIALS & MEASUREMENTS
Materials
:
Round, square and rectangle tabletops offered in a low-pressure laminate, 1-1/8" thick. Black, sterling or platinum-painted steel legs or bases.
Tabletop Measurements
:
Round
: 36" and 42" diameter
Square
: 36" and 42"
Rectangle
: 24" x 48" and 30" x 60"
Leg & Base Measurements
:
Post Legs
: 27-3/8" h
Round Base
: 27-3/8" h , 28" diameter
Café-Height Round Base
: 41" h , 28" diameter
ENVIRONMENTAL INFORMATION
Groupwork is SCS Indoor Advantage certified for indoor air quality.
ABOUT THE MANUFACTURER
Turnstone creates innovative office furniture for companies and small businesses that seek a different look for their office. Combining a modern aesthetic with ultra-modern ergonomics, assembly, and engineering, Turnstone has created some of the most innovative office furniture in the last decade. With a range of seating including work chairs, stools, and occasional chairs, they certainly have something for you to sit on. Turnstone also has a small collection of task lighting and desk accessories to make your work surface as organized and productive as possible.

Additionally, they have introduced a couple of outstanding office collections: Bivi and Campfire. Bivi is a modular desking system that allows you to add to your Bivi Desk as the office grows and changes. Campfire is a collection of tables and seating with an informal look. The entire Turnstone Office is available at SmartFurniture.com.
SHIPPING & DELIVERY
Shipping to a Business Address:
Steelcase products ship for free to any business or commercial address within the Contiguous U.S. Products will be delivered curbside only. If you have special delivery requirements, please contact us at 888-467-6278 so that we can help you.
Shipping to a Residential Address:
A $75 handling fee (per item) will be applied to all orders shipping to a residential address within the Contiguous U.S. Delivery includes a day and time specific appointment and product placement inside your home.
Shipping Time:
Groupwork tables usually ship within 10 days of purchase.
WARRANTY
Groupwork Tables come with a 1-year manufacturer's warranty.