In the past, consumers simply purchased what they needed. They usually only gave thought to those specific needs, without any overarching criteria for selecting who to purchase from and why.
But in the last few decades, that has shifted. Today's consumers make purchase decisions with more than just a product or service in mind. In many cases, we're buying from businesses that we believe in, that have missions and beliefs we support.
One of those missions is to make the earth a better place for us all. Many of us are looking for opportunities to make smart purchases that not only fill a need, but also do so in a sustainable way, with as little impact on the environment as possible.
At Smart Furniture, we believe in doing everything we can to both promote sustainability and offer our customers the options they're looking for. That's why we partner with multiple vendors who incorporate sustainability into their everyday processes and in their products.
In honor of Earth Day, we'd like to shine a light on three companies making an impact in the sustainability space — Greenington, Herman Miller, and Humanscale.
Greenington's Approach
One approach to sustainability within the furniture industry is to use renewable materials to create product offerings. That's the approach Greenington has taken, incorporating high-quality bamboo into their furniture designs.

Bamboo has been identified as the earth's most eco-friendly, rapidly renewable resource. In fact, bamboo plants grow much more quickly than other types of trees often used in wood-based furniture — a bamboo plant is fully grown in five years, in comparison with Brazilian walnut trees, which take 40 years, and oak trees, which take 70 years.
In addition to using a renewable material as the base for its furniture, Greenington also promotes sustainability in the way it harvests materials, using hand-harvesting rather than clear-cutting. The entire bamboo culm is used during the manufacturing process so that no waste is left over.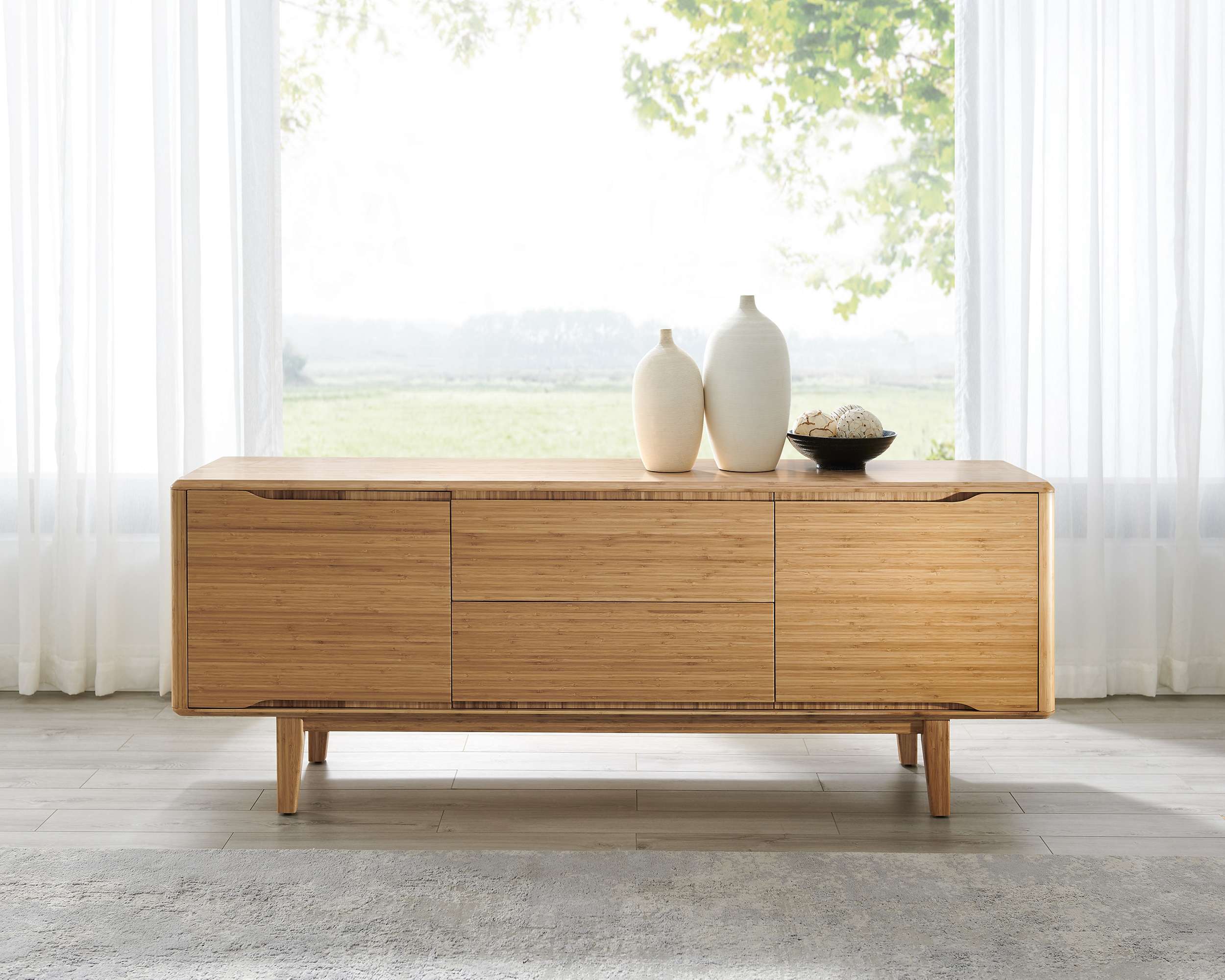 The Herman Miller Mission
For Herman Miller, a belief that the future of human life is dependent in part on a healthy, sustainable environment drives the company's processes and the products it offers.
their commitment to the environment stretches back decades. In 2004, Herman Miller established a set of environmental goals that included leaving a zero operational footprint and getting 100 percent of electrical energy from renewable sources within 10 years. By 2014, those goals were largely met — with a footprint reduced by 91 percent and 100 percent of electrical energy coming from renewable resources for more than three years.
A new set of goals followed, with the company aiming for zero waste, reductions in water use and energy intensity, and the production of 50 percent more local renewables by 2023.
Beyond these overarching goals, Herman Miller also has a specific product-oriented goal, aiming to create better, more sustainable products with safer material chemistry. This provides customers with the products they need, with as little impact on the environment as possible.
Humanscale in Action
Humanscale is guided by a motto that "less bad isn't good enough." In the company's processes and day-to-day activities, they work to become net positive, meaning they are carefully considering what they make and how they make it.
They also make a conscious effort to go beyond simply reducing the consumption of non-renewable resources, striving to give back, replenish, and make a positive impact on the environment and society.
One fascinating way they are achieving this goal is through their collaboration with Net Positiva, a program founded by Bureo to collect and recycle discarded ocean fishing nets. Those nets are recycled into nylon pellets, which are then incorporated into Humanscale's Smart Ocean chair.
Each chair contains almost two pounds of the recycled fishing nets, ridding the ocean of these harmful items and transforming them into something useful.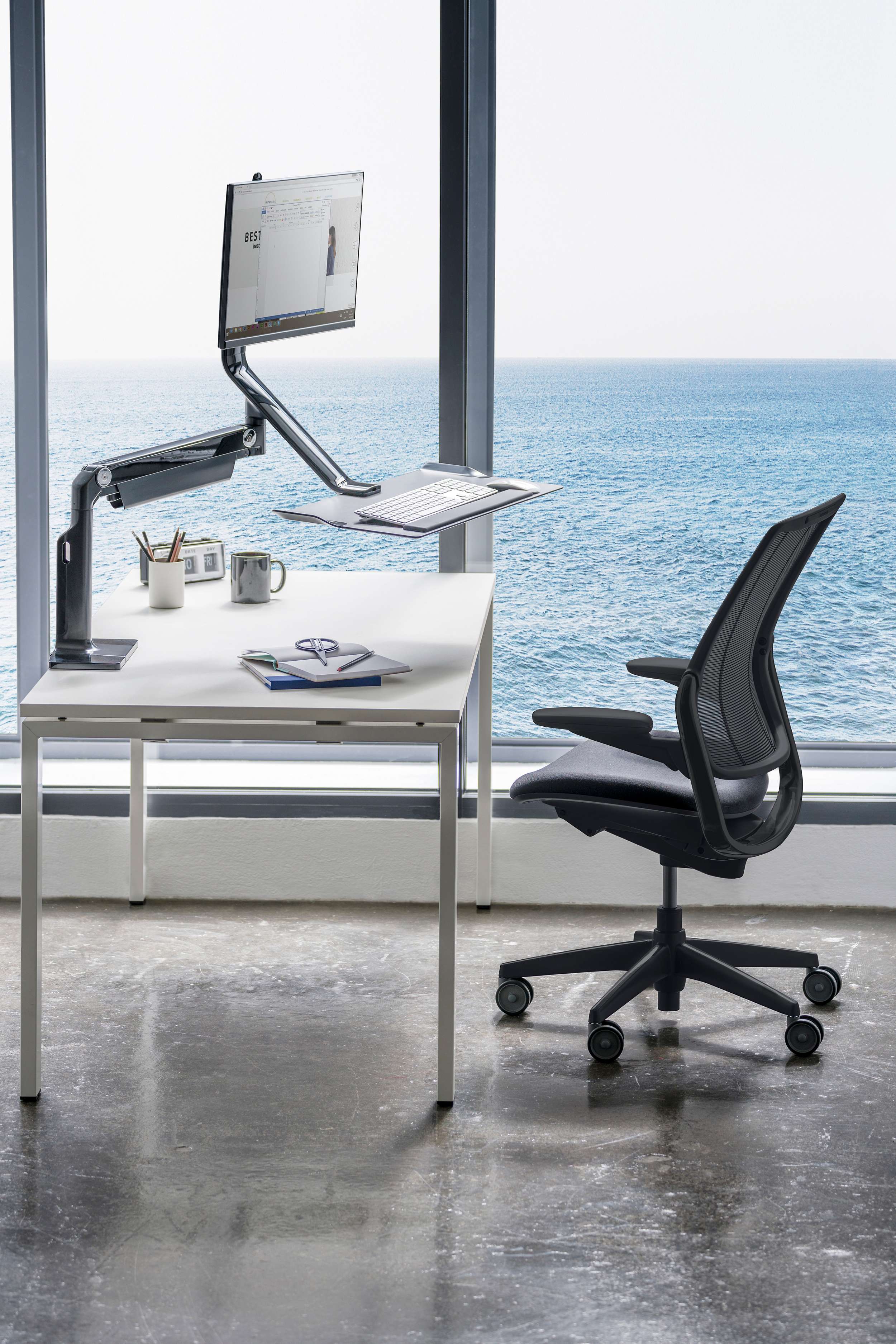 At Smart Furniture, we're proud to offer products we believe in from manufacturers committed to making a significant positive impact on our environment. This Earth Day, it's our wish for you that despite the COVID-19 pandemic, you're able to get outside and (safely) enjoy a little fresh air. (And if you're ever in the market for furniture made with sustainability in mind, reach out to one of our Furniture Geniuses. They'd be happy to point you in the right direction.)