Creating an efficient and task-specific work-space does not occur through chance. High-functioning offices require planning and consideration to comfortably support the work and activities that define your business's operations.
These 4 helpful guidelines will help transform the dreaded "we need more furniture" conversation into a meaningful discussion on how to create a space that will enhance your team's productivity, creativity and innovation.
1. Survey your footprint.
Do the math and figure out how much square footage you have to work with. Compressed real estate can leave fewer square feet per worker, so multiple available desk size options will assist you in working around any potential space constraints. For example, turnstone, a Steelcase brand, offers their Bivi desk in both 60" and 48" models to support both compact and spread-out work environments. Steelcase also offers the Currency desk in 48", 60" and 72" designs, allowing you to mix and match sizes to optimize your space.
Consider how to intentionally establish some quiet spaces in your office when planning your new work environment. New research about introverts challenges how we should view collaborative working and the need for privacy in the workplace. Preserving nooks, installing phone booths or merely setting up a visual divider like the turnstone Campfire Screen are just a few ways to meet this for more autonomy. Campfire screens, especially when coupled with the turnstone Campfire Big Lounge, create an instant oasis within your office.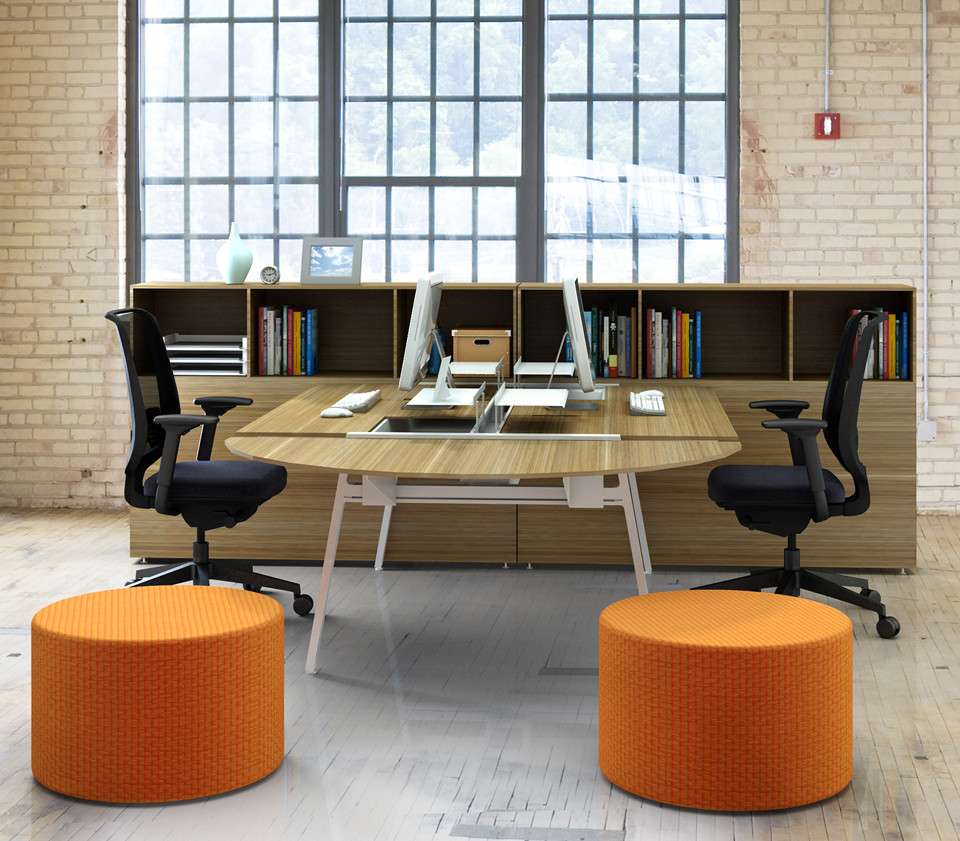 2. Fixed or flexible workstations?
 Making the choice between first-come-first-served desking and assigned workstations is a critical starting point when planning your new office.
Consider:
How many workers will use your space each day?
How many remote workers, contractors and vendors will use your space periodically?
How many people can your space comfortably accommodate?
What's your budget?
Once you consider these basic guidelines, you'll be able to move confidently toward selecting your furniture.
For example, if you're looking to provide an ample work surface for anyone who comes in and out of your space, the Martin Desk is an ideal choice at a price point that won't break the bank. If your group is looking for a desk with a bit of personal storage space, Bivi Table with Back Pocket offers room for office goodies like power cords, colored markers and Halloween candy. If your team demands flexibility, Bivi's modular "Plus-One" design makes it easy to expand or contract work surfaces.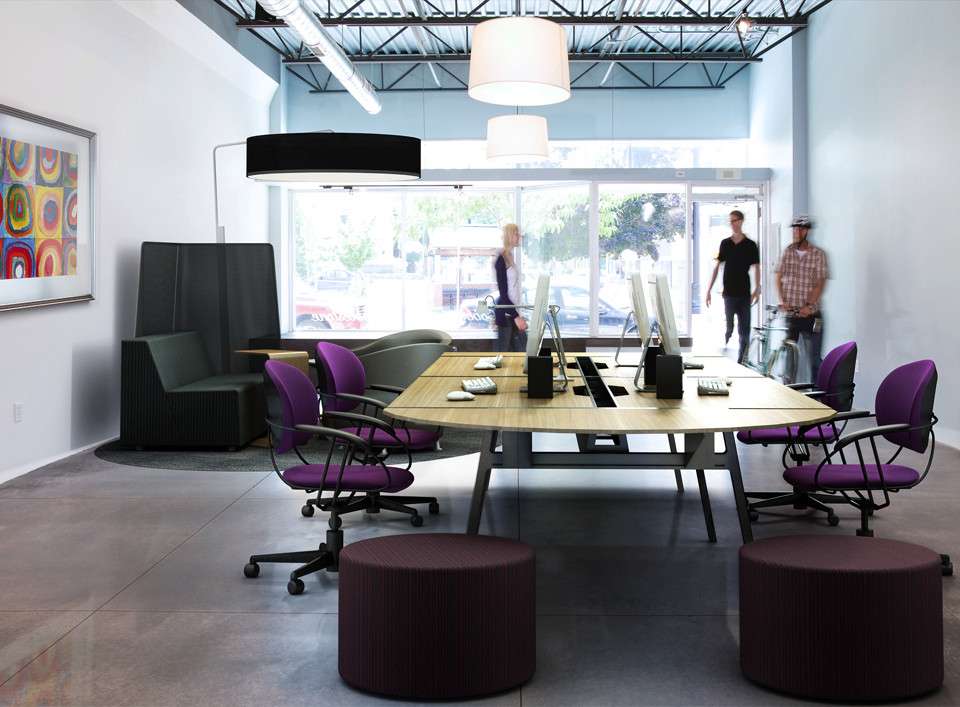 3. Create a palette of places in your office:
If you're ready to deliver a more diverse work environment that departs from the colorless cubical office design ethics of years past, begin by examining the places your team currently uses. Then, consider places for new opportunities or identify spaces that are underutilized. For example, do you need more lounge spaces? Pair the turnstone Half Lounge with Big Lounge to create a nice retreat from the rigors of sitting at the same desk all day. Is your office lacking in group work areas? Try  a Conference Table for Six. Do you need a quiet space where phone calls can be more peaceful and private? Considering these questions plays an important role in determining the flow and functionality of your office.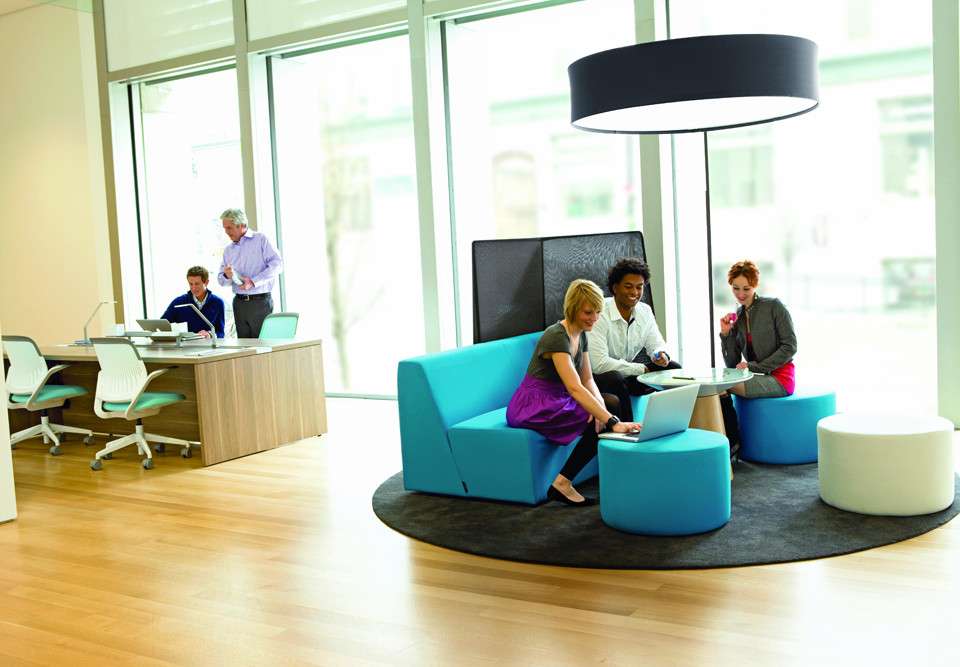 4. Make culture a priority.
In a recent turnstone survey, over 500 small business managers weighed in on culture in the workplace. 9 out of 10 asserted that office culture plays a key role in the overall success of their company. Furthermore, 80% stated that their physical space had a direct impact on  office morale, efficiency, creativity, growth, and even profitability. Let us help you leverage your space to support a vibrant environment that keeps people coming back.
One recommendation we stand behind is installing a gathering space where your team can celebrate accomplishments, mark company anniversaries and birthdays, enjoy lunch together and have fun as a group. Turnstone's Campfire Big Table is the perfect centerpiece to any team gathering space, and pulls double-duty as a large meeting table when paired with turnstone Scoop Stools.
Creating spaces that allow for collaboration and open movement also reinforces the fun vibe that has become the hallmark of startup culture. The Steelcase Node chair and turnstone Buoy both allow for quick reconfiguration and impromptu meetings, perfect for last-minute brainstorming sessions.
Thinking about the bigger picture and putting the right furniture in place not only supports the work you're doing, but makes doing that work more efficient and enjoyable for your entire team. Contact us to help you outfit your office space with furniture that will help take your business to the next level.