A couple of days last week I wanted to leave the minivan with my wife so she could take the kids places - and I had to drive it to work instead. My motorcycle's not working. I was thinking about it, and since I really love my co-workers, I've never really wanted to work from home. It would only be a matter of convenience.
But then I ran across the Telework Calculator on GovLoop (a social media platform for Federal employees). No, I don't work for the government, but a friend of mine used to and keeps track of all sorts of interesting things in his spare time.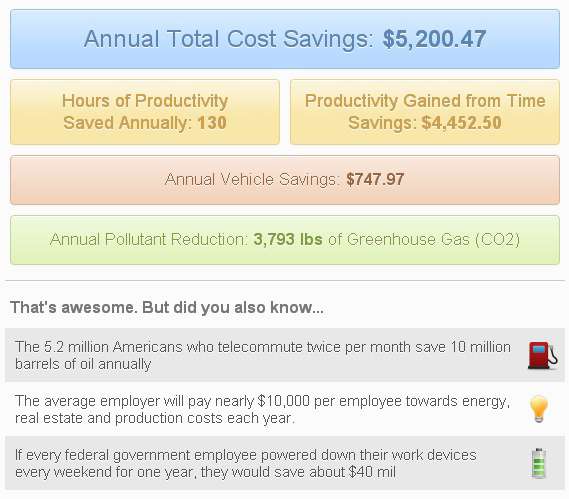 So here's the thing: according to the calculator, I'd save about $5,200 dollars per year by telecommuting every weekday. That's a huge number! My savings on gas and vehicle maintenance alone would be almost $750, and the rest is time savings. And I only drive 16 miles round trip. Those of you who drive an hour each way are starting to tune in, am I right? Can you imagine what you could do if you were to save that kind of money?
It gets even better if you were to cut out a 60 mile roundtrip by working from home. If you drive 60 miles to work and back, and that takes an hour and a half, you'd be saving over a thousand dollars in car costs alone! That's factoring based on a mid-size sedan. If you've got an SUV the number jumps all the way up to $2,700.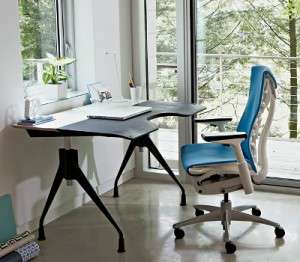 How about you? Do you have an employer who lets you work from home? I know of a couple of large companies here in Chattanooga that are starting to encourage employees to move their offices home. Evidently the trend is starting to catch on around the nation as well. Since 2005, the percentage of employees who work from home five days a week has increased from 1.86% to 2.5%.
Would you jump on that train if you could? How many days a week would you like to work from home?