When I moved to New York City, I had visions of an apartment with 20 foot ceilings, exposed brick, windows stretching from the floor to the ceiling, populated with mid-century modern furnishings. What I got was a room that could barely fit my full size bed. Space was not available in abundance and all my efforts went toward conserving it. Rigging shelves to the wall, finding a storage bed, searching for a sleek sleeper sofa. With hard work and intent, I was able to combat the dorm-room vibe that threatened to drift throughout my home.
There are an overwhelming amount of city-dwellers living in what are called micro-apartments - some of which are smaller than a jail cell. Others are more spacious at 500 square feet. No matter what the square footage of your apartment, we've made finding space saving furniture simpler with the newly revamped Apartment & Loft page at SmartFurniture.com; here are some tips to furnishing your home when space is far from plentiful.
Prioritize
What is important to you? You may not have room for both dining area and a home office. Once you discover what is a must-have in your home, you can look for the perfect furnishings for your apartment.
Scale
Find the right proportion and scale for your furniture. Most likely, a large or exaggerated sofa isn't going to fit. Instead, look into purchasing a loveseat or an apartment sized sofa. Such pieces will leave walking room and make the space look larger than it actually is. The Michael Apartment Sofa is perfect for small spaces while offering casual mid-century modern design.
Storage
Get creative with storage space. The perfect way to combat cramped bedrooms is by adding a storage bed. The drawers might even relieve the need for a dresser, thus opening up the room and saving space. My pick is the LAX Series Storage Platform Bed.
Multifunctional
More often than not you will not have space for a dining area and a kitchen island, but the Space Saving Drop Leaf Table with Square Stools can fulfill both of those needs.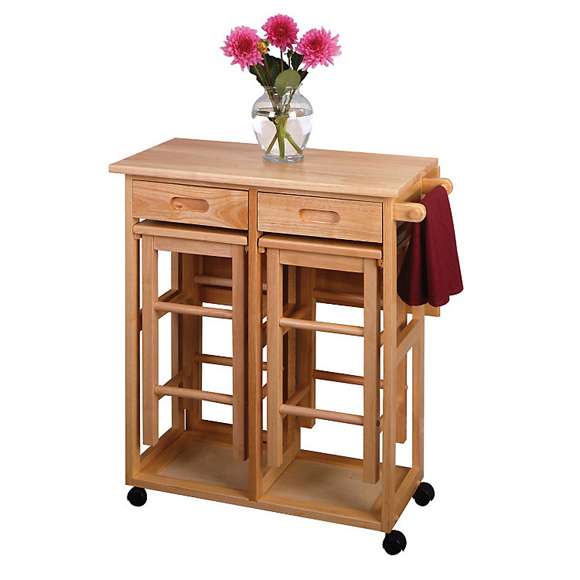 Mount it
The simplest way to free up some room is by mounting shelving, bookcases, and cubbies to the wall. But what about your security deposit? Note to self: There is something called "Nail Hole Filler" - it costs about $6. It will repair those minor holes in the wall and allow you to live in an organized and space saving apartment. Add the Takara Column Shelf to display your books vertically, while the Entryway 36″ Cubbie Shelf offers bins, a shelf, and hooks - making storage a breeze.
We all live within the confines of what our space allows ... big or small. Sacrificing design and comfort shouldn't be a requirement; which is why we at Smart Furniture aim to curate a selection of products that will meet your needs whether they be Space Saving or Space Defining.