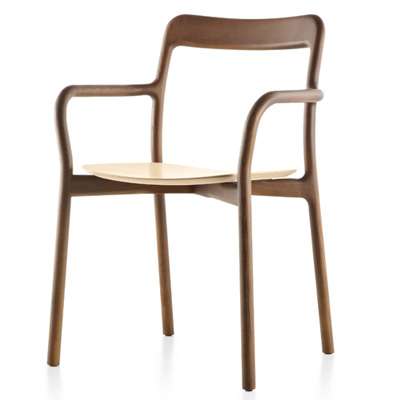 Look at the Branca Chair. It's beautiful, isn't it? It's seamless, light, almost like a living thing. Mattiazzi's Branca Chair rises above many other chairs simply because of its close resemblance to its namesake: a tree branch. In 2010, duo Sam Hecht and Kim Colin of the British design firm Industrial Facility chose to look to nature for inspiration for Branca and its companion Branca Table. They didn't have to look far.
Once they'd realized what it would take to make a chair that looked as natural as a living tree, they thought of Italian manufacturer Mattiazzi as the perfect partner. Mattiazzi's standard-setting process is entirely in-house. That means logistics are better, quality control is better, and communication is better. No farming out different components to different manufacturers with this chair. Hecht and Colin knew that for a solid wood chair as light and airy as Branca to work, it'd have to be made to exacting specifications every single time. One iota of misalignment and it would look cheap and be vulnerable to damage.
The resulting chair is nothing short of stunning. In 2011 it won "Furniture Design of the Year" from London's Design Museum. That same year, it captured Helsinki's Habitare Award. Branca is currently on permanent display in three museums. And it's also met one of the most stringent criteria of all: I want six Branca Chairs around my dining room table.
So why bring this up now, since it's not a "new" product? After all, isn't everything about the latest, greatest, blah blah blah? Well, for one thing, I really like it. Also a good reason: it's 15% off during the Herman Miller Holiday Sale right now. Good reasons to talk about the Branca Chair? You betcha.
Now here's the fun part. Do you remember watching Mr. Rogers neighborhood and seeing him visit factories and talk about how things were made? I liked the one about how crayons are made the best. Well, Industrial Facility made a video about how Branca is produced, and it's mesmerizing to watch. It's almost poetic in how it describes the process, like how the opening movement of a symphony sets up the rest of the piece. Enjoy!
This is Branca's origin. The rest of the story is how you use it in your home, and the life that happens when it's used well. Good friends around your table, candlelit dinners with your love, and takeout at 11 P.M. with a good glass of scotch.
Do you love this chair as much as I do?