Brent Sanders Art
Colorful & Original Canvas Prints from Chattanooga, TN
Brent Sanders sees things that most people don't. He intuits underlying movement and feeling in places that most people don't ever notice. Through his paintings, he's able to capture the unique spirit and unseen whimsy of a location to bring it new life. Art is lens through which one is able to gain a unique insight into the world or the nature of humanity. Sanders utilizes bright colors, deliberate line work, and dynamic environmental interaction to bring a new viewpoint to every location he paints. Brent Sanders allows you go gain a glimpse of the world as he sees it through his wonderful paintings. After looking at his artwork, you'll never see the world the same again.
We asked Brent what goes into his paintings, what his inspirations are, and how he developed his unique painting style. He kindly shared his influences with us so that we could gain a greater insight into what makes this incredible artist tick. Buying a Brent Sanders canvas print directly benefits the artist and allows him to continue shaping new ways to see the world.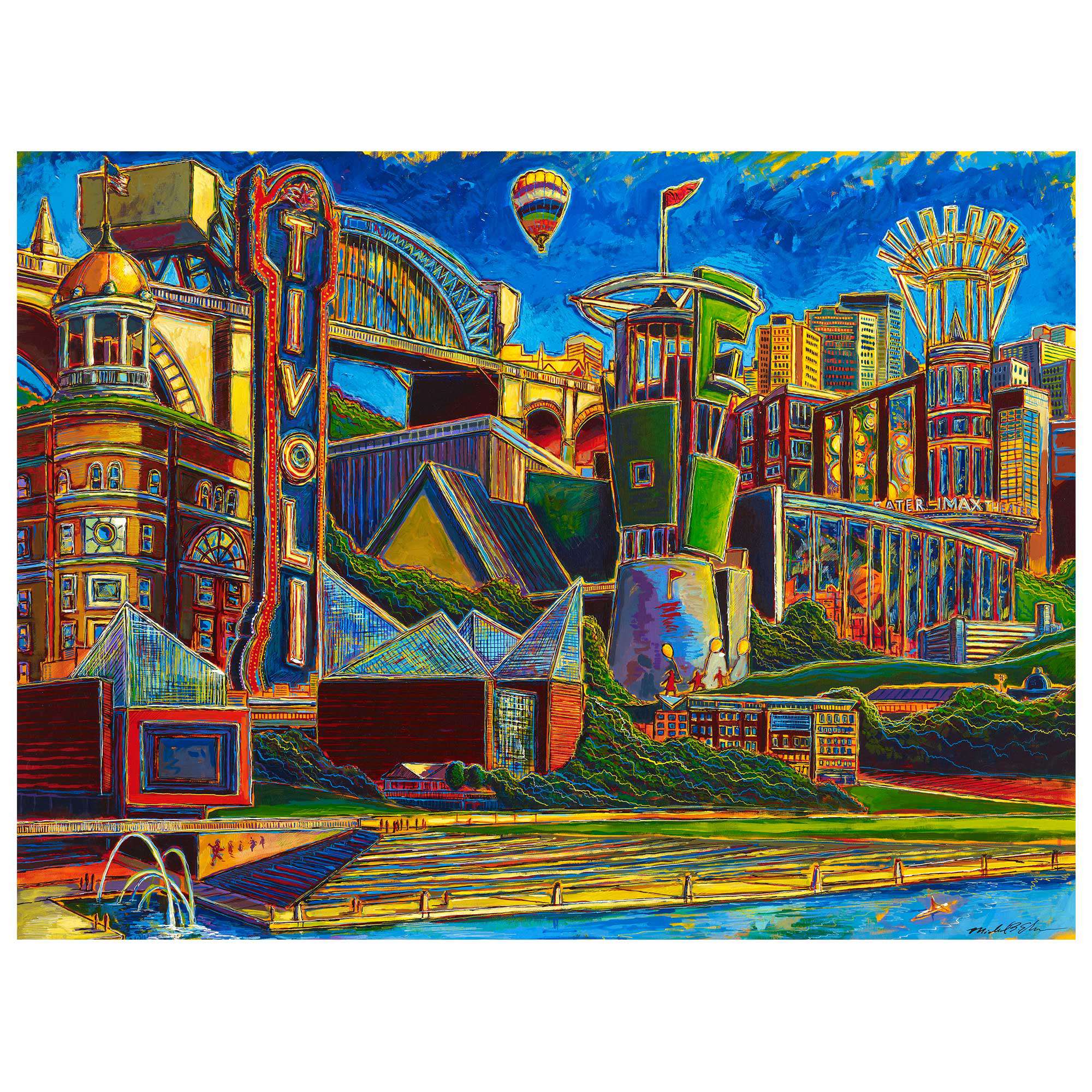 How old were you when you started getting into art? What got the artistic juices flowing? (For me, I started drawing Dragonball Z pictures in middle school...I'm not proud.)
Saturday morning cartoons were my catalyst without a doubt. Cartoons are such a great introduction to drawing. They are so specific to line and shape. Disney was a large influence on me as a child. It encouraged me to draw and dream of possibly working for them one day. Throughout junior and high school skateboard graphics and culture were my primary artistic influence. Wes Humpston, Jimbo Phillips, VC Johnson, Mark Gonzales, and Neil Blender are all skateboard artists that inspired me. Once in college, I pursued a degree in graphic design and illustration. I was following artists such as Phillip Burke, Drew Friedman, Al Hirschfeld, and Chuck Close.
Did you start out with the painting medium, or did you start out with drawing or sculpture?
I really didn't get into painting until my mid 20s, first as a watercolorist and then moving into acrylics shortly into my career. I could still work with transparent qualities in addition to textures and go large with the canvas.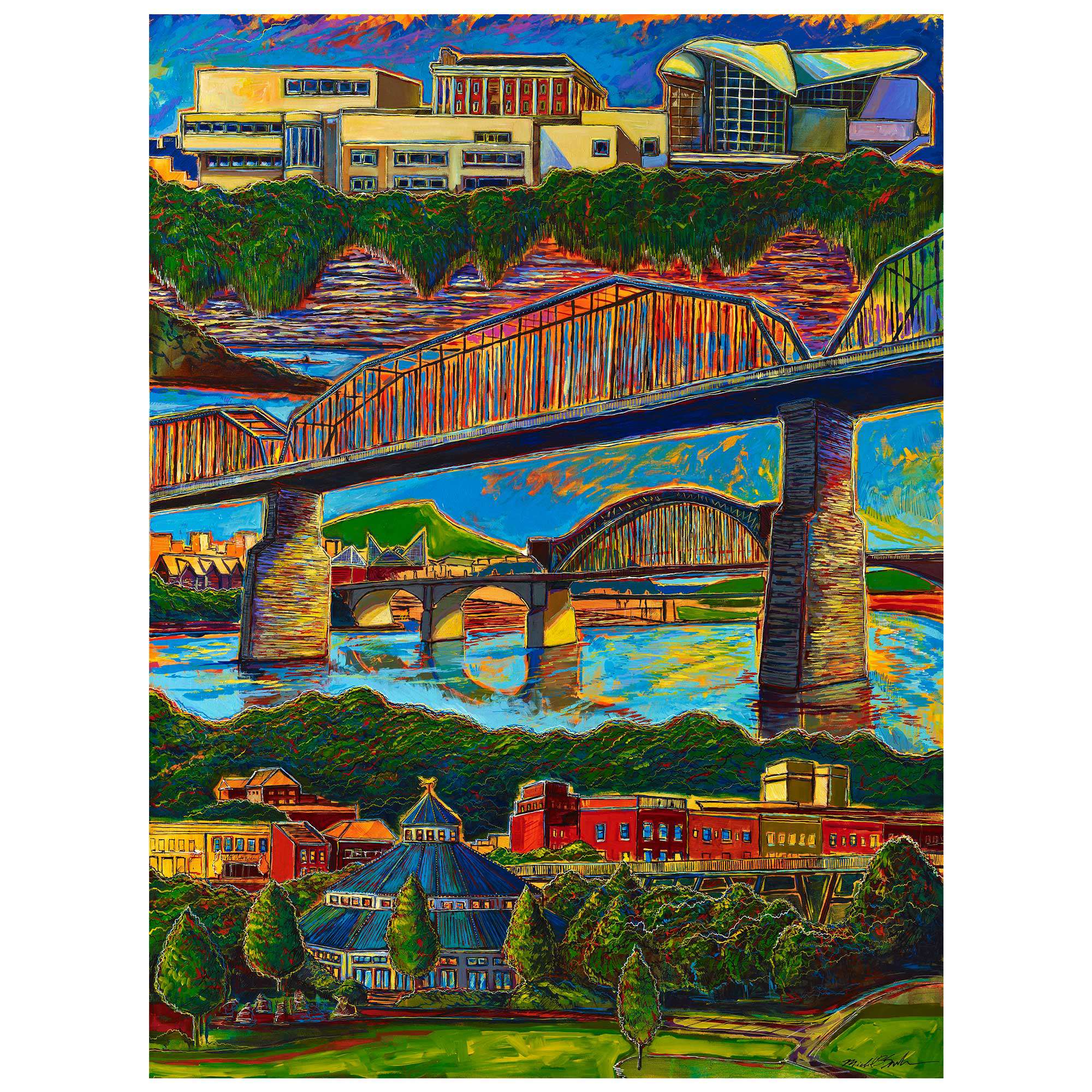 When did you figure out that art was what you wanted to do for a living?
I knew that I wanted a creative career, but at the time in Chattanooga you were really limited in options as an artist. In college I was offered a position as an artist for a local software company. We produced football and baseball games for PCs. One of my favorite projects was to render in full detail over 40 existing and historical ballparks, which I believe sparked an interest in architecture and skylines that would eventually carry over into my painting. During this time I had visited New Orleans and was inspired by some work of the city. So returning home I purchased some paints and so it began.
Where do you find inspiration for the colors in your paintings?
The color and line work is a visual interpretation of energy. I like to imagine how it would flow with the contours of its environment.
Similarly, which painters or movements, if any, would you cite are your biggest influences?
Fauvist, German Expressionist, Pop Art, Andre Derain, Phillip Burke, Stephen Quiller, Thomas Hart Benton, and Leroy Neiman. I do find great inspiration in modern street art as well.
Many of your paintings feature landscapes. Chattanooga, known as the Scenic City, seems to lend itself perfectly to great compositions. Do you have a favorite spot in town that inspires you?
It's hard to beat the view from Stringer's Ridge. As far as downtown, the riverfront is very inspiring from so many different angles. One of my favorites though is the shot up 8th Street framing the Dome Buidling at the top of the hill.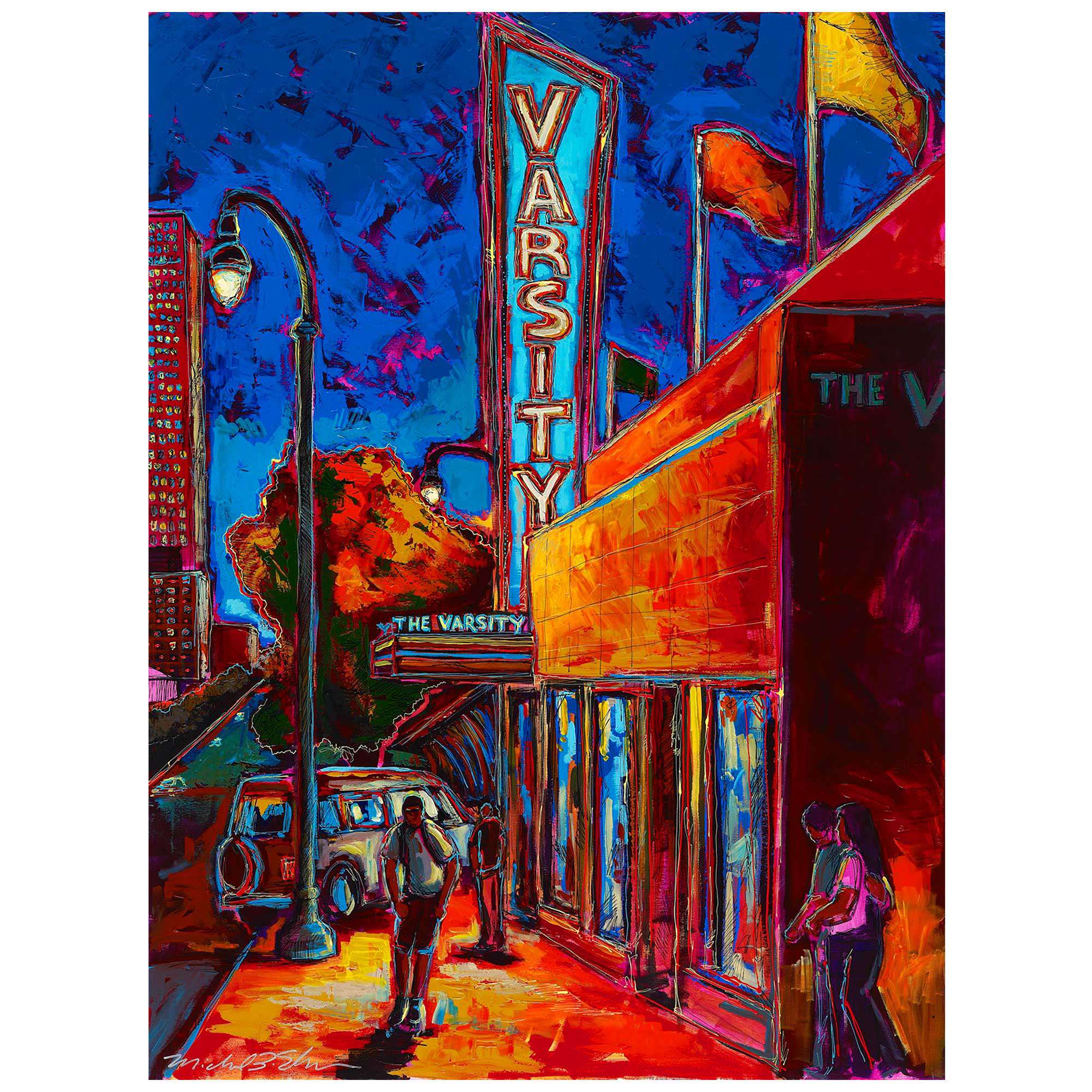 Aside from landscapes,you also feature famous landmarks and theaters for your paintings. What is it about theaters and bridges that make you paint them so often?
The text and fonts on the theater signs are a nod to my background in design. I'm also a fan of late 60s and early 70s hyperrealists who focused quite a bit on signage and street scenes. Ralph Goings was one of my favorites in this genre. Bridges and architecture in general fascinate me. Man's ability to design and construct such functional structures that withstand the elements has always impressed me.

Is painting your only artistic venture, or do find other ways of self expression.
Music has always been very important to me. I enjoy playing the guitar, drums, and piano. I also shoot sport photography, mainly skateboarding and wakesurfing.
Lastly, if you could travel to any place in the world to paint a specific building or landscape, where would you go and why?
Painting at Machu Piccu in Peru would be a top pick combining ancient architecture with that incredible landscape as a backdrop. A little closer to home, I'd like to paint on location at the Grand Tetons in Wyoming.