We're pretty fortunate to have our corporate offices headquartered in the middle of some of the most scenic parts of the southeast. But don't just take our word for it ... other folks think so too! One of the best ways to catch a quick glimpse of it all is on a bike, whether you're a singletrack-minded mountain biker, a spandex-clad roadie, a fixed-gear hipster, or just prefer to bounce around town on of the city's bike-share cruisers. Here are some of our personal favorites:
The Tanasi Trail System
Located a little over an hour from downtown at the Ocoee River and Whitewater Center (the venue for the canoe slalom during the 1996 Olympics), the Tanasi Trail System is brimming with singletrack for every level of rider. Have a relaxed ride on the Brush Creek and Boyd Gap trails, or hop over to nearby Clemmer and go full-beans on the climb to enjoy the downhill section — it's well worth the effort.
Raccoon Mountain
Conveniently located just a few minutes away from downtown Chattanooga, Raccoon Mountain has been a local favorite since its opening around 2007. There are plenty of trail entries depending on what you're looking into riding, but we recommend parking at the East Overlook lot and enjoying the view before and after your ride (pictured above).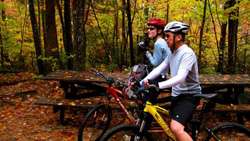 Five Points Trail System
Located about 30 minutes from downtown near Cloudland Canyon State Park, the Five Points Trail System is great for when you want to get away from the crowds but don't want to travel too far off. Full of climbs, wide singletrack, jumps, rollers, and rhythm sections, it's a fantastic trail to spend an entire day exploring and improving your bike handling skills.
Chattanooga Bike Club Red Bank Loop
During the summer months while there's plenty of daylight, the Chattanooga Bike Club goes out on the "Tuesday Night Ride" as it's more commonly known here. What's great about this route is the bonus mileage you can tack on by adding other smaller loops along the way (which most everyone does), with a full ride consisting of 40+ miles, a 3-mile climb up Mowbray Mountain, and a really fun blast down the mountain at over 60 mph if you don't touch the brakes too much. There are easily more than 100 cyclists at the peak of the season who participate in the ride so you can always find a group that fits your bill, whether you're looking for a casual pace or wanting to hammer yourself into oxygen debt with the local racers. Roadies rejoice!
Enjoy the ride...