We would like to clarify our position and issue a sincere warning relating to the article published June 6, 2011 in Nooga.com titled "Downtown parking, towing issues prompt discussion" by Chloé Morrison. While we appreciate Nooga.com's bringing the issue of parking shortages and towing regulations to light, with all due respect, we feel that they have missed the bigger underlying issue.

In the 6 year period SmartFurniture.com has occupied its corporate offices on Market Street in downtown Chattanooga, we have been faced with a pervasive issue about which we believe the community should aware. Clowns. Not just any fun loving circus clowns, but a countless number of rowdy and dangerous clowns that appear out of nowhere and follow you wherever you go.

In our parking sign featured in the Nooga.com article, you can clearly see that we have attempted to warn people that these clowns exist and are a problem (see article).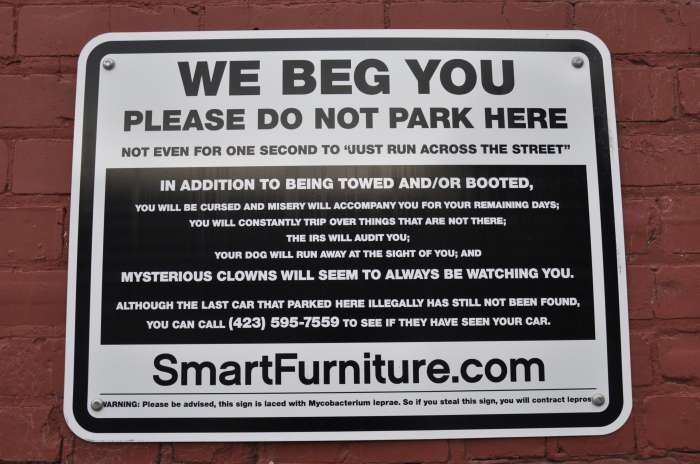 However, Nooga.com failed to see the underlying problems these clowns cause and did not mention them in the article. When quoting our own Natalie Bigger in fact, the article did not include a portion of her quote which contained more important warnings:
Quote from Nooga.com
"People still park there and don't think twice about it,' Natalie Bigger with Smart Furniture said."
The completed quote:
"People still park there and don't think twice about it. I mean, if they knew that when they park here to go over to the Big Chill to have a few Appletinis that when they come out, they will be followed by a gang of weirdos juggling, doing magic tricks, and making pooping noises, I bet they would park somewhere else."
It is not our intention to be critical of Nooga.com, but we believe if they would have spoken to a few regulars at Taco Mac or the Big Chill, they would have been enlightened. Montgomery Durant, an esteemed member of Taco Mac's Brewniversity, when asked was quick to say, "I can't even do a Jägerbomb anymore without thinking about those damn clowns. It seems like every time me and the old lady run downtown to eat at Applebee's, look at those big catfish at the Aquarium or drink a few at Taco Mac, those [expletive] follow us everywhere. "
Durant added, "It's not like I got something against clowns, cause I don't, but these things are creepy. All acting like they is trapped in a box and can't speak and stuff. I tell you, if I had to do it all over again, I would have just paid to park somewhere else."