At Smart Furniture, we take the public welfare seriously. So seriously, in fact, that we felt compelled to notify the populace of a dangerous problem that has recently infested our beautiful city.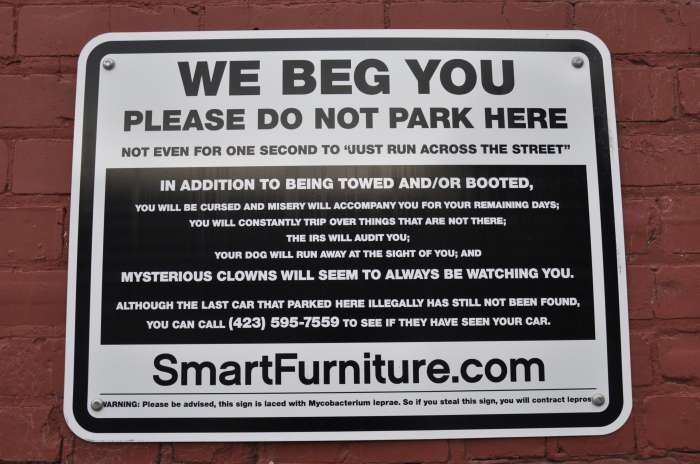 [Parking Sign Text: "We Beg You - please do not park here, not even for one second to 'just run across the street.' In addition to being towed and/or booted, you will be cursed and misery will accompany you for your remaining days; you will constantly trip over things that are not there; the IRS will audit you; your dog will run away at the sight of you; and mysterious clowns will seem to always be watching you. Although the last car that parked here illegally has still not been found, you can call (423)595-7559 to see if they have seen your car.
SmartFurniture.com
Warning: Please be advised that this sign is laced with Mycobacterium leprae. So if you steal this sign, you will contract leprosy."]
While we still occasionally spot an unfortunate soul chasing his dog while shooting paranoid glances over his shoulder at what - to him - seems like a clown out of a Stephen King novel, we're happy to report that our decisive action has greatly alleviated the problem.