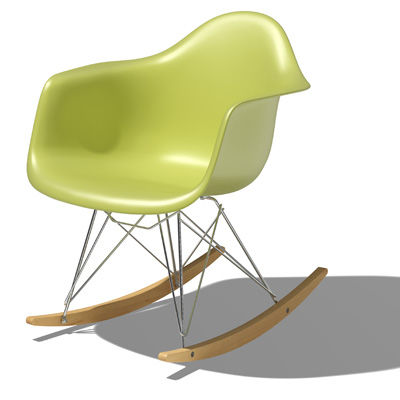 Today probably started like any other day for Nancy Kuehl. But that was before she found out that she's our winner for day 11 of the 12 Days of Eames Holiday Giveaway! Nancy has won the classic Eames Molded Plastic Rocking Chair, and I thought I'd give a brief overview of how it can be used in the home.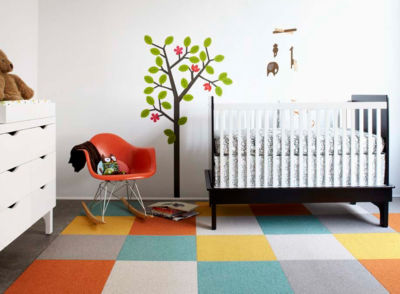 1. The first place that immediately comes to mind is in the nursery. Whether that's because it suits the room perfectly or because I'm looking forward to my fourth child's arrival in a couple of months is irrelevant. Both are equally true. The smooth rocking action and comfortably molded seat make it ideal for those late-night feeding sessions. I've seen quite a few images that feature a lambskin draped over the chair's seat for a comfortable look and feel.
2. Another great place to feature the Eames Rocker is in your reading nook. I can't speak for everyone, but I sure love to rock while reading. There's something soothing about the motion, and it helps me to think more clearly about what I'm reading. I remember once - when I was reading Pilgrim at Tinker Creek by Annie Dillard - having to move to the rocking chair so I could more thoroughly soak in her beautiful prose and chew on the word pictures she was painting. I've noticed that my 2nd daughter has to be in motion to think straight as well. When she gets her own place I'll get her an Eames Rocking Chair.
3. Here's the no-brainer of the lot: the Eames Rocking Chair is perfect in the living room. Whether it's guest seating, strategically placed near a fireplace, or freestanding to help define a sitting area, it is a wonderful addition to any modern living room. Whether you prefer color or a neutral palette, it just plain fits. Accessorize with cushions or a throw; leave it unadorned for a minimalist look; turn it upside down and drape a wax-covered bridal veil on it for an avant-garde look. Whatever you want.
This is the fun part for me - we get to give it away. Nancy, we're looking forward to seeing a picture of how you've used the Eames Rocking Chair almost as much as you're looking forward to receiving it!
As a reminder: we have one day left. The 12 Days of Eames Holiday Giveaway is ending tomorrow with the announcement of our grand prize winner, who will receive nothing less than the vaunted Eames Lounge and Ottoman. Don't miss your last chance to enter!