Every day that we get to announce another winner of the 12 Days of Eames Holiday Giveaway gives us another reason we love this season. It's always so fun to break the news to people that they've won a coveted design icon. It's my pleasure to say that our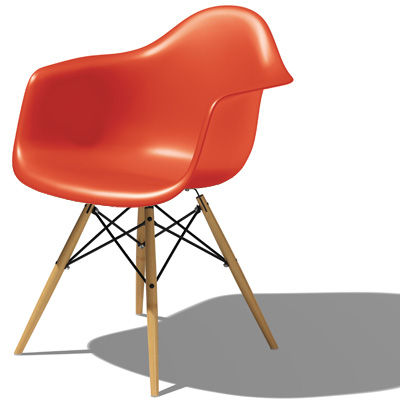 winner for Day 4 of the giveaway (Tuesday) is Jeff Reichle. Jeff will be the proud recipient of an Eames Dowel Leg Molded Plastic Armchair!
We've already given away an Eames Molded Plastic Side Chair with Wire Base, the whimsically designed Eames Hang It All, and the diminutive but attention–grabbing Eames Wire Base Table. Day 4's prize is certainly a keeper as well, and highlights one of the major themes of the Eames' work: wire. Charles and Ray's pioneering exploration of the medium of bent steel wire led to such beautiful pieces as the ones you see in the 12 Days of Eames Holiday Giveaway. Their work was also an inspiration to many of their contemporaries in design, and you see the medium being tested by such illuminaries as Harry Bertoia and Warren Platner.
But nowhere was wire made use of better than in the minimally-ornamented Eames furniture. It was comfortably integrated into the bases of their chairs, tables, and everyday items like the Hang It All. You can tell that it wasn't just an exercise — rather, it was the end result of a desire to make the best chair for the most people. After all, their goal was to make life better, make people happier ... and so they made stuff that helped aid that process.
Jeff, we hope you enjoy your new chair, and we can't wait to see a picture of how great it looks in your home. It will, of course; Eames Molded Plastic always looks great. Check back with us tomorrow for the lucky winner of Day 5 of the Eames Holiday Giveaway!