Yesterday was Day 5 of the 12 Days of Eames Holiday Giveaway here at Smart Furniture. I know you're all on pins and needles to find out if you've won. So without any further ado,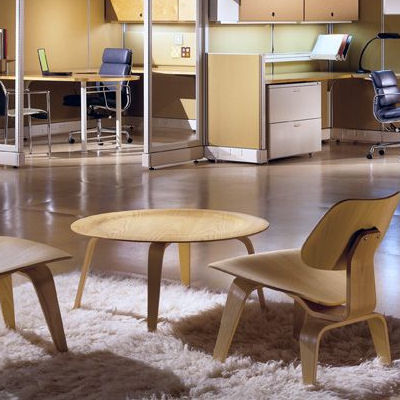 congratulations to Deon Vilhauer! You've won the Eames Molded Plywood Table, Deon. Give us a shout, and we'll make sure your table is headed to you as soon as possible!
Yesterday I talked for a little while about the way Charles and Ray Eames used bent wire in their designs. Let's go a bit further back now and take a look at their molded plywood fascination.
Taking an original idea by Alvar Aalto and refining it, Charles Eames and Eero Saarinen collaborated on a project during their fellowship at the famed Cranbrook Academy. The resultant furniture included such beauties as 1940's Low-Back and High-Back Armchairs and Organic Chair. Following that fellowship, and after Charles' 1941 marriage to Ray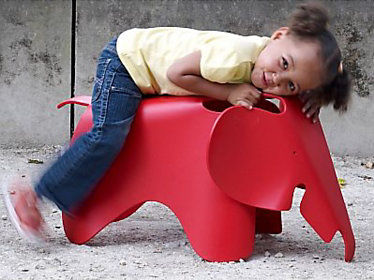 Kaiser, Charles and Ray developed plywood splints and stretchers for the U.S. Navy. They then took their experience with the material into the consumer realm with the whimsical Eames Elephant in 1945.
Shortly following the Elephant was the Lounge Chair Wood (LCW) in 1946. That same year, he also produced the Lounge Chair Metal (LCM), Dining Chair Wood (DCW), and Dining Chair Metal (DCM). Also included in the growing collection were the Folding Screen and the Coffee Table (featured in the 12 Days of Eames Holiday Giveaway). Molded plywood also made an appearance as the shell of the Eames Lounge and Ottoman in 1956.
Each item that I've mentioned has a permanent place in the Museum of Modern Art (MoMA) in New York. And no wonder — for such a new process to yield results as beautiful as these, the creators would have to be artists.
Stay tuned; we have more molded plywood coming up later in the Eames Holiday Giveaway. You'll want to keep entering once daily to ensure that you have the best chance at winning one of these iconic designs! See you tomorrow, when we'll be revealing yet another lucky winner. All the pieces we're giving away during the 12 Days of Eames are also 15% off during the Herman Miller Holiday Sale, along with almost everything Herman Miller offers. Go rub a rabbit's foot and check it out!