We're halfway through the 12 Days of Eames Holiday Giveaway now, and we've got another winner to announce. Yesterday's winner of the Eames Plywood Lounge Chair (LCM) is Andrea Johnson! Andrea, I'm sure you're thrilled to hear this news — there's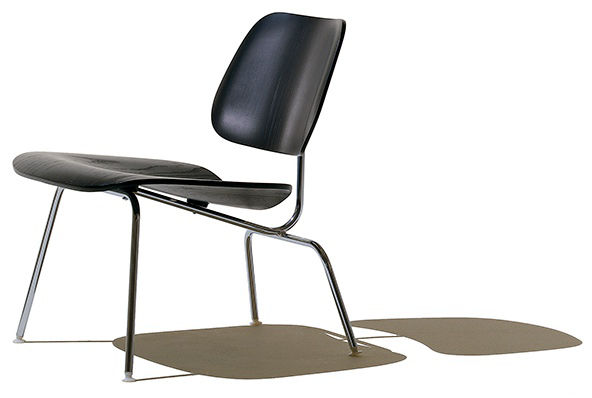 nothing so iconic as an Eames plywood chair, and its comfort is unsurpassed by any chair without padding. I have decided that I need one myself, and I'm waiting for a giveaway as cool as ours to come along so I can have a go at it.
This, more than any other design, is what brought Charles and Ray Eames to prominence in the design world. Called the number one design of the 20th century by TIME magazine, the LCM molded plywood lounge chair is also the chair that "made" Herman Miller. Before Herman Miller brought the Eames duo on board, they hadn't really had a superlative piece of furniture. This is the chair that changed the fortunes of both Herman Miller and the town of Zeeland, Michigan, where Herman Miller is located.
Early in the design process, Charles and Ray intended to make the seat and back out of a single piece of plywood. When they achieved unsatisfactory results, they determined that they were trying to push the wood too far. That decision led to the familiar independent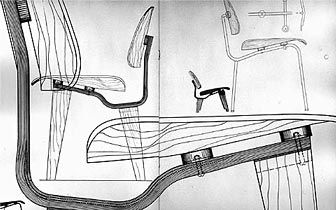 seat and back of the iconic finished product. The Eames Lounge Chair may not have achieved such prominence if it weren't for its unique design. Instead, it may have ended up like just another banal "molded plywood chair." We're glad it didn't, or else we'd have had to find something else to hand out during this year's Eames Holiday Giveaway!
An additional benefit of the floating back and seat was that they allowed for greater comfort. Being positioned at pleasant angles, and having been molded to fit the contours of the human body, the chair's simple plywood planes naturally help the sitter to settle into it. Instead of "on," you're "in." That makes a huge difference. It's not just about physical comfort — as important as that is — but also psychological comfort.
Andrea, let us know how much you love your new chair, and send a picture our way so we can enjoy it with you! The 15% off Herman Miller sale is still going strong — and remember, folks: we still have 6 more sweet pieces of mid-century modern furniture left to give out during the 12 Days of Eames Holiday Giveaway. Enter now!