It seems that I've been using the word "icon" to describe just about every piece of Eames-designed furniture we've given away during this year's 12 Days of Eames Holiday Giveaway. I apologize for over-using the word; it's just so easy to use it when every piece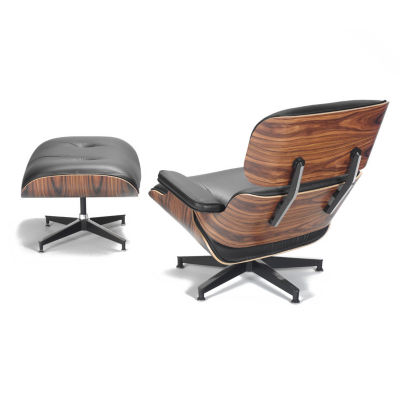 you're describing can be categorized as an icon. I'll be expanding my vocabulary in the future. However, I won't start today.
Today's prize - the Grand Prize - is the Eames Lounge Chair and Ottoman. Congratulations to Kristopher Feavel! Kristopher is one happy man right now, and he'll be receiving an Eames Lounge and Ottoman in walnut with black leather just as soon as we can get it to him. If there ever was an iconic piece of furniture, the Eames Lounge is it. Designed in the early 50's and put into production by Herman Miller in 1956, this luxurious lounge chair is the essence of the mid-century modern design era.
Pushing new materials to their limits in order to achieve a certain result, Charles and Ray Eames brought joy to their work. In designing the Lounge, Charles was trying to make a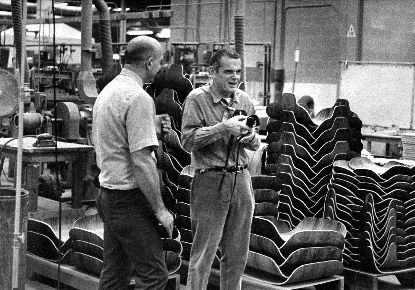 chair with the "warm, receptive look of a well-used first baseman's mitt." Baseball being America's game and all, this seemed appropriate for such an individualistic approach to design. The goal in designing the chair? To create "a special refuge from the strains of modern living."
The resultant lounge chair is exactly that. "Modern Living" can be interpreted in any number of ways. I think of it as the fast-paced world around me; the perceived urgency of social media; the stress of expectations, both at work and at home; the speed with which
news travels. There's something wonderful about being able to sit and relax. Grab a glass of wine, put some good music on the stereo, maybe grab a good book, and let go of all the stress that's built up during the day.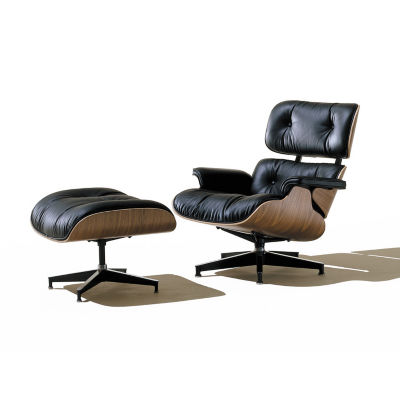 I get his point. The most rejuvenating times of my life have been when I've slowed down. Being away from the office doesn't equal slowing down - I need a place to sit for a while. The Eames Lounge is just that place.
Kristopher, enjoy your new Eames Lounge and Ottoman - and send us pictures so we can enjoy it with you! We're happy for you, and for the rest of our winners for this year's 12 Days of Eames Holiday Giveaway!