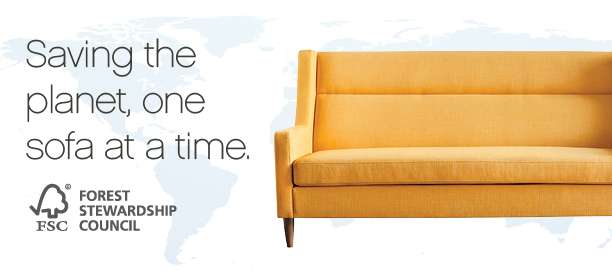 Happy Earth Day, fellow humans! In celebration of today and in the spirit of raising awareness for creating a sustainable earth, we'd like to give a few shout outs to some companies that are taking their own steps to make sure that the earth and its resources will be plentiful for generations to come. You can do your part too by shopping for eco-friendly products from our FSC-Certified brands. Each of these companies has gone through rigorous testing and must continually meet strict standards to maintain their certification.
There are three requirements that each company must meet.
All of their wood must come from (1) forests that aren't threatened, (2) that don't have high conservation significance and (3) don't contain genetically modified trees.
Using lumber from well-managed forests also means that these products are made with the highest quality hardwoods and will last for many years. So let's take a peek at some of the companies we know and love.
Copeland is high up there on the list for environmentally conscious companies. In 2009, they were awarded the Sage Award for Environmental Excellence by the American Home Furnishings Alliance, as well as reaching Silver Exemplary Membership Status by the Sustainable Furnishings Council (SFC), which only a few companies have had the honor of achieving. They manufacture all of their products in the US, which means that when you buy from Copeland you are supporting our local economy. They even go the extra mile by using lumber from within 500 miles of their factory, which means less consumption of fossil fuels and less carbon dioxide emitted from the transportation process.
Roguewood is committed to sustainability and, in 2009, they joined a group of American companies called Upstream 21. Upstream 21 companies are dedicated to preserving our natural resources. All of their hardwood suppliers are screened to ensure that the wood they use is coming from well-managed forests. The sawdust that is left over from the production process is sold to local mills to be processed into fiberboard and the wood chips are used by local facilities to produce power. They also use energy-efficient dust collection systems which reduce power consumption, premium lacquer that doesn't contain hazardous pollutants, and they reduce waste by making each box that their furniture is shipped in.
Gus Modern is also a member of the Sustainable Furnishings Council which, like Copeland, is one of the few companies out there that has achieved such high standards for environmentally friendly production. All of the wood that they use is 100% FSC-Certified and they even make upcycled ottomans from organic fair trade coffee bags. You go, Gus!
Ion Design is another great company that is taking steps to help keep our beautiful earth around for years to come. They aren't concerned with mass producing ordinary designs and keeping warehouses stocked to the brim with furniture that people don't want. They use 100% recycled, FSC-Certified wood products and only create quality pieces of furniture, helping to reduce waste by creating durable furniture that can be passed down from generation to generation.
The earth has proven she can last through many things but we each need to take conscious steps to take better care of her. By purchasing FSC-Certified products, you are reducing your carbon footprint and helping environmentally friendly companies stay alive. So go check these great products out for yourself and for Pete's sake … go hug a tree!