A while back, the folks here at Smart Furniture were curious about Herman Miller's Embody Chair and how well it would affect their everyday work environment — so what better way to figure it out than to just sit in one! I was happy to take the opportunity to sit on Embody for one week and write about my thoughts. Here's day 2 of our Embody Chair review.
Day Three
Let me tell you a little bit about my weekend. Friday night: 8 hours of driving. Saturday: 5 hours of driving. Sunday: 6 and a half hours of driving. I have a sore back. The funny thing is that when I got to work and sat down, I realized that I also have a sore neck. The reason this is funny is that I don't have a sore back while sitting in the Embody. It's the end of the day now and I'm quite relaxed.
I haven't had to re-adjust the Embody chair since the beginning of the second day. Now it's just moving with me when I move and responding to pressure according to the degree of pressure that is placed on it. For instance, if I decide that I need to reach behind me with my left arm, the Embody chair naturally turns (I don't have to push with my feet to make it turn, and because my feet remain planted on the floor, it doesn't turn too far). The back also flexes, so I'm not fighting resistance as I turn and reach. I know, that's not a motion most people are going to be making 14 times a day. Practically, though, I have been making it a lot more since getting the Embody. I think the reason most of us aren't used to moving in our seats is that most chairs decide where they want you to sit and they keep you there. The Embody chair is built to respond to your movements and postures, while offering support all throughout, and it delivers really well.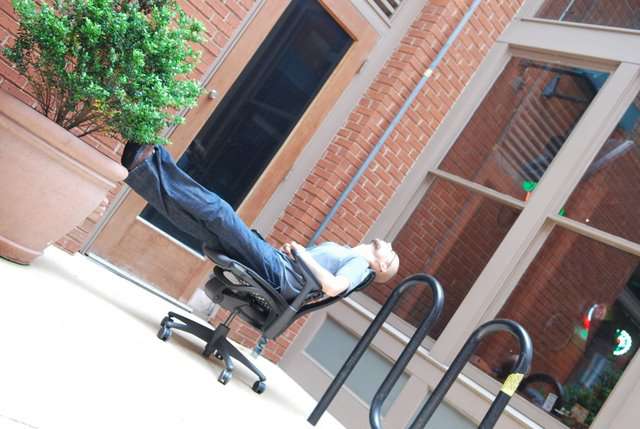 The flexible back is what allows stretching while seated, and it actually encourages it—a proposition that I am aware of due to the fact that I'm really tired today from all the driving I did, and have been stretching all day. And so far as my fatigue is concerned, it has been refreshing to come to the end of the workday without having slouched in my chair all day because of Embody. I know this prediction may not be valid come tomorrow, but I'm going to go ahead and predict that because I sat on an Embody chair today, I will be more rested and ready to concentrate on my work tomorrow morning than I would be if I had sat in just about any other task chair.
Read the entire review: