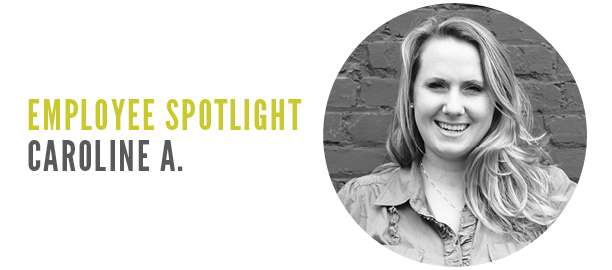 Ever wonder who that pleasant voice on the other end of the line is when you speak to the sales department at Smart Furniture? It could be any of our amazing sales reps, including the one and only Caroline. Caroline is the newest member of the Sales team and we couldn't be luckier to have her with us. It's always fun to get to know people, so here's a little one-on-one with Caroline.
SF: So is it Natalie or Caroline? Nataline?
Caroline A.: My first name is Natalie, but my middle (and professional) name is Caroline. Side note: my grandma used to call me Nataline!
SF: How long have you been with Smart Furniture, and what made you apply?
CA: I've been with Smart Furniture for 4 months. I remember when I found the job posting and was so excited! It sounded like such a different place to work than I'd ever experienced before (working for large corporations).
SF: If you could be any animal, what would you be - and why?
CA: I would want to be a cat. Specifically a lucky cat like mine. No responsibilities, just cat naps ... all day.
SF: Speaking of animals, we hear you're a little bit afraid of a certain type of winged creature. Can you elaborate?
CA: "Little bit" is not even close! I am deathly afraid of birds - or anything with feathers! I do not have a reason for this phobia, it's just the way it is. One day I shall try hypnosis.
SF: You interact a lot with customers, what's your favorite moment so far? Any interesting stories? 
CA: I love any time I can help awesome people get the best deal and service possible. People are shocked when they call us and get a live person. I like to tell them "This is just a recording, please hold!"
SF: You're also new to Chattanooga, TN (and the South). What's your favorite/least favorite part so far? 
CA: I lived in Indianapolis, Indiana my whole life. I've been in Chattanooga, Tennessee for about 4 months now. I'm not just saying this, but I love it here! It's beautiful with such an eclectic mix of people, restaurants, and things to do. I will say my least favorite part is the heat (and humidity). And bugs ... I've been covered in bug bites.
SF: The Sales Dept. is known for being a bit "rowdy" when they're not doing a spectacular job helping customers. If the SF Sales Office had its own reality show, what would it be like? 
CA: It's part Real World, part American Idol. We are all in an office together surrounded by windows (and possibly being videotaped). There is lots of talking, laughing, prancer-sizing, and other things that are indescribable happening. Though I do not participate, there is a lot of singing going on around me. Constantly. Spanning all genres. What happens in the sales office, stays in the sales office. Or maybe we should make that a general rule.
SF: What's your favorite figure of speech?
CA: Hyperbole. Don't take me seriously or the wrong way - I'm usually just kidding!
(African Shoebill Stork photo credit here. Google search "Scariest Bird Ever" for more.)