The Steelcase Gesture Chair
Right now we have a sale on all Steelcase (15% off - not too shabby), and it seemed an appropriate time to talk about their Next Big Thing. And so, without further ado:
Introducing the Gesture Chair, available sometime very soon. We're excited about offering this new chair, since it takes a different approach to office seating - or at least an evolutionary approach.
Gesture is one of the most exciting developments in task seating since the advent of ergonomics. What the Aeron did to help people be more comfortable at their desks was remarkable. But now, we have a multitude of new devices that we use every day. Tablets and smart phones have invaded the workplace, and even our very thought processes (and resulting sitting positions) have evolved. We use multiple devices, often at the same time. We move and shift positions frequently. In fact, when researching in preparation for the Gesture Chair's design, Steelcase identified what they call 9 new working positions.
9 New Postures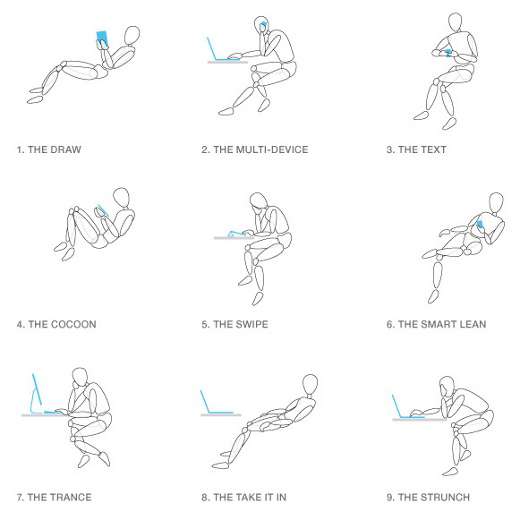 The arms are the real star of the show, but it doesn't look like the back is anything to take for granted. In fact, from what we've seen of the chair, Gesture has the most advanced back Steelcase has ever come up with, and that's saying a lot. Not only is it beautiful, but it's also highly flexible while providing a great amount of support.
I'll make sure to let you know more about Gesture's exact launch date once we ourselves know. And, even better than waiting for a blog post to let you know when you can get ahold of one of these sweet task chairs, head over to the Gesture Chair page to sign up for an email notification when it's ready to rock.
In the meantime, enjoy this video about this groundbreaking chair's design, and check out the Steelcase Sale for 15% off some of the highest-quality desks and task chairs out there!