Today marks a special occasion, the centennial of the birth of Ray Eames. We know we've presented you with a lot of Herman Miller and Eames lately as part of our sale and Eames Giveaway, but we wanted to take the time to recognize Ray and her accomplishments.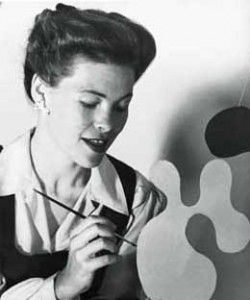 Ray Eames—originally Ray-Bernice Alexandra Kaiser—was born on December 15, 1912 in Sacramento, California. Moving frequently throughout her youth, Ray graduated from Bennett Women's College in Millbrook, New York in 1933 before moving to New York City where she studied with Hans Hofmann, a German-American abstract expressionist painter.
Ray stayed in New York City, focusing primarily on painting and drawing during the 1930s. Her experience as a painter, with her flair for aesthetic beauty with a humanistic touch, would influence much of her later work. Eventually deciding to focus more on design, in 1940 Ray enrolled at the Cranbrook Academy of Art where she would meet future husband and collaborator Charles Eames.

After marrying in 1941, Charles and Ray moved to Los Angeles. Shortly after moving to Los Angeles the pair was commissioned by the US Navy to construct molded plywood leg splints for injured soldiers and as aircraft components. That contract helped provide Charles and Ray Eames with the funding and access to materials to perfect their molded plywood construction technique, a technique that would revolutionize the furniture world. The Eames Molded Plywood Chairs, and the original LCW, are still produced by Herman Miller today.
As the duo focused on furniture design Ray, in particular, used her graphic design skill to create a number of textiles that often incorporated geometric forms and an obvious human touch. Such was the process behind much of the work that Ray created; it incorporated modern elements yet was made easily approachable through the inclusion of humanistic elements. As so often described, Ray was the "painter" or designer. Ray's focus on a human touch and refined design helped cement the Eames's work as the gold standard of design.
Taking this design a step beyond furniture, in 1951 Charles and Ray Eames designed the world renowned Case Study House #8 in Pacific Palisades, California. Intentionally made from readily available industrial materials, the Eames Case Study House #8 features an adaptable living plan and open spaces. Much of the design of the Eames Residence is attributed to Ray. It was she who helped design the house's brilliant layout that is still so captivating today. That emphasis on usability permeated the entire body of work that Ray and Charles would produce.
Not content to merely be a painter, designer or architect, Ray Eames was also a filmmaker. Like much of her other work, Ray's films combined a focus on the human and the geometric, the micro and the macro. Between Charles and Ray, the duo created over 85 short films covering an impressive array of subjects. We've included one of the best known of Charles and Ray's films, Powers of Ten, below. The short film, narrated by Philip Morrison, uses as a center of focus a picnic in Chicago and zooms out to the edge of the known universe in increments of powers of ten. After reaching the edge of the universe the journey returns to the Chicago, then dives to the sub atomic level—pretty crazy stuff for a 10 minute video. See the full video on YouTube here: Ray Eames - Powers of 10.
For the majority of the 20th century Ray Eames, along with husband and partner Charles, helped push boundaries in virtually every artistic field imaginable. From short films to splints for the US Navy, Ray's designs helped shape our life today and change how the world thought about design. Though she passed away in 1988, exactly 10 years to the day after Charles died, much of her work is still held as the gold standard of design and her influence on our lives is immeasurable. Happy birthday Ray, and thank you.