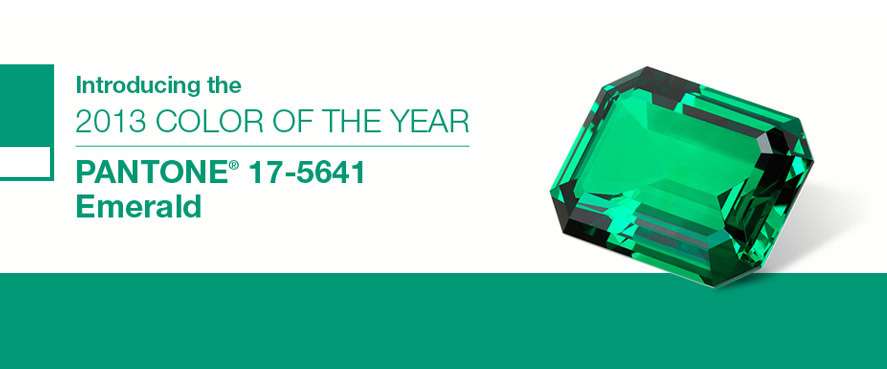 Pantone has done it again; they've released their 2013 Color Of The Year. It's Pantone 17-5641: Emerald! Hooray! Just in time for the holidays, this lovely hue has everyone jumping for joy. This upcoming year's color joins a prodigious spectrum of yearly picks going back to 2000. But what is the big deal? It's just a color. Right?

The Color of the Year is not just an arbitrary decision made by some rando at Pantone headquarters. There's quite an involved process that goes into selecting the appropriate color for the upcoming year. The official press release regarding the 2013 Color of the Year describes the selection process as follows:
"To arrive at the selection, Pantone quite literally combs the world looking for color influences. This can include the entertainment industry and films that are in production, traveling art collections, hot new artists, popular travel destinations and other socio-economic conditions. Influences may also stem from technology, availability of new textures and effects that impact color, and even upcoming sports events that capture worldwide attention."(read the full Pantone press release here)
The official color is decided almost a year before it is released. Color authorities from nations around the world secretly meet bi-annually in a European capitol city to present and discuss the official color for the following year. Sounds like a bit of a to-do for simply picking a color. But the color Pantone picks is not taken lightly. Many industries in our daily life take it rather seriously. Fashion designers, florists, interior designers, and many other consumer–oriented companies purchase the Pantone View, a $750 publication put out by the company, to help guide their designs and planning for future products.
Looks like we'll be seeing green this year. And almost more importantly than product projection is the tone the color embodies. The chosen color is also a reflection of its time and the spirit of the times. For example: the press release declaring Honeysuckle the color of 2011 said, "In times of stress, we need something to lift our spirits. Honeysuckle is a captivating, stimulating color that gets the adrenaline going – perfect to ward off the blues." So why Emerald for the upcoming 2013? Well, because it's:
"...a vivid, verdant green, [that] enhances our sense of well-being further by inspiring insight, as well as promoting balance and harmony."
—something we can all use a little bit more of in the coming new year. So if you're excited about the upcoming color calendar, (I sure am!) Pantone has a line of products that is becoming increasingly popular, from coffee mugs to iPhone cases. You can also bring a little emerald harmony into your home with some hue–honed picks from Smart Furniture:

1. Kartell Cindy Lamp / 2. Kartell Misses Flower Power Vase / 3. Steelcase Cobi Chair / 4. Knoll Saarinen Tulip Chair/ 5. Kartell Tip Top Table