Herman Miller produces some of the most iconic furniture designed during the past half century. And now with the Herman Miller Collection including pieces from Geiger, Magis, and Mattiazzi, finding the perfect piece is a little overwhelming. Okay, a lot overwhelming, even for us, and we "do" furniture for a living. To make your life a little easier, here's a list of three of our favorite Herman Miller Classics.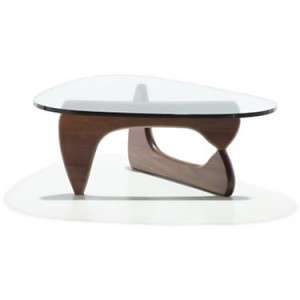 Isamu Noguchi's Low Table is quite possibly the most famous coffee table in modern furniture. A legitimate piece of modern sculpture, when people talk about combining art with furniture, this is the piece they often refer to as the archetype.
The Noguchi Table's design is a study in contrast. A glass top is supported by a wood base which features two legs that are inverted versions of each other. Taking the theme of contrast even further, the base resembles two canoes supporting the lake-shaped top (lake resting on canoes, not the way you usually imagine things going). The Noguchi Table from Herman Miller is one of the most beautiful, sculptural pieces of furniture available today.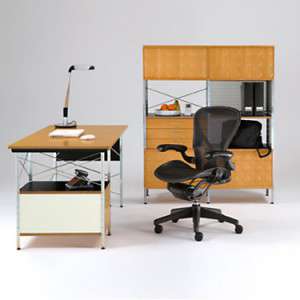 We're kind of cheating here by lumping together the Storage and Desks, but it's our list so we can do that. Plus, they were designed to be used together. Both storage and desk systems exhibit how the Eameses strove to push the boundaries of design, bringing beautiful aesthetic to work and home. More so than other types of furniture, storage units and desks are typically boring, dull, drab, and all about giving you a surface without much else. The Eameses rejected that notion of solely focusing on function. Combining materials in a way that only they could, the Storage Units and Desks of Charles and Ray Eames help bring color and beauty to any space. That's right, any space; the Storage Unit and Desk are at home in a residence or office. Ignoring fancy bells and whistles in favor of elegant simplicity, the Herman Miller Eames Desk and Storage Units bring beauty to areas of your life that previously were victims of a functionality-only mindset.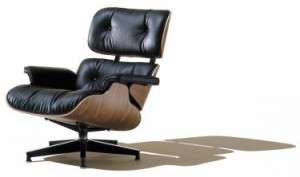 No surprise here; we almost had to go with the Eames Lounge Chair. Considered one of the most significant and collectible designs of the 20th century, the Eames Lounge Chair is perhaps the most famous mass-produced piece of furniture. For decades, the Eames Lounge Chair has been on the museum circuit, making appearances at the Art Institute of Chicago and New York's Museum of Modern Art. As with any Eames piece, the Lounge Chair is about more than just beauty; it's truly one of the most comfortable recliners on the market today and has been for the past half century. The Eames Lounge Chair is perhaps the best piece from the best design duo in history, produced by the top manufacturer.
We're giving away a Herman Miller Eames Lounge Chair as part of our 12 Days of Eames Celebration. You can register once each day, so if you haven't already signed up today we encourage you to do that now. After all, it's free and it's an icon, a tough combination to beat.