This is it: the Herman Miller Sale's time is almost up! The sand's almost all at the bottom of the hourglass here, and 15% off won't be available after midnight tonight. Insert your own cliché here - I've got too many bouncing around in my head. But really, if you're hoping to take advantage of the sale before it's over, now's the time.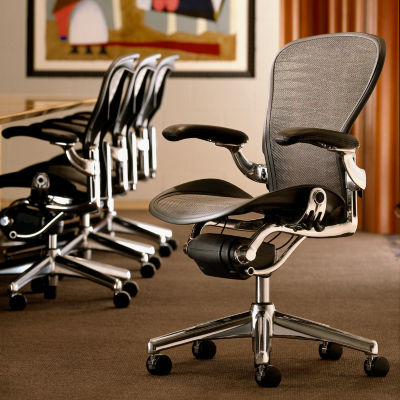 Lest you forget, there are some more-than-excellent pieces of furniture on sale, and they are in-stock. The Herman Miller Aeron Chair is among them. The most famous office chair of all time, it's been featured in movies, television shows, and just about every cutting-edge office space. And that's not just because it looks awesome; in fact, when it came out, it looked weird. It was very disagreeable to the first test group simply because it was so different-looking than any other chair at the time.
After some time sitting in the Aeron, though, the testers fell in love with its comfort and started to come around to how it looked too. We're glad they did! If it had been scrapped by Herman Miller, half of us here at Smart Furniture would be less comfortable at our desks. Also a good reason to like it: it's 94% recyclable. Comfortable seat, comfortable conscience. It's 15% off during the Herman Miller Sale, ending today.
This is the part where I stop to remind you that we got ready for the Herman Miller sale by stocking up on many of the very products that are most popular. We still have a good number of your favorites in stock, including the Aeron Chair. With free shipping on all Herman Miller, it's hard to beat a sale like this. I'm pretty sure the only way we could beat it would be if we were to hire Martha Stewart to deliver it by hand into your home and bake you cookies while she was there. That's a really good idea, isn't it? I'm off to pitch it to my boss, while you head over to check out the Herman Miller Sale!