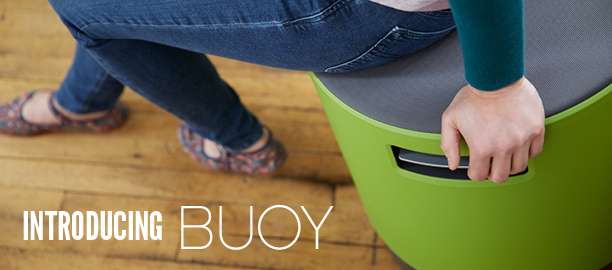 The Turnstone Buoy seat is here, and we have it at Smart Furniture just waiting for you to love it! Now you can tip while you type, wobble while you work, move while you meet, or rock while you relax. Buoy just may be the most innovative - yet simple - look at casual office seating yet. Here's the concept: people love to stay in motion. In fact, sitting on a stationary stool with no back support is the most unappealing prospect in the workplace. And so Turnstone came up with this solution:
Buoy Rocks
We use our Buoy (White shell with Blue Jay top; it comes in some great colors - choose your own combination on our site) in every single one of our staff meetings, and there's always a rush to claim it since we like it so much. Turnstone really hit upon a winning combination with the Buoy, especially when you take into account the fact that....
Buoy is Height-adjustable
The Turnstone Buoy stool's pneumatic lift is smooth, simple, and designed so that it actually makes Buoy's streamlined design even cooler-looking. And that's pretty darn cool, given the fact that....
Buoy is Colorful
Now here's the best part: Buoy is available now, starting at just $199. That price, friends, is super low for a height-adjustable, comfortable ergonomic stool. I'll be getting one for my daughter who can't sit still, so she can use it at her desk. I know, all I'm going to hear when she's doing her homework is the sound of her wobbling around in there, but at least she'll be comfortable!
Get moving - check out Turnstone Buoy now!