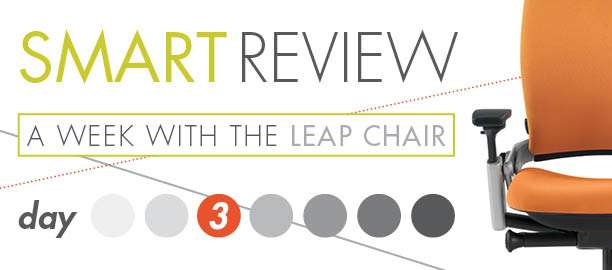 Day Three
It's my third day of sitting in the Leap Chair, and I seem to have reached the point where I want one. I visit our Studio (i.e. Store) often and always spend a few minutes sitting in as many things as possible (since I can choose from premium quality office chairs) before doing whatever it is I've gone over there to do, and I pretty much always want whatever it is I'm sitting in at the moment.
But now I really, really, want the Leap Chair. For real. I figured out that the one thing I thought was lacking can be adjusted. When I reclined as far as I could my lower back felt unsupported, which seemed kind of odd as the lower back needs lots of support in order for the chair to be comfortable. Leap has a support band that spans the width of the back, but it didn't go down as far as I wanted it to. Until now. It turns out that I'm a weakling and just needed to use more effort to move the lumbar support as far down the chair as possible, so now my entire back is covered and feels really comfortable. And that makes me happy.
Another bragging point for Steelcase is the number of places in which the Leap Chair pivots. The back reclines smoothly and the level of resistance is ultra-adjustable, ranging from "Effortless Recline" to "He-Man Couldn't Budge It." Once you're reclined, however, you can keep moving; the back itself pivots against the chair's frame, making it easy to take a nice long stretch or stare right up at the ceiling, if that's what you want to do. For me, this is advantageous because when I listen to my iPod at my desk I like to bob my head up and down, and the flexibility of Leap's upper half lets me extend this pleasant bobbing motion down my back, so I can kind of pretend that I'm dancing while seated. I'm sure the image that comes to mind is not as cool as I make it sound, but I guarantee it looks cooler than me dancing fully upright. That would belong on Fail blog or an equally disgraceful website.