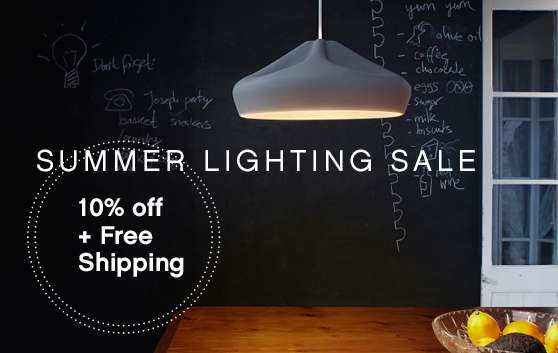 Let's face it: lighting says a lot about a space, even though it is overlooked more often than not. Countless times, I have uttered, " we'll have to change the lights," while on a tour of a home or apartment. Oscar de la Renta once stated, "The most important thing? Perfect lighting at all times." Though he may not have been speaking directly to lighting in home décor when he said it, we wholeheartedly agree.
The ceiling light of a room is the centerpiece of a space. You orient your furniture based on it's location. You place accents depending on the glow it radiates. It may not hold the commanding nature of the Mona Lisa, but lighting is a trend that should accentuate your room's aesthetic in the same way accessories add to your style. Lights come in all shapes, styles, and materials. They even tend to offer more variety than a sofa; Art Deco, Vintage, Minimalist, Mix-Medium, Sculptural, Industrial, Classic, Elegant - this list of styles can continue if you are equipped with a thesaurus.
If you are in need a lighting makeover, visit our Summer Lighting Sale, featuring 10% off + free shipping on all  Cerno and Marset from July 1-15.
Floor Lamps: The right floor lamp will add a range of heights to a room. Placed on either side of a sofa or toward the perimeter, it will complete the layout of the space by framing the room.
Ceiling Pendants: The days of grand chandeliers are fading away as ceiling pendants are taking their place. They add the same aesthetic without the price or the space need to accommodate a chandelier. As of late, we are really digging the ceiling pendant over the bathtub. It adds a lot to a room with few options or accents for decor. Here is one we designed in SmartSpace with our ideal bathroom, but you can upload an image of your actual room to experiment with these new lighting trends.
Table and Desk Lamps: Though both placed on a surface, desk and table lamps serve different purposes. Desk lamps usually need to be minimalistic and sleek to conserve surface space. On the other hand, table lamps tend to be chosen strategically for aesthetic purposes.