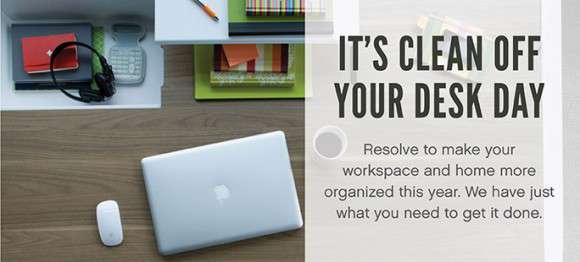 Today, depending who you listen to, is National Clean off your Desk Day. There are various sources out there advocating different dates for the observance of this day. But we've done diligent work and subjected the literature to rigorous textual criticism. Therefore, we here at Smart Furniture hereby declare that today is the legit Clean off your Desk Day.
Assuming that you think our scholarship is credible enough, you've got some work to do! We've made a list of organizational supplies. If you're going to hit your desk with the Faerie* Wand of Cleanliness, you have to have some ammunition to put in the wand. Because wands need ammo. Moving on ...
1. Cabledrop Cable Clips
When you're on the go - and your computer's always leaving your desk to go with you - you'd like to be able to keep the cord off the desk and yet easily accessible, am I right? Just put one or two of these sticky little buttons on your desk, clip your power cord in, and leave without leaving a mess.
2. Smart Shelves 2-tier Bookshelf
How could we stay away from Smart Shelves? Our signature product (and the one from which we derive our name), Smart Shelves are modular, customizable, easily added onto or changed in configuration, and perfect for holding the stuff you can't keep on your desk. They're like Lincoln Logs for adults, with the added bonus of a slim modern profile.
Just another great means of keeping your computer's power cord organized on your desktop, Cordlets add the additional capability of keeping the cord from moving even one tiny little bit away from where you want it to be. For the control freak in all of us.
Another way to say "modular, reconfigurable plastic shelving," Cubitec is on sale right now if you need shelves tall enough to hold binders and modern enough to look good in your office. Run, don't walk, to get ahold of some. I use mine to hold my kids' toys right now, but they've served as diaper storage and big-book storage in their long lives.
5. Cable Box (or Cable Box Mini)
You know how all the cables under your desk are really hard to mop around? How dust bunnies always end up tangled in the wires right around your power cord? That's a fire hazard, you know. Just saying. OK, so hide the cords in one of these ingenious cable boxes, and you're good to go. Call it the clean-up hitter of this whole list, because nothing else I'm talking about here makes as big of a difference for wire control as the Cable Box.
How much do I need to say about the Eames Storage units? From large to small, they're instantly recognizable as Great Design. Well, I'll just leave it at this, then: for an office masterpiece of storage and beauty, you need look no further. True luxury, ultimate functionality.
You have a flat screen. You also have limited desk space. Wouldn't it be great if you could put your keyboard away under the screen when you're not using it? Done. Jack up that screen with the Flo Monitor Arm and, besides making more space, it's got the added benefit of giving you a more ergonomic work space.
8. Pivot Power
Pivot Power is the fun addition to this list, because it's such a great idea and it looks so cool at the same time. See how it turns? that's to enable you to plug in multiple power converters (you know, the big chunky thing on the end of your phone power cord) side by side. Imagine that! Just think: we'll be able to tell our grandkids, "When I was your age, we couldn't use all the outlets on our power cords." Their eyes will get really big, and they'll gasp, and we'll have the satisfaction of feeling their pity.
9. The Sanctuary Charging Station
No desk organization list would be complete without an electronics charging station. As our collection of miscellaneous rechargeables grows, it's nice to see that there are options for keeping them all in one place and organized. Let's see: phones, bluetooth headsets, maybe an iPad ... all in one place instead of scattered at different outlets around your house.
OK ... I'm reaching here, but don't you agree that you need a place to sit down and survey your newly organized desk? A comfy place? Forget the fact that people will be all like, "Why do you have an Eames Lounge in your office?" Just think about how you might answer them:
"What, you don't have an Eames Lounge in your office?"
*I spelled it "Faerie" because when fairy is spelled like that book bloggers get all warm inside and smell chocolate chip cookies baking.