In a recent article on Entrepreneur.com, Liz Elam, Founder of Link Coworking in Austin, shared one very important thing on her daily to-do list: disrupt the norm by rearranging the furniture in Link's shared space to spark collaboration and keep creativity fresh.
Liz has followed this model of disruption for years, and it's afforded her some interesting insights into the impact physical space can have on productivity and innovation. Among them is the realization that certain components of your office design deserve a greater investment—and more mindful research—than others. While rugs and artwork might change with the seasons or the trends, other staples, like office chairs, should not be skimped on.
"If a leader of an office doesn't want to sit in a certain chair for eight hours straight, team members won't want to either," she said.
Liz is right. That's why at Smart Furniture, we've made it our priority to help you feel confident and informed about your purchase. Our Office Chair Genius takes you through a series of questions designed to select your perfect chair based on height, work style, preferred postures and more.
Here are some office chairs that make the workday better: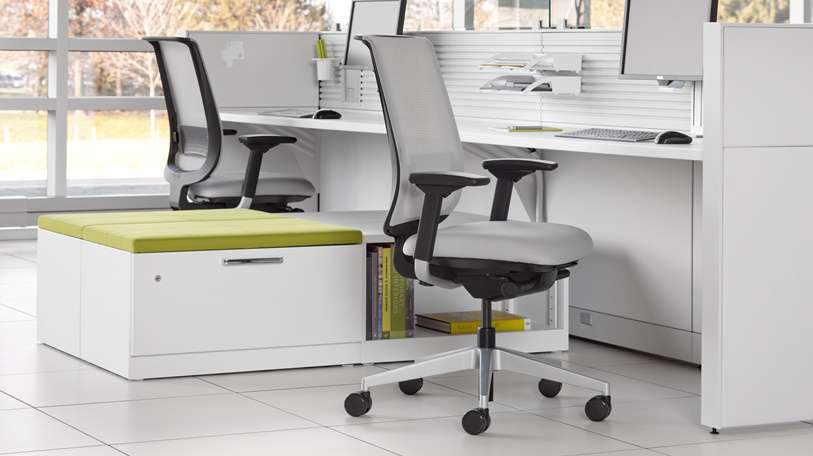 Good: Steelcase's Reply Task Chair with Mesh Back looks as terrific as it feels. Available in dozens of fabulous fabric colors, Reply's mesh back keeps you cool while adding a decidedly modern design aesthetic to your space. Starting at just $459, this chair delivers affordability and good looks without compromising quality, comfort or functionality.
Better: The Leap Chair by Steelcase is one of the best-selling and highly-awarded task chairs on the market. Its ergonomic design boasts LiveBack technology that moves as you do, supporting your entire spine with breathable Thermal Comfort foam for a comfortable eight-hour sit. Starting at $799, Leap's fully adjustable features are sure to transform your workday.
Best: The Steelcase Gesture Chair is an elite, award-winning office chair in a category all its own, offering a personalized seating experience for any posture. With articulating arms designed to support limbs and elbows while you engage with technology, Gesture reclines with ease, even allowing you to control seat depth. The first office chair of its kind inspired by the human body and designed with technology in mind, Gesture starts at $979 and promises extraordinary comfort all day long.
Need help with chairs … and more? Give us a call. Our design specialists are standing by with expert advice.