Space: is it the final frontier or just the most difficult thing to conserve in compact dwellings? I'd say it's both, but although we all can't board the Starship Enterprise, we can save space in our homes. Here are a few ideas for making the most of your space by using a rather valuable element we all have in our homes or offices ... our walls.
Save Space with Wall Lighting
Lighting can be tricky - especially if you don't have decent overhead lighting in your place. I, for one, am not a fan of the bright fluorescent glow that my overhead bedroom light casts. I personally prefer lamp light or dimmer lighting for my room. I currently have a table lamp on my nightstand - which is great - but it's on a small nightstand and takes up quite a bit of space alongside my books, journal, and picture frame.
There a few options you can try if you're considering ditching the table lamp or if you don't have a bedside table to begin with. Wall mounted lights and hanging lamps make for great solutions to save space (not to mention that these fixtures can be super chic and cool design elements in any decor). This can also be applied to your office setup. Try clearing some desk space by adding hanging bulbs or a swinging lamp for a more functional workflow.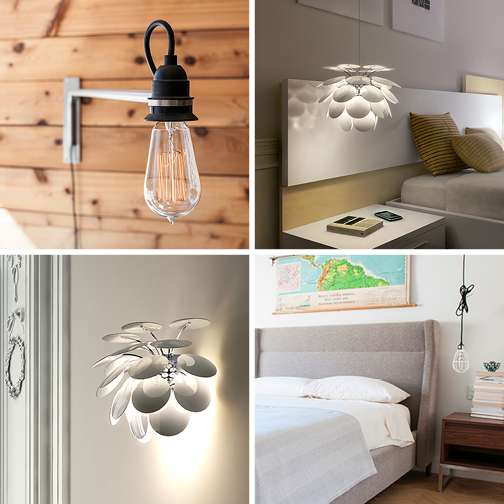 Clockwise from top left: Swing Arm Lamp / Discoco Suspended Lamp, White /
 Discoco Wall Lamp / Similar: Bulb Pendant Light
Raise Your Workspace
Desks can be bulky and sometimes downright dysfunctional in a small space. Usually, if you find a streamlined desk, you have to sacrifice your storage capabilities. Not so here. Wall mounted desks can really minimize the footprint of a workspace while still offering ample storage and functionality. Save space by pairing the desk with sleek wall mounted storage. You'll be able to toss out the old floor-bound file cabinets or stacks of books and papers and stow your papers in an organized way up above.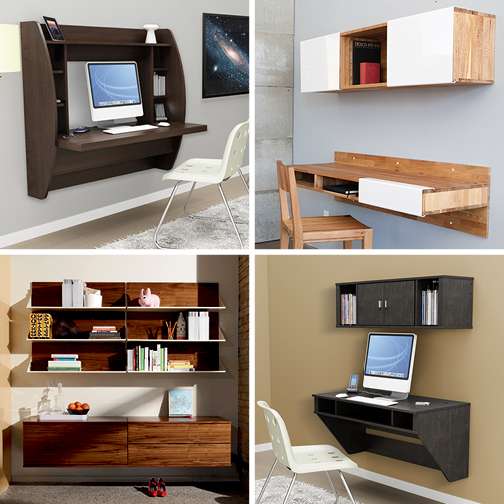 Clockwise from top left: Floating Desk with Storage /
 LAXseries Wall Mounted Desk & LAXseries 3x Wall Mounted Shelf /
Blu Dot Wonder Wall Shelf  / Floating Desk with Hutch
Space-Saving Tables
Similar to desk space, it can be difficult to find a small space solution for the common table. If you have no need for a huge dining table - especially if you only have an eat-in kitchen - try a small wall mounted table. The lack of legs will make your small eating area feel much less full and busy. Wall mounted  console tables can save space on the counter and other areas if you find yourself coming in from long days at work, dropping keys and belongings on the floor or counters and draping outerwear on the nearest chair. Add wall hooks for hanging bags and jacks and place all keys, books, etc. on a sleek entryway table to give your space purpose. Also helpful: adding wall mirrors can visually save space by reflecting light and the room around it. You'll perceive your room as larger than it really is, and that's a good thing.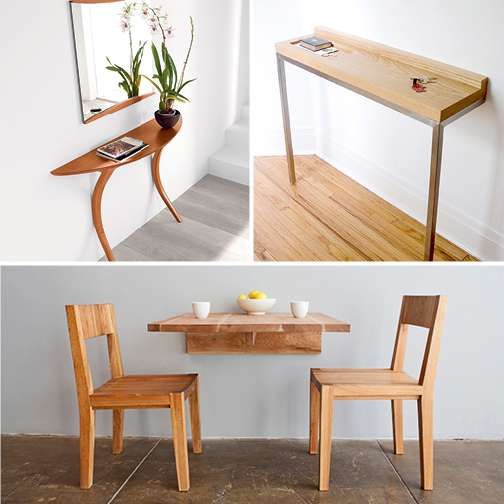 Modi Console Table / Stanley Console Table / LAX Series Wall Mounted Table & LAX Series Dining Chair /
Elevated Entertainment Solutions
My roommate and I fancy ourselves amateur wine enthusiasts and film connoisseurs  (or is it the other way around?).  Anyways, storing wine bottles and DVDs is quite the challenge in our small apartment. Right now we probably have over 100 disc cases stacked - one atop the other - in two teetering towers on the floor. This will not do. A simple and elegant solution to save space would be to - you guessed it - take it to the wall! Probably one of my favorite items (that I cannot wait to own, by the way) is the Floating Wine Shelf. It holds 18 standard 750ml bottles of wine or spirits AND your wine glasses. I mean, what could be better?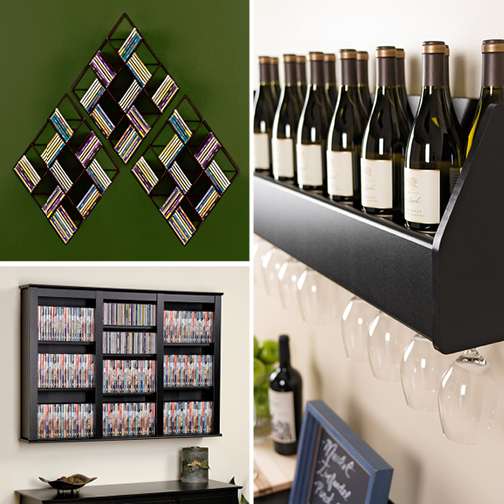 Diamond Wall Mounted CD Rack  / Floating Wine Rack / Triple Wall Mounted Storage Shelf
I hope my advice and tips have helped! If you have a tight space and need help fixing it up, our dedicated staff is here to help you. Contact us - we'll listen to what you need and propose a solution!