Know how you can tell a lot about a person by where they hang out? I think the same holds true for companies and organizations. Looking at where the employees spend their time gives real insight into the culture of the whole company. For example: we're a really chill bunch of folks here. The centerpiece of the Smart Furniture meeting room is a Bivi conference table. Here's a peek at our meeting space during our weekly staff meeting. I think it reflects what we're all about. Laid-back and diverse, functional and good-looking. (Good-looking's a given, since we're a crowd of beautiful people.)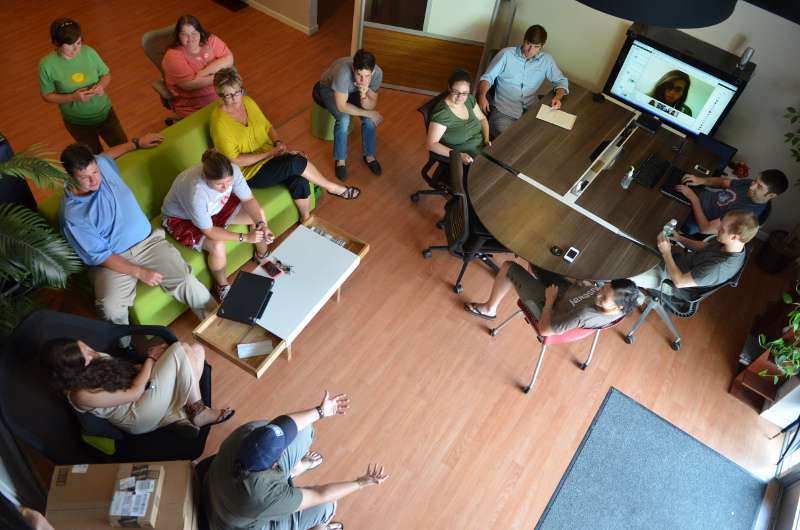 We've been amazed at how useful the Bivi Conference for Six has been - it's brought our meeting area from merely "enough space" to a great place for large and small meetings alike. Whether it's just the Marketing team meeting around the table or the whole company spreading out in the area, the Bivi table gets used every day. I'd imagine that as we grow, we'll probably get more Bivi system components to make our space even more comfortable and useful. It's especially useful for teleconferencing with some of our banished co-workers who live and work in wastelands far from the verdant luxury of Chattanooga.
Also notable: our room divider (nicely hiding an array of electronics) is a really neat Loftwall partition, and the bright green couch you see is the Campfire Big Lounge from Turnstone. We've got a few Campfire Ottomans, and some Crushed Can Stools (not available anymore, sadly - or maybe not so sadly) round out our seating collection.
Oh, I almost forgot ... we've got a Vitra Slow Chair and Ottoman because we think it's awesome. It's there to make sure at least one person starts to fall asleep in our meetings, although Luke doesn't need it to make him start to nod off.
So what's your meeting space like? Can you imagine how you might want to change it to better suit your needs? We'd love to hear from you about how you've adapted your meeting room to fit just right, and how you plan to make it even better!