Smart Furniture T-Shirts Still Available
Author: Mark
Posted: Wednesday, November 14, 2012
Share: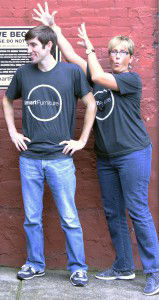 We've still got a few Smart Furniture T-Shirts lying around. If you haven't requested one yet, now's the best time to do so before we run out of other sizes (we're already out of medium sized shirts).
To receive your shirt, connect with us through any social media channel and then fill out the form below. We'll send your shirt on its way and next thing you know you'll be in possession of your very own Smart Furniture T-Shirt. We can't promise you'll look as dashing as our two models to the right but we can promise that you'll enjoy these comfortable t-shirts. Thank you to our customers and everyone who supports us; y'all are awesome and we wouldn't be here without you!
[contact-form-7 id="393″ title="T-Shirt Form"]