Meet Natalie Bigger, one of our fun-loving associates on the sales team. When she's not scaring other coworkers with her righteous nose-blowing or blasting random hip-hop songs at will, she's making sure your product questions are answered and that you find the right furniture for your needs. Natalie had some prior experience with Smart Furniture even before coming to work here. "I loved the shelving system that Smart Furniture is known for. I based my senior project in Industrial Design from Auburn on the style of the Smart Shelves system. You can use the same system in different colors and layouts in all different types of retail locations."
I decided to ask her a few questions that customers probably don't have time to ask her (or aren't bold enough to ask her). She's a good sport, as you'll see.
SF: What's your favorite part of your job?
Natalie: I think the people that work at Smart Furniture make this place great! I love the relaxed atmosphere here in the office; I like that we all get along—most of the time; I love designing spaces, and seeing those spaces come to life for customers. I have worked several jobs since I got out of school, and I can honestly say every day when I wake up that I love my job!
SF: You walk into a room with no windows. It has one door on each of the walls. Do you go through the left, right, or opposite door? What's on the other side of the door?
Natalie: At first I thought I would go through the right door, but I think I changed my mind. Maybe the left. This is what I do—I have to think and ponder decisions. I like to sleep on things. I like to go with the crowd, but be a step off. I like being just a little different. On the other side is an amazing dressing room all for me, filled with all the clothes color coordinated. There would be shoes in just my size and everything would look amazing on me! I am a little OCD, so it would be just what I want. There would be a man there to lay out the perfect outfit, hair, and make-up. He would wash my hair in a salon bowl (the best part of the salon) and I would look bad**s everyday coming out of the left door!
SF: Why are you so weird?
Natalie: I'm not weird—I'm unique! I like everything just in its place, I can NOT spell, I say crazy things, blow my nose too loud, stretch too loud, and make my co-workers laugh. I look at words and think they are something different than what they are. I make up words to songs. There is a wall in my office of crazy stuff I say or e-mail to customers. I am a PLANNER and a little OCD. I love meat (steaks, hamburgers ...) and I love Coke and chocolate. I wish my favorite foods were lettuce and water.
I use emoticons! I have several groups of friends that mean a lot to me. I have a great boyfriend that has taught me lots of stuff about a lot of things. I use the word "rad." I have over 200 pairs of earrings, but yet I rarely wear them. I buy lotions and potions as if they were going to be used everyday, but I rarely use them. I try to do what is right, be nice to people, and wake up every day and decide that I like me and am happy for the day!
SF: A friend tells you that purple is a stupid color. How do you take your vengeance?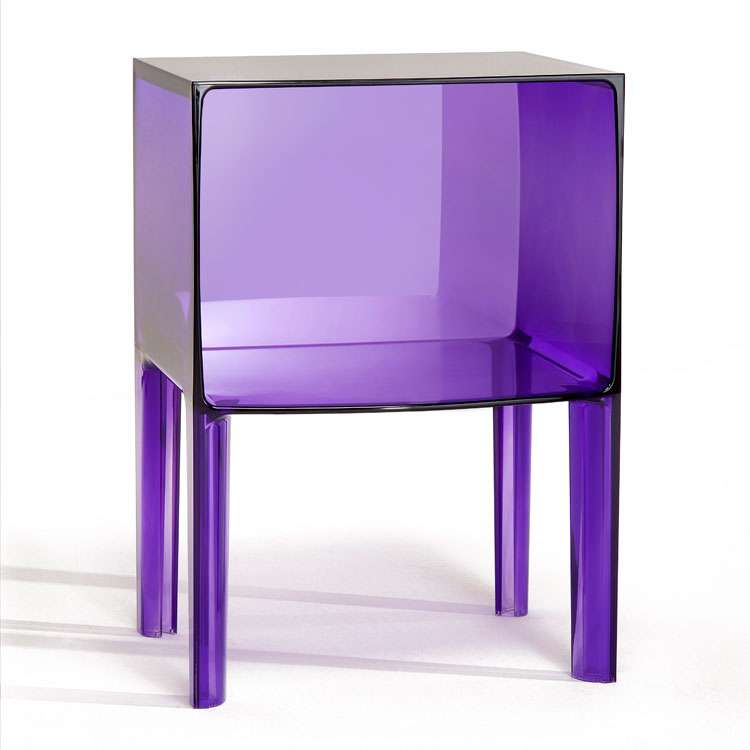 Natalie: I would tell them they are cray cray! Purple is the bomb color. It can be used in so many settings. I had a customer who purchased a grape Eames Lounge Chair and Ottoman. I have a violet Ghost Buster. My jewelry business is called Purple Wire, and I have purple velvet curtains in my bedroom. I think it would be cool to wear a splash of purple every day and be called the Purple Lady—maybe one day. Being the combination of red and blue—the warmest and coolest colors—purple is believed to be the ideal color.
SF: Spider-Man or Superman? Why?
Natalie: Neither—I like Wonder Woman! She wears a pair of indestructible bracelets and a tiara! How much cooler can you get.
SF: What is your greatest joy in life?
Natalie: I love to stay busy! I am involved in too many groups and organizations, and I LOVE it! Being with friends and family makes me happy. I love sharing a big dinner. I love surprises. They get me super excited, but I do not like to be scared—I scream! Movies that end happy when you don't expect them to. My kitty Calisi playing in the shower with me. I love to make a perfect piece of jewelry for someone to make their day. Again on the OCD—I obsess about something, a purple clutch, a glass fish canister, the perfect purple shirt, and I get happy when I find it. Danny, my boyfriend, always says "you get excited over the smallest things, and I love that about you!"
SF: If you were going to buy a luxury item from our website, what would it be?
Natalie: Can it be a gift card? I would buy a million dollar gift card and then I could get everything I want. I really love the Bourgie Lamp. I would buy a large violet Ghost Buster. I would buy the Asher Bedroom Collection with a sitting area of two Womb Chairs. I would have an outdoor seating collection—the white Bubble Club. I would have a Leap Chair in my office. My house would look RAD!!
SF: Why is Auburn such a horrible school?
Natalie: Auburn is an awesome school! It's on the plains, has a small town feel and I made some amazing memories there! Auburn helped me develop my design skills, showed me how to be my own person, and I'm so glad that was where I landed. I was a little (OK, a LOT) homesick, and my parents said I had to finish one full year. BEST DECISION EVER. I believe in Auburn and love it!
By now, I'm sure you can see why we love having Natalie around! Let's let her customers have the final word.
Natalie was most helpful with my questions for my order! Give that girl a raise!!!
I did use customer service at Smart Furniture and they helped me pick out a chair and place the order. They also professionally handled a last minute change to my order. Natalie was my main rep and she was very helpful from the start of my search and she went above and beyond to make me happy.
Natalie was awesome! She was very professional and efficient and greatly increased the chance that I will purchase a loveseat from Smart Furniture.