There's something wonderful about seeing an idea come to fruition, isn't there. In this case, the "idea" is reality now. Presenting the 1964 Sofa by Smart Furniture. Yes, that's right - by Smart Furniture. It's ours, this sofa. Our idea, our design, our product. And just look at it! It's gorgeous. All dressed up, somehow it still manages to look casual. That's my kind of style.
I think the 1964 Sofa is the best-looking sofa we offer. Honest, cross-my-heart. From the slightly flaring arms with stitched detail to the splayed legs that reminisce of Danish modern; from the Walnut base to the tapered backrest, our sofa practically shouts its homage to the greats of modern design. Its lines are so compellingly beautiful that I think Smart Furniture should give the 1964 Sofa as a perk to all employees. I mean, it's got our name on it, so in a sense it already belongs to all of us, right? Work with me here.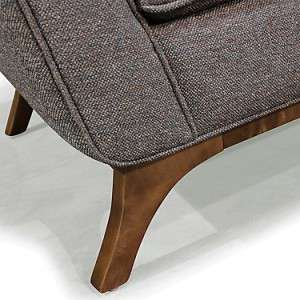 Whether guilt trips work on my boss or not (they don't), the 1964 Sofa works in just about any setting. We're happy to provide a piece of furniture that just about anyone can feel comfortable buying, without compromising the principles of good design. And, of course, it's got a limited lifetime warranty and our incredible return policy to protect you if (for some inconceivable reason) you find that you can't keep it.
Do you need any more reasons to head over to Smart Furniture and check this baby out? Even if you don't need a sofa, come on over and look at it just to bask in its glory. If you do happen to need a sofa, boy, are you in luck! Visit our site or give one of us a call at 888-467-6278 to find out more about the 1964 Sofa. We promise, we'll help you find just the right sofa in just the right size and color.