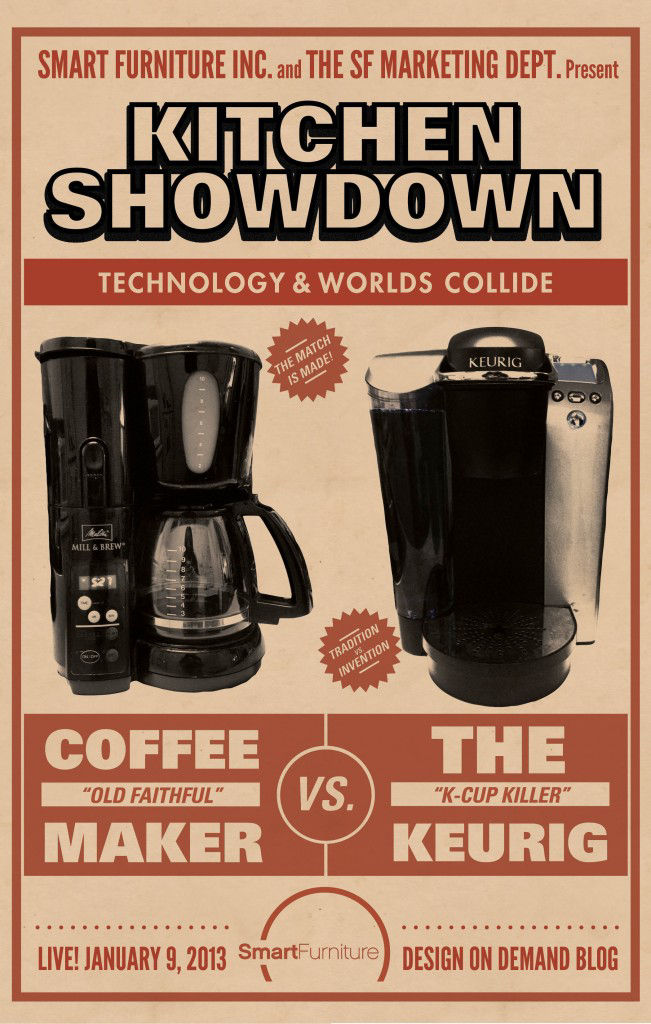 It's the second Wednesday of the New Year, and right now somebody in the Smart Furniture office is drinking coffee. In fact, the bitter little bean is so popular, studies have shown that 35% of human traffic in the Smart Furniture kitchen is directly attributable to coffee consumption. While some have fallen under the sugary sway of "Monster" energy drinks, and the office singles can't help but take heart from the uplifting tale of Red Bull (if Red Bull can find a match in vodka then there must be somebody out there for all of us), in the end there's no replacement for coffee when it comes to straight up caffeine delivery. That's why we rock two different coffee machines in our office: the cutting-edge Keurig T1000 Series Single Cup Brewmaster, and the good ol' Mill n' Brew Coffee Maker.
Let's start with what came first: the Mill and Brew. This veteran machine has been in our office for over 25 years. We treat the Mill and Brew like a cast-iron pot, and the lack of cleaning has allowed the grinder's aluminum mesh container to take on the character and essence of coffee beans past. This makes for a vast range of potential flavors you might sit down to on any given morning.
The Mill and Brew can handle both whole and ground beans, but any versatility this should achieve is dashed by a confusing "mill" button. When the mill light is on, the grinder doesn't grind, and when the light is off, the grinder does grind. It doesn't make sense! This flaw causes us to give ground coffee accidental and redundant grinds, which generates a loud blur of nasal metallic noises, and makes the whole experience very unpleasant.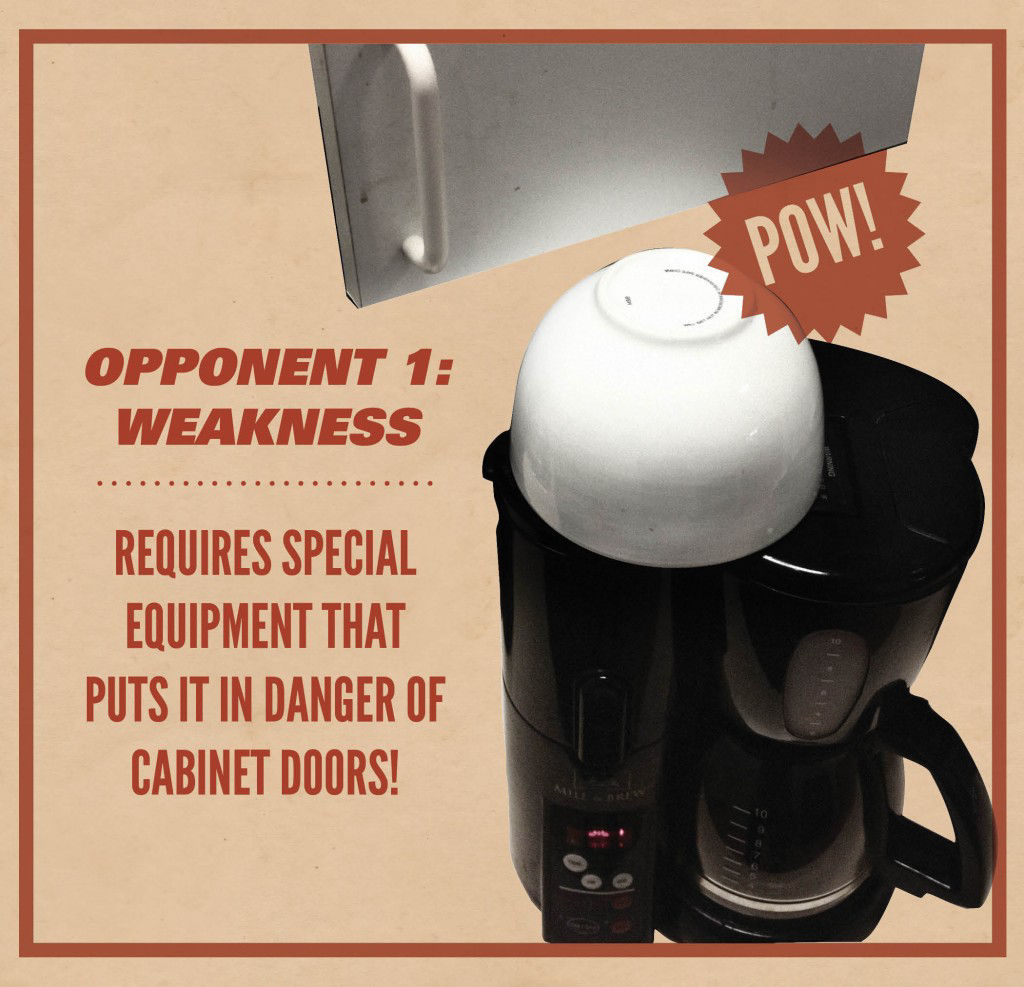 But the final flaw to the Mill and Brew is that through its years of service the latch that keeps the grinder top closed has broken, so during the grind we have to hold the lid down or place a heavy object on top of it. The latter method has won out, with the object of choice being a large white cereal bowl. This hefty piece has miraculously survived the ever-present threat of our kitchen cabinet doors, which are just a hurried swing away from knocking the Mill and Brew's ceramic counterpart to the floor.
So with all the features listed above, could a superior product even possibly exist? The answer is a big solid yes, as illustrated by the Keurig T1000 Series Single Cup Brewmaster. This guy works fast. You press a button, and boom—the water is hot and so is the coffee. To clean up the single-use coffee packets you just throw them away, and you can press a button to choose your cup size (ha ha). The Keurig also comes with an under-appreciated aesthetic bonus—if you look at it head-on, it kind of looks like a robot linebacker with its big heavy shoulders and face mask.
The Keurig would make an excellent coffee maker for any office, and yet—for all its cleanliness and convenience—it's not perfect. Take water capacity: with the Mill and Brew, you make it once and you get lots of coffee because you poured 10 gallons into the coffee maker. The Keurig can't be filled quite so generously, so you have to fill it more often. A flashing light tells you when it needs refilling, so it flashes more often than not. Not a big deal, but I've noticed it.
The only serious drawback is a big one: when it comes to single-use coffee Keurig shots, the good-tasting stuff gets expensive, and is thus currently unavailable. So the Keurig coffee is just not as good as the fresh brewed stuff. This is the biggest reason that Mill and Grind still accounts for most coffee consumption within the office.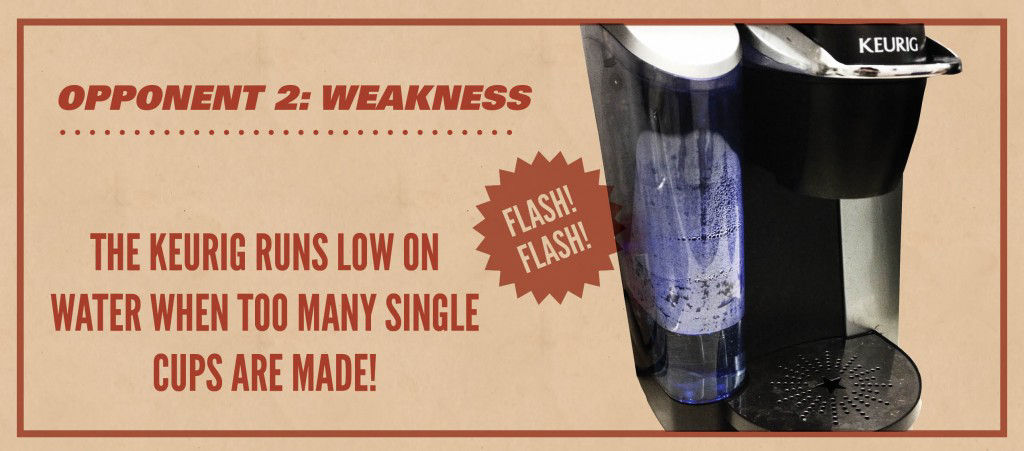 A wise man once said, "Choice is both the burden and blessing of free-born people." He was probably talking about politics, but he could have been talking about coffee consumption. I, for one, am glad to have a choice when it comes to brewing coffee in the office.