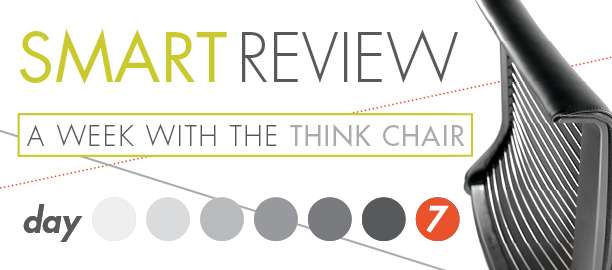 It's the final day of our Think Chair Employee Review. Mark was able to fight back the tears from the thought of life without a Think Chair and give us a few final thoughts and a recap of the week's highlights.
When I look at the Think, what I see is a minimalist, inside-outside design that I appreciate aesthetically. The LiveBack system is visible but doesn't look like it's functional as much as it looks like a design element, and the two frame bars that hold up the back look unyielding in their curve.

What I've found after sitting in the chair for a week (yes, it's been a week - I only wrote on 4 days, but have been in the chair that long) is that the frame bars, since they're independent and not connected at the top, flex quite a bit. The result is that when I turn in the chair and move around, the back is not stiff from side to side, but twists with me quite comfortably.

I've also found that the LiveBack isn't just pretty trappings for a modern chair. The metal cords have a huge degree of give and have worked together to shape the back far beyond what I would have expected. I tend to sit sort of angled, which I know is not the most healthy or ergonomically correct position, but that's just how it works best with the desk I've got. What the LiveBack has done - along with the frame's give at the top - is it has helped the chair support me where I am, rather than try to conform my posture to its shape by putting undue stress on one part of my back.

The seat is comfortably soft, but not soft enough to let me slump down into it; it is not comfort on the level of an Eames Softpad Lounge Chair, but it beats almost every other office chair I've sat on. Part of the reason I like the design so much is that it allows for a pad in the seat, rather than ruling it out by having such a slim profile my Grandma wouldn't be able to see it.

Finally, the armrests: after a week of use, I've come up with a few preferred configurations. Right now I'm in the typing configuration (remember, I sit crooked). The left armrest is front-in, back-out. The right armrest is front-out, back-in. The SketchUp (Google's 3D software program) configuration calls for both armrests to have the front in and the back out because I put my right arm wider to use the mouse for that program.

Now that you know more than you need to about my sitting habits, the simplest thing is to understand that these armrests offer great flexibility with ease. To move them from one configuration to the next, all I do is drag them with my elbow (!!!). They are my favorite feature on the Think because of their ease and flexibility. At Smart Furniture, none of us is a single-function employee, so it's super useful to have equipment that assists us with whatever it is we're doing. I'm sure you can relate.

We really need a grading system for these chairs we're reviewing, but maybe we'll do that when we're done with all the reviews. In any case, I'm comfortable in the Think and that sounds like a pretty good grade to me.
Want to go back and relive some of the highlights of  our Think Chair Review? We've posted the whole thing online here.