Live from Chattanooga, TN
NARROW RESULTS
Creating Your Perfect Workspace
There are plenty of factors to think about when shopping for a desk -- style, color, size, and features just to name a few. We're going to break down a couple of main areas for consideration to help you decide on what works best for your office.
How will you be using your desk?
Those who have a dedicated home office will likely need a fully-featured desk with built-in storage, or a desk that's part of a group like BDI's Sequel Collection. Features like built-in keyboard trays and wire management become key to house multiple peripherals like a laptop, tablet, a printer, and even multiple monitor setups -- all in one space. Many in this camp choose an all-in-one corner desk solution that features both a large workspace and integrated storage to keep things simple.
On the other end of the spectrum, lighter-use desks like the StudioDesk provide an ample amount of workspace while not taking up a large footprint. Our selection of compact desks also work great for those who don't have a lot of space to work with but still want a wide breadth of options to choose from.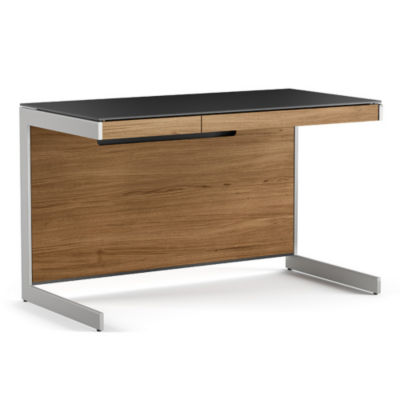 Ergonomic evangelists will also appreciate our selection of sit-to-stand height-adjustable desks paired with a high-performance office chair for a health-positive alternative to a stationary workspace.
Do I need any additional storage to go alongside my desk?
This depends on how much tabletop space you have and what items will occupy your desktop. If you have a smaller desk but only need it to hold a laptop and maybe a desk lamp, you can probably make do with just adding some desktop accessories to keep things neat, organized, and tidy. If your desk juggles a desktop computer/monitor, laptop, phone, tablet, and other peripherals, you should highly consider some additional storage like a mobile pedestal, file cabinet, or a bookcase to keep things in check.
What else do I need to consider?
A main concern is having desk that feels claustrophobic, unorganized, and inefficient. So outside of the usual suspects like style and price, make sure to find a desk that's both deep and wide enough to keep your workspace from feeling cramped. Check out some of our office design ideas to get a better feel for what you're leaning towards.
If you're still feeling overwhelmed and need a bit of extra assistance finding the right desk, please give us a call at 888-467-6278 and we'd be happy to help!