Stressless City Low-Back Chair by Ekornes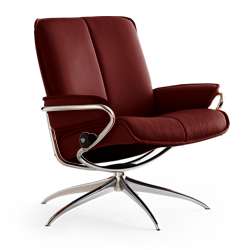 Stressless City Low-Back Chair by Ekornes
CITYLB-QS-PALOMA BLACK-LBHB
Arrival Timeline
|
Quick Ship - Ships Out in 4-5 Weeks
Upholstery
|
Black Paloma Leather
+$100.00
Base Option
|
Low Back High Base
Don't see a configuration you like? Customize your Stressless City Low-Back Chair by Ekornes.
Stressless City Low-Back Chair
by Ekornes Stressless
At A Glance:
The Stressless City Low-Back Chair is designed with you in mind, from the headrest all the way down to the base. With all of the unique features that you can expect from Stressless, this chair will prove comfortable, convenient and durable.
Patented Glide and Plus systems ensure that your chair will work and move with you, not against you. Designed for optimum comfort, the Stressless City Low-Back Chair features a cushy double layer of space-age foam that is molded directly onto the frame and a swivel base that lets you rotate a complete 360 degrees with the push of your foot.
What's To Like:
The recline function (the Glide System) reacts to shifts in your body weight. This means you never have to hold tension in your body, like you would in many other recliners. Your head, neck, and shoulders are supported well by the Stressless City Chair's headrest. The headrest moves with the chair to keep your head supported in a reading position with your neck muscles relaxed. The Plus system within the chair controls lumbar region support, so that whenever you need it, the chair moves to s upport your lower back.
What's Not to Like:
We're not going to be able to knock this recliner's comfort. It's simply comfortable. So it's all a matter of taste at this point. If you don't like its look, then that's what's not to like. We don't think that the price tag is an issue here because of the incredible value a Stressless recliner is in terms of comfort and durability.
The Bottom Line:
With a striking combination of comfort, function, and balanced good looks, the Stressless City Low-Back Chair is the direct result of more than 35 years of refining what Ekornes has preached all along. Modern in its overall design, the steel frame and plush upholstery are reminders of the Stressless City Low-Back Chair's luxurious quality.
Ekornes introduced the Stressless chair in 1971, meticulously developing and designing the chair to provide your body with the ultimate in comfort and support while sitting upright or reclined. This revolutionary design has made Stressless the ultimate recliner for the past 35 years.
Features:
Chair Dimensions: 34.25" - 35.75" h x 31.5" w x 28" d
2 height options, standard 34.25" and high 35.75"
Double stem base for added stability.

Swivel base lets you rotate 360 degrees while seated.
Glide system that allows you to shift seating positions by responding to your body movements.
Plus™ System controls lumbar support and automatically adjusts headrest depending on your position.
2 layers of foam for maximum comfort.
Balance Adapt: the

chair's back and seat automatically adjust similar to a rocking motion

(added August 2017)
See all product information and details here