Don't see a configuration you like? Customize your Amia Chair by Steelcase.
Steelcase Amia Chair
designed by Thomas Overthun of IDEO
At a Glance:
The Amia Chair isn't necessarily glamorous, but it's incredibly effective. It has all the comfort you'd expect from a $1200 chair like the Embody, but you can buy it at half the cost. No bells and whistles, just real comfort, real support, and real simple design.
What's to Like:
The Amia Chair is a triumph of the free market. It strips away all the things you don't really need from the most high-end office chairs, but it keeps all their comfort, freedom of movement, support, and color. It's lean, and it has kept only the essentials. And because of that, it's half the price. Like it for the simple design, like it for the back supporting LiveLumbar system, like it for the comfort of the seat and back; love it for the price.
What's Not to Like:
We say simple design, but others might say unsophisticated design. The Amia Chair doesn't do anything new or exciting with the office chair form. But trust us, it's got a great personality.
The Bottom Line:
The Amia Chair is genteel in the cubicle and a freak (world beater?) in the comfort and ergonomics department.
Features:
Passive Seat Angle: automatically adjusts for reclining
Adjustable Seat Height: pneumatic control provides a full range of height
Lumbar Support: allows fine-tuning for lumbar support
2-Stage Tilt Limiter: slightly reclined or fully reclined tilt settings with adjustable tension
Adjustable Seat Depth: slides forward and backward to accommodate people of different heights
Adjustable Arm Depth: makes it easier to get closer to your desk
Arm Pivot: puts armrests at just the angle you need them
The Amia Chair was made for Maximum comfort.
Here's how the lumbar support responds to you for super support.
The Steelcase Amia Chair is also known by the following manufacturer numbers: 4821410, 4821410S, 4827410, 4827410S.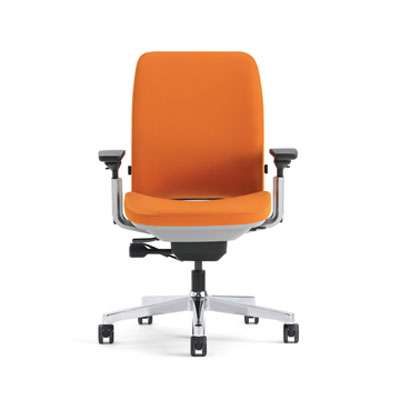 98.08%
Customer Satisfaction Rating
Rank: #2 in Office Chairs
Customer Rating:
Recommend to a Friend? 96%
Return Rate: 1.4%
The ideal office chair makes work more efficient and comfortable. Let our Office Chair Buying Guide help you find the perfect one.
---
---

INSIGHTS
Amia Chair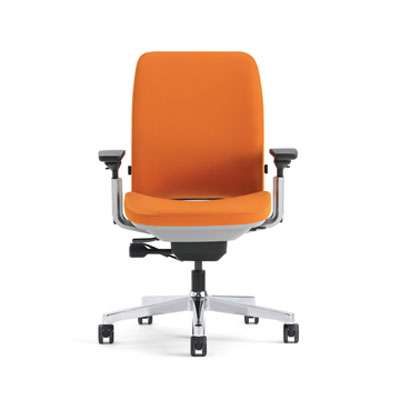 98.08%
Customer Satisfaction Rating
Rank: #2 in Office Chairs
Customer Rating:
Recommend to a Friend? 96%
Return Rate: 1.4%
See all product information and details here