Bertoia Stool with Seat Pad by Knoll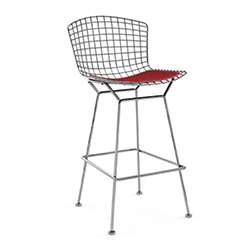 Bertoia Stool with Seat Pad by Knoll
Upholstery Color
|
Black Vinyl
+$23.00
Frame Color
|
Black
Height
|
Bar Height
Bertoia Stool with Seat Pad by Knoll
Upholstery Color
|
White Vinyl
+$23.00
Frame Color
|
Polished Chrome
Height
|
Counter Height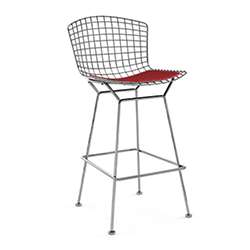 Bertoia Stool with Seat Pad by Knoll
Upholstery Color
|
Black Vinyl
+$23.00
Frame Color
|
Polished Chrome
Height
|
Bar Height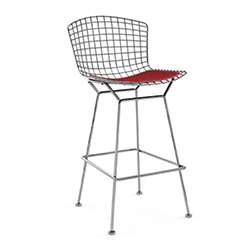 Bertoia Stool with Seat Pad by Knoll
Upholstery Color
|
Black Vinyl
+$23.00
Frame Color
|
Black
Height
|
Bar Height
Bertoia Stool with Seat Pad by Knoll
Upholstery Color
|
White Vinyl
+$23.00
Frame Color
|
Polished Chrome
Height
|
Counter Height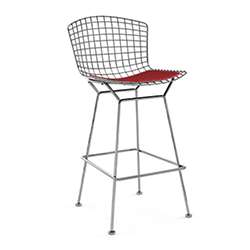 Bertoia Stool with Seat Pad by Knoll
Upholstery Color
|
Black Vinyl
+$23.00
Frame Color
|
Polished Chrome
Height
|
Bar Height
Don't see a configuration you like? Customize your Bertoia Stool with Seat Pad by Knoll.
Bertoia Barstool and Counterstool by Knoll
With Seat Pad

designed by Harry Bertoia
The Bertoia Bar Stool and Counter Stool are constructed of steel rods with chrome polish, and a seat and back cushion that attaches to the chair with lock snaps. Another offshoot of the legendary artist Harry Bertoia's experiments with bent metal and the concept of space in furniture, the Stools are strikingly beautiful, simple, and unmistakably modern art. The Bertoia Bar Stool and the Bertoia Counter Stool are adaptations of the famed Bertoia side chair, lengthening the legs and adding another steel rod wrapped around the legs of the chair.
Recently named one of the top 100 most famous chairs of the twentieth century, the Bertoia Bar Stool and Counter Stool have an exalted place among house furniture, especially seating. They represent a conversation between material and nature, the trappings of modernity (steel and chrome) with the simplicity of the old (negative space, cushioning). It is an artistic statement on the value and necessity of space within a design.
Some fabrics are suitable for limited outside use with proper preventative maintenance and care.
Customer's own material may be used upon approval.
Many additional fabric lines are available upon request. Please call a Smart Furniture salesperson at 888-467-6278 to get started!

Counterstool: 39.5" h x 21.75" w x 22" d
Seat height: 27.5"

Barstool: 41.25" h x 21.75" x 22" d
Seat height: 29.25"
See all product information and details here