Real Good Chair by Blu Dot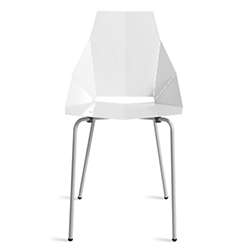 Real Good Chair by Blu Dot
Don't see a configuration you like? Customize your Real Good Chair by Blu Dot.
Real Good Chair
by Blu Dot
At A Glance:
Since when has furniture ever been known to ship flat - and we mean really flat? Blu Dot loves looking at things from a different perspective, and that practice shows through with their Real Good Chair. This is one unique side chair, with its powder-coated steel panels that fold along laser-cut lines to form the chair's seat. It's got a nice shape to it, with comfortable support that's almost a surprise, given its stark, steel silhouette and matching steel legs.
What's To Like:
The Real Good Chair is minimalism defined. And Blu Dot has added the whimsical touch of making the back partially your creation. You get to fold it into shape, after all. Now that's truly minimal. The Real Good Chair is also suitable for outdoor use - and that rocks.
What's Not to Like:
While slightly rounded, the corners of this dining chair's back and seat may prove hazardous for children, who have a tendency not to watch where they're walking. (If you prefer a padded seat, note that you can easily add the Real Good Chair Pad if you choose.)
The Bottom Line:
Minimalist to the core, Blu Dot's Real Good Chair resonates with lovers of stark, strong design. All steel and ingenious in its construction, the Real Good Chair is a good choice for inclusion in a modern dining space.
Features:
Overall dimensions: 33" h x 18.5" w x 18.5 d
Seat height: 18"
Seat depth: 15.25"
Powder-coated steel seat and back
Painted carbon steel legs
See all product information and details here