Eames Lounge Chair, White Ash by Herman Miller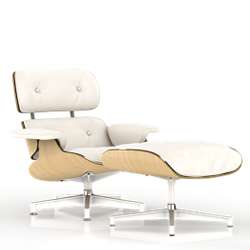 Eames Lounge Chair, White Ash by Herman Miller
Color
|
Pearl White MCL Leather
Ottoman
|
With Ottoman
+$1975.00
Don't see a configuration you like? Customize your Eames Lounge Chair, White Ash by Herman Miller.
Eames Lounge Chair and Ottoman by Herman Miller, White Ash and Select MCL Leather
designed by Charles and Ray Eames
Looking for a taller version of this Eames Lounge Chair? Please click here.
What You Get: The classic Eames Lounge Chair and its partner in crime, the well-proportioned Ottoman, in the new White Ash finish.

At A Glance: This is a new introduction that combines select colors from Herman Miller's MCL Leather collection with a White Ash veneer. The latter undergoes a special finishing process to arrest the white ash in its creamy, "freshly cut" state. This is the first time these colors have been made available.


What's To Like: For starters, it's the same form and function as the classic Eames Lounge and Ottoman. The only change is purely aesthetic.

What's Not to Like: There are limited options here - a white ash frame with pearl, ivory or almond leather. If one of these is a deal breaker for you then you might want to look at our main Eames Lounge Chair page for a veritable plethora of options.

The Bottom Line: The tones in the leather and veneer create a pristine, smooth appearance that we find refreshing. It really seems like the new Eames Lounge Chair should be sitting on top of a cloud somewhere.
Matching New Editions from Herman Miller
With its new white ash finish, Herman Miller doesn't just show love to Charles and Ray Eames. It recently introduced white ash versions of classics by a contemporary of Charles and Ray Eames- Isamu Noguchi.

The new

Noguchi Table

also looks stellar in a white ash finish. If you want lighten up your living room and own masterpieces by the best designers of the last century, Herman Miller has you covered.



Noguchi Table
You've seen this chair on sitcoms, talk shows, and everywhere in between, but you've never seen the Eames Lounge Chair like this. Now available in this new striking color combination, this represents the latest development in perhaps the most recognizable piece of living room furniture ever.
Chair dimensions: 32" h x 22.75" w x 32.75" d
Ottoman dimensions: 17.25" h x 26" w x 21.5" d
Produced with a quality of craftsmanship that is hard to come by these days, the new edition features a white ash 7-ply veneer that pops with the luxurious leather atop it.
See all product information and details here