Splitback Sofa Bed with Arms by Innovation-USA
Splitback Sofa Bed with Arms by Innovation-USA
IN94741012001C-WALNUT-MIXED DANCE BRD ORGE
Color
|
Mixed Dance Burned Orange
Leg Finish
|
Styletto Dark Wood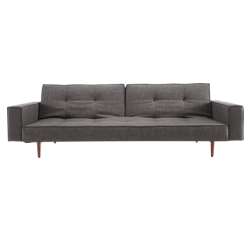 Splitback Sofa Bed with Arms by Innovation-USA
IN94741012001C-WALNUT-WHITE LEATHER
Color
|
Leather Look White
Leg Finish
|
Styletto Dark Wood
Splitback Sofa Bed with Arms by Innovation-USA
IN94741012001C-STAINLESS STEEL-WHITE LEATHER
Color
|
Leather Look White
Leg Finish
|
Stainless Steel
Splitback Sofa Bed with Arms by Innovation-USA
IN94741012001C-WALNUT-MIXED DANCE BRD ORGE
Color
|
Mixed Dance Burned Orange
Leg Finish
|
Styletto Dark Wood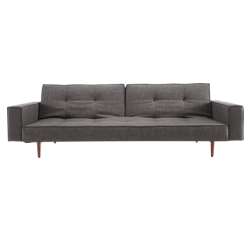 Splitback Sofa Bed with Arms by Innovation-USA
IN94741012001C-WALNUT-WHITE LEATHER
Color
|
Leather Look White
Leg Finish
|
Styletto Dark Wood
Splitback Sofa Bed with Arms by Innovation-USA
IN94741012001C-STAINLESS STEEL-WHITE LEATHER
Color
|
Leather Look White
Leg Finish
|
Stainless Steel
Don't see a configuration you like? Customize your Splitback Sofa Bed with Arms by Innovation-USA.
Splitback Sofa Bed with Arms
by Innovation
The Splitback Deluxe Multi-functional sleeper sofa is a compact, modern sofa with an elegant design. With low, wide arms and button-tufted upholstery, this versatile sofa bed comes in your choice of classy upholstery/leg combination. The back is split into two separately reclining halves to open up new seating or sleeping possibilities. This convertible sofa is 45" wide when fully opened.
Splitback Deluxe Multifunctional Lounge Chair may be purchased separately to form a chaise lounge or rear-facing seat, as shown in some of the pictures above.
Splitback Deluxe Multifunctional Sofa Bed with Arms features:
31" h x 93" w x 35-45" d - equivalent to a Full size bed when deployed
Seat height: 16"
Arm height: 22"
Bed Size: 45" x 82"
Mattress is 7" thick
Icomfort pocket springs make the sleeper sofa durable and bed-like
Matte black powder-coated steel frame
Stainless Steel, Brass or Dark Styletto legs
See all product information and details here