Mademoiselle Printed Chair by Kartell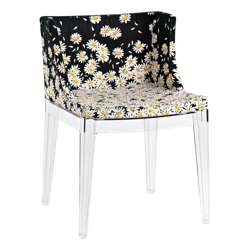 Mademoiselle Printed Chair by Kartell
KTMMC-BLACK_MOSCHINO SKETCHES
Fabric Color
|
Moschino Print Sketches
Frame Color
|
Black
Don't see a configuration you like? Customize your Mademoiselle Printed Chair by Kartell.
Mademoiselle Printed Chair by Kartell
designed by Philippe Starck
This is an innovative design for an armchair because of its clever and novel combination of two aesthetic qualities: the structure is an injected mold of transparent polycarbonate upon which are placed four fasteners, allowing for a sturdy, yet flexible fit for a seat made of expanded polyurethane. The Mademoiselle Chair's advanced technology consists in the use of unusually thick, soft fabric for the seat, which provides for maximum comfort and enhanced aesthetic quality. It boasts a harmonious design and extraordinary comfort. The Mademoiselle Chair is available in a Black or Crystal colored frame with various pattern options, including a special edition animal print by Dolce & Gabbana.
First presented in 2007, the Mademoiselle Chair Dolce & Gabbana animal print provides unconventional and unmistakable luxurious style that combines the innovation of Kartell seating with the luxury of this designer label. This precious print customizes the chair and has become the emblem of the label recalling the warm and embracing sensuality of Dolce & Gabbana.
See all product information and details here