Plate Table with Marble by Vitra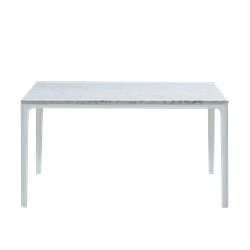 Plate Table with Marble by Vitra
Size
|
Large Square
+$265.00
Don't see a configuration you like? Customize your Plate Table with Marble by Vitra.
Plate Table by Vitra
designed by Jasper Morrison
The Plate Coffee Tables have a classic shape and finely balance proportions, which are accentuated by the softly rounded edges that are precisely positioned. The refined base frame and thin table top complement perfectly, and yet are clearly distinct from each other.
A wonderful addition to your modern living area.
Table top in brushed and waxed Carrara marble
Two square sizes and one rectangular size are available
The Vitra Home Collection is not an interior design system or a homogeneous product line which promotes a uniform style. Rather, Vitra considers the furnishing of one's home as a process of collage - a gradual assemblage of products and objects. Not to be confused with coincidental accumulation of things, this process is a conscious arrangement that grows and changes with regard to both content and style, according to the owner's individual preferences and circumstances.
See all product information and details here