Setu Lounge Chair by Herman Miller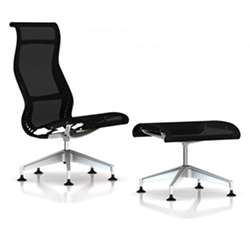 Setu Lounge Chair by Herman Miller
SETULOUNGECQ811MAG1L7NNN4W05
Seat Color
|
Berry Blue
Frame Finish
|
Graphite
Base Finish
|
H-Alloy
Arms
|
Ribbon Arms
+$41.00
Bumpers
|
No Corner Bumpers
Setu Lounge Chair by Herman Miller
SETULOUNGECQ811MAG1L7NNN4W03
Seat Color
|
Chartreuse
Frame Finish
|
Graphite
Base Finish
|
H-Alloy
Arms
|
Ribbon Arms
+$41.00
Bumpers
|
No Corner Bumpers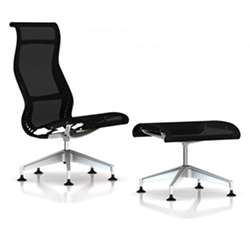 Setu Lounge Chair by Herman Miller
SETULOUNGECQ811MAG1L7NNN4W05
Seat Color
|
Berry Blue
Frame Finish
|
Graphite
Base Finish
|
H-Alloy
Arms
|
Ribbon Arms
+$41.00
Bumpers
|
No Corner Bumpers
Setu Lounge Chair by Herman Miller
SETULOUNGECQ811MAG1L7NNN4W03
Seat Color
|
Chartreuse
Frame Finish
|
Graphite
Base Finish
|
H-Alloy
Arms
|
Ribbon Arms
+$41.00
Bumpers
|
No Corner Bumpers
Don't see a configuration you like? Customize your Setu Lounge Chair by Herman Miller.
Setu Lounge Chair by Herman Miller (ottoman sold separately)
designed by Studio 7.5
At A Glance:
Sharing the same design cues as the unmistakably innovative Setu Chair, the Setu Lounge is its technologically-savvy and more relaxed sibling.

Commissioned by furniture design giant Herman Miller, and designed by the gifted Studio 7.5 out of Germany, the Setu Lounge has an impeccable pedigree. The research, design, and execution of the Setu Lounge was shepherded at every step by the best designers and furniture minds in the world. When Herman Miller first contacted Studio 7.5 to do the work, the goal was simple: a lounge chair that was comfortable, environmentally responsible, stunning to look at, and a perfect fit for the modern home. The designers at Studio 7.5 responded with a chair that met and exceeded every immodest goal: the Setu Lounge.

What's To Like:
With a contoured, flexible back, the Setu Lounge brings slim, modern comfort to the table - or in this case, the living room. Absence of padding doesn't indicate absence of comfort. Setu will cradle you in a semi laid back position just like it was made to do.

What's Not to Like:
If you're bigger, the Setu Lounge might not have enough seat real estate to give you a truly comfortable sitting experience. It depends on what you prefer - an expansive seat or a slim design.

The Bottom Line:
The Setu Lounge is a beautiful chair to look at, will fit perfectly in the modern home, and makes a stunning impression on just about everyone who sees it. Its comfort and design aesthetic collaborate to provide the perfect place to relax.

Details:
Overall: 41.375" h x 27.375" w
Seat: 17.25" h x 21.5" w x 16.875" d
Arms: 27.375" w
Lyris elastomeric seat and back fabric
Polymer frame and H-Alloy anti-corrosive aluminum base
The Setu Ottoman is sold separately
The Herman Miller Setu Lounge Chair is also known by the following manufacturer Item Numbers: CQ811MN, CQ811MA, CQ823M.
See all product information and details here