Dining Table SM 78 by Skovby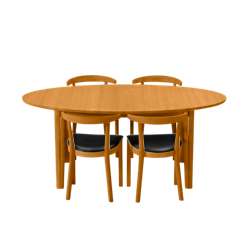 Dining Table SM 78 by Skovby
Color
|
Oak with White Laminate Top
+$149.94
Extra Table Leaves
|
No Thanks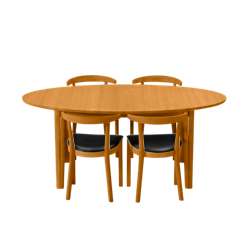 Dining Table SM 78 by Skovby
Color
|
Oak with White Laminate Top
+$149.94
Extra Table Leaves
|
No Thanks
Don't see a configuration you like? Customize your Dining Table SM 78 by Skovby.
Dining Table SM 78
by Skovby
At A Glance:
Inspired by Skovby's first shot at an 8-legged table, the SM 78 is a newer, more refined version. Elliptical and with half-oval legs (that come together to create full ovals), this dining table seats 6 and extends to seat 16 if the optional extra leaves are chosen.
What's To Like:
Synchronous pull-out system makes it easy to open the table; both sides move at once
Two included leaves are stored under the tabletop, so you don't have to find another storage space for them
Extends from 6 to 10 seats (16 with extra pair of leaves) - it's got incredible size range
Half-oval legs provide excellent stability without taking up too much space
What's Not to Like:
It's expensive, y'all - but remember that you're getting a great big table in small package
Real wood has real advantages - and real vulnerabilities; don't leave kids with staining foods near this table unless it's protected
The Bottom Line:
The SM 78 extending dining table is a great choice for any home that intends to entertain and have small meals alike. It's easy to extend, easy to pack up, and easy on the eyes. That's called a trifecta.
Features:
Elliptical shaped top with half-elliptical shaped legs
Legs have sloping angle creating small gap at top to allow for changes in air humidity
Comes with 2 extension leaves that store in a compartment underneath the table top
Can seat up to 16 people when fully extended with optional (2) additional leaves (so thats 4 total leaves, folks)
The 2 extra leaves will NOT store inside the table, you will need to find a safe place to store them when not in use
The Skovby Dining Table SM 78 is also known by the following manufacturer Item Number: SM78 and #78.
See all product information and details here