Setu Dining Table by Herman Miller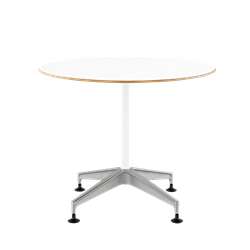 Setu Dining Table by Herman Miller
Tabletop Size and Materials
|
42" Diameter Laminate Top
+$143.00
Table Top Color
|
Soft White Laminate
Column Finish
|
Studio White
Base Finish
|
H-Alloy
Don't see a configuration you like? Customize your Setu Dining Table by Herman Miller.
Setu Dining Table
by Herman Miller
designed by Studio 7.5
At A Glance:
The Setu Dining Table isn't just the ideal table for the office break room - it's also an ideal complement for a break-out area or even small home dining area. It was designed with as little material and as few parts as possible, and that simplicity makes the Setu Table a piece that can be used anywhere.
What's to Like:
Choose between laminate and veneer top materials. Depending where you're going to use it, they're both useful.

If you're using the Setu Table in the office, laminate works well for higher-traffic areas, while veneer can be used where the fittings are of higher quality.

In the home, families with children may appreciate the durability of laminate, and of course veneer will be a stunning complement to your decor.

The Setu Table's cast aluminum base is stable and strong - while remaining lightweight.

Studio 7.5 intentionally designed the Setu Table to save materials and energy. Fewer materials used = less energy expended in production and shipping.

The Setu Dining Table can be coordinated with the Setu Chair for a cohesive look.
Bottom Line:
The Setu Dining Table is precision-designed and durable. You'll find that it'll work well anywhere you put it, so the sky's the limit as to how you can use it.
The Herman Miller Setu Dining Table is also known by the following manufacturer Item Numbers: CQTRP, CQTRP29.
See all product information and details here